BlackRock put pressure on Tesla when they first bought Bitcoin, now BlackRock is diving head first...
Look up the definition of irony...
Go ahead, I'll wait.
If you don't want to look up, there's not much better definition than what we are seeing play out right now between Elon Musk, Tesla, and BlackRock.
Way back when Tesla first bought bitcoin, they were pressured by one very large investor due to bitcoin's energy consumption and carbon footprint.
Guess who that investor was?!
BlackRock.
Fast forward to today and BlackRock is partnering with Coinbase and launching a bitcoin trust.
Now that's irony for you....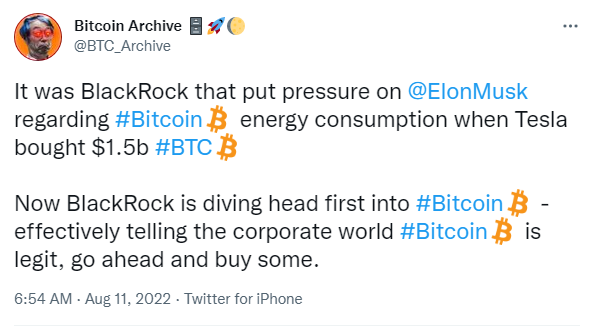 (Source:
1557727038660038659) twitter metadata:QlRDX0FyY2hpdmV8fGh0dHBzOi8vdHdpdHRlci5jb20vQlRDX0FyY2hpdmUvc3RhdHVzLzE1NTc3MjcwMzg2NjAwMzg2NTkpfA== ~~~