First of all, we really missed posting these updates, as dev @tekraze was busy somewhere else and was not able to make any progress. But now he is back in action, and we hope there might be more updates from him.
Also, he is still the official Developer for Blurt Official as well the alternate frontends.
So, let's see, what we have for now this time.
Blurt.Blog Frontend
---
Summary Issue
While editing a post, the summary entered was not shown. So, one can not see, what he entered, and can only add a new summary. But now that is fixed.
Blurt.Buzz Frontend
---
Summary Issue
Same as above
Tags
On the official Blurt.blog it was fixed by @saboin, but not on other frontends. So, now these changes are there and deployed to Blurt.Buzz
Blurtlatam Frontend
---
Summary Issue
Same as above
Tags
Same as above
Promoted member
This feature was in discussion for a long, as @tekraze and @freakeao were discussing it with other people for their opinion. In fact, the feature was developed and deployed as a beta around 2-3 months before, but never was made public.
There were some issues going on with blurt.blog as well us at that time, so we have not made that live.
The current feature is also not final, and there will be iterations to it until we made it better based on feedback and opinions.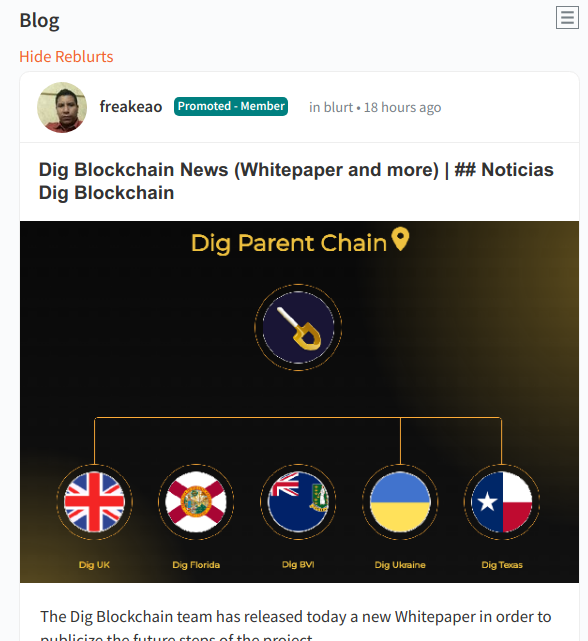 Here is a preview from Blurtlatam.
We have added some people to the list, and @freakeao with his team may add more.
Blurt.one frontend
---
Summary Issue
Same as above
Tags
Same as above
Promoted member
Same as above for Blurtlatam

Preview of Feature on Blurt.one
---
This is all for now. We will keep posting more updates. Do share and vote to support the development and the developer too 😜
Note: If you have some frontend-related feature in mind, do let us know. We might give it a try if possible
---
Vote for our Witness - https://blurtwallet.com/~witnesses?highlight=blurt.one
Vote for Tekraze Witness - https://blurtwallet.com/~witnesses?highlight=tekraze
Vote for Blurt.live Witness - https://blurtwallet.com/~witnesses?highlight=blurt.live
Vote for Blurtlatam Witness - https://blurtwallet.com/~witnesses?highlight=blurtlatam

---
Posted from https://blurt.one