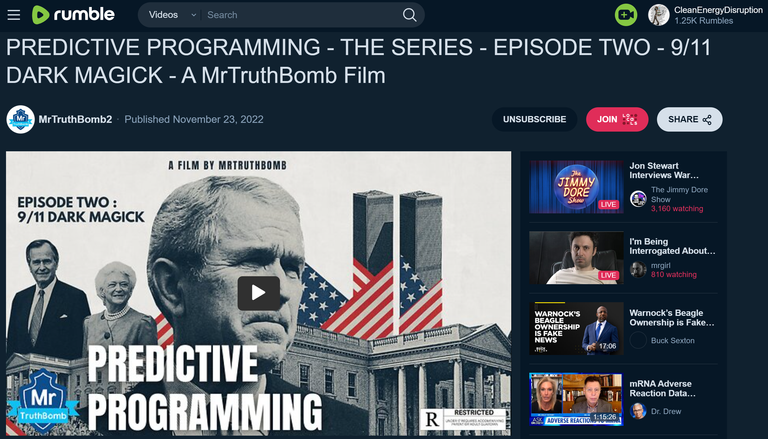 PREDICTIVE PROGRAMMING - THE SERIES - EPISODE TWO - 9/11 DARK MAGICK - A Mr Truth Bomb Film
MrTruthBomb2 Published November 23, 2022
https://rumble.com/v1wqw1k-predictive-programming-the-series-episode-two-911-dark-magick.html
In this Episode Two we look at the occult side of the 9/11 False Flag + 117 potential examples of 9/11 Predictive Programming.
LINK FOR EPISODE ONE - https://rumble.com/v1n1rmk-predictive-programming-the-series-episode-one-911-false-flag.html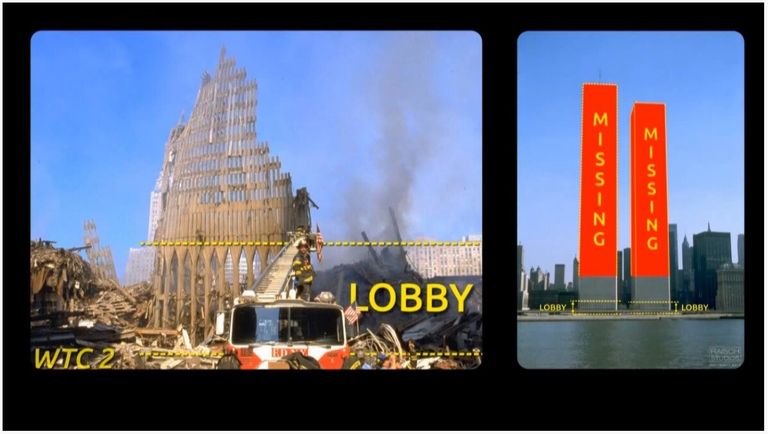 #DewYourResearch Energy Weapon 911 https://odysee.com/@CleanEnergyDisruption:6/Energy-Weapon-911:b
9/11 PLANES - IMPOSSIBLE PHYSICS https://www.bitchute.com/video/4rvTJeGHssoH/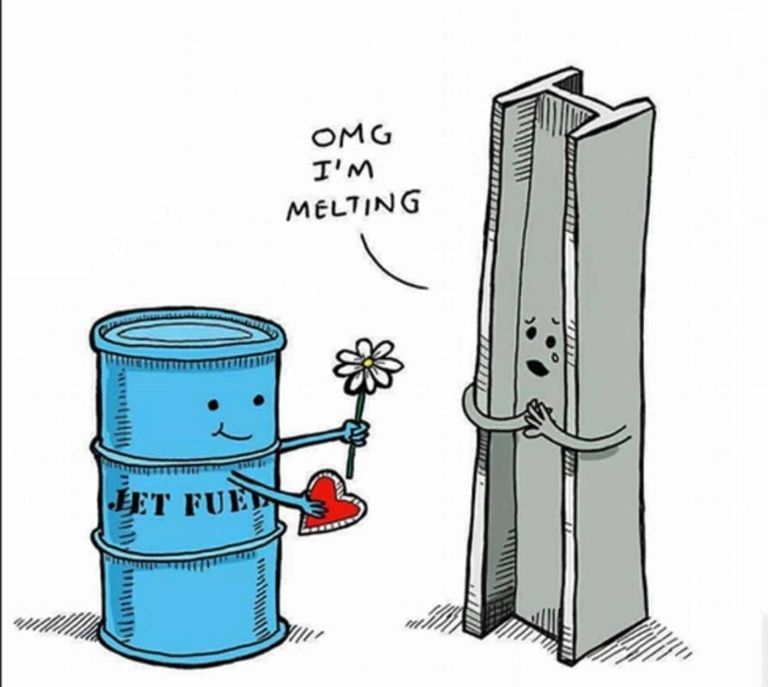 Near Death Experiment - WHERE DID THE TOWERS GO? (EVIDENCE OF DIRECTED ENERGY ON 9/11) https://www.bitchute.com/video/V3F5qCSBTsQE/ A film based on the work of Dr. Judy Wood, Andrew Johnson and John Hutchison.
The Hutchison Effect (Part 1) Recently became friends with the infamous John K Hutchison and made this 3 part series about his life's work. https://www.bitchute.com/video/ecav5IBu2FYM/
Too many have been silenced over the years just for telling the truth of what happened to them that day and what they saw in person with their own eyes...
The University of Alaska Engineering Study released September 2019, proves the official US Govt story for the destruction the 9/11 World Trade Center Bldg 7 in September 2001 is a FRAUD.
The study examined the supposed 'collapse due to fire' of the 47 story WTC7 building (the one which was not struck by an airliner) and concluded that the collapse of WTC 7 was a global failure involving the near-simultaneous failure of every column in the building

'SEVEN' FULL LENGTH DOCUMENTARY
https://www.bitchute.com/video/8CeRGYK20GLO/
Only one thing could have caused this to happen - Controlled Demolition. https://www.ae911truth.org/wtc7
Larry Silverstein took out insurance against "terrorism", which paid him $4.55 billion...
He then sued the airlines for over $1 billion, charging them with "negligence" for letting the 19 hijackers onboard, and in November 2017 he was given over $95 million by U.S. District Judge Alvin Hellerstein. For too long, Never Forget has been nearly synonymous with Never Question.
9/11 Bombshell: CNBC Anchor Says Building 7 a 'Controlled Implosion'
Dr Judy Wood, (author, "Where did the Towers Go") has extensively studied the forensic evidence and found No S-Wave and No P-Wave during the collapse of all 3 buildings that fell on 9/11... so the weight of the buildings never actually "hit" the ground~!
There were many "small" explosions reported by all the firefighters and first responders but not enough to cause the 1000's of Tons of Steel & Concrete "Disintegration" that we all saw on Live TV that day... another weapon was needed to this... who own's this weapon?
Dr Judy Wood - The Towers didn't burn up, nor did they slam to the ground. They turned (mostly) to dust in mid air.
We need Dr Judy Wood to share her findings with Congress with complete transparency for all to see what truly happened on this fateful day in our history.
Petition for Dr Judy Wood to share her findings with Congress
https://www.thepetitionsite.com/760/531/146/dr-judy-wood-must-testify-before-congress/
NOTHING CAN STOP WHAT'S COMING. #WWG1WGA - #IBOR - Internet Bill of Rights