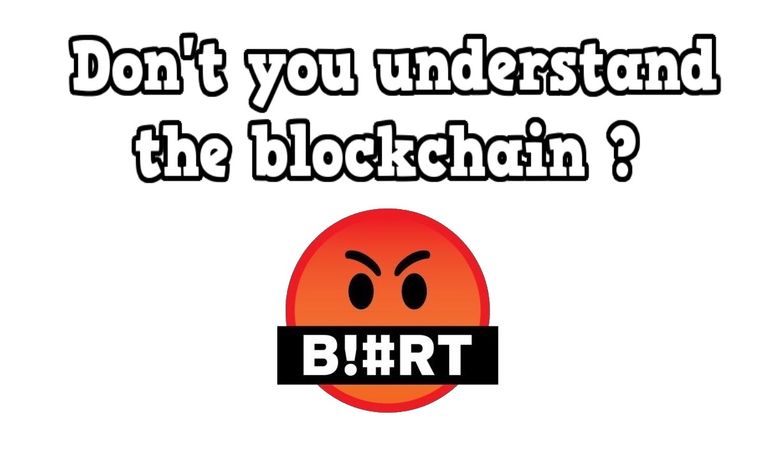 Ok, since I'm actively participating in the discussion about the new muting option, I would like to write a long post about it.
It all started when @blurtofficial posted the following post : Development Update: New UI Features.
Let me explain what they meant :
---
Some started calling this a censorship, while I don't see any censorship in that, but more power to the content creator. So, now instead of not seeing the comments from people we muted, our audience will not see that as well. That's the only change we have now on the top of the frontends. And it's impossible to do such change on the blockchain. All the content can always be found on the blockchain. And if you want to prove the opposite give me an example of something hidden on the blockchain itself. Otherwise, it will be just a manipulation to discredit the developers.
Maybe even that is not clear, so let me clear it even more :
---
The blockchain and the frontend are not the same thing !
The blockchain is the place where you see all the transactions no matter how they shown in the frontend (blurt.blog).
In blurt for the moment we have only two blockchain explores : blocks.blurtwallet.com, and ecosynthesizer.com/blurt/.
You can see all the content on the explorer, because it's a blockchain explorer. You can't see all the content on blurt.blog because it's an application built on the top of the blockchain. Otherwise, let's call mute button, even the one we had before to hide unwanted comments a censorship. lol In this case be sure when you create a new frontend to not put the mute button there at all, and we will see how things will go for you. ☺
I think everything is clear now, but since I posted a lot about this, I'll share some good comments I wrote as well :
---
''I just hate spamming. And when someone is writing the same thing again and again, why I need to see that ? I better save my psychological health. For example : ''Russia is bad'', in many forms. All the time. Anytime when I write something related to Russia even if that's not about politics. Why I need to hear the same thing again and again. That's a psychological abuse. Do you know how they punish some people in jails ? For some of them they put the same music that plays again and again, and they start begging to stop it. For some just drops of water to make them hate that sound. That's a psychological torture. Telling me or people I invite from Russia all the time that their country is bad, even if it was the case, it's horrible. I don't know about you, but for me, it's an abuse that I prefer to mute. And all those who will be invited by me here, in case they will get the same abuse, I will advise them to mute. I see no harm in that. It's my blog after all. It's like owning a website where you moderate comments. More power to the creators I would say.''

Thanks to @practicalthought who shared the following video :
''Sensitivity is a nice word for this. Nothing is satisfying. They will always find something to cry about. Instead, they could all work hard to invite more people, to create projects, communities, initiatives, contests .... etc. That's what worth wasting time on.''

Thanks to @famigliacurione I would like to share this picture :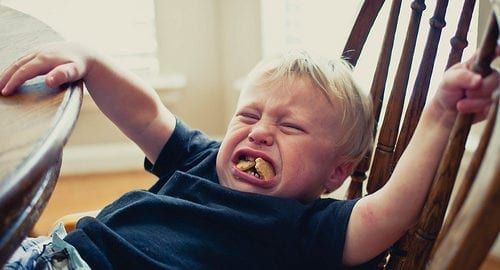 ''In Russian, we say : ''Отбрали у ребёнка конфету''. That means ''They take away a candy from a child.''. lol That's what I think of them now. lol Really funny.''

My reply to @theindiantrader :
''People mute for many reasons. Maybe the guy just don't agree with the shared information. And prefer to not see it at all. Who knows. What we can do about people who like to consume only what's aligned with the mass media ? Many people also don't like me supporting Russian citizens, the language and the culture. They can mute me if they don't like that from me. I will not care.''

I've got a great discussion with @northern-tracey as well in this thread ! :
''I will try to explain. When we mute someone, not only we don't see his/her content, but also our audience in case that person is muted. That's all what was added to make our comment section clean for our audience. And I don't see any issue in that. Let's suppose I want to onboard my son. Of course will not onboard him in the old system because I'll be sure that he can be abused, bullied even. But in the new one I will onboard him and mute those abusers I don't want them to comment him. Also, I compare this to the ownership of a website. When someone has a website they can do what ever they want there. They can even turn off comments. So blurt now is giving more power to creators.''
''I think some people are just manipulating to make everyone hate developers. They are not planing to censor anyone. Only giving more power to creators. I can give you another example if you want. I wouldn't invite people I respect to blurt knowing that some people will make my comment section horrible with spam, memes and insults. But now I can onvoard anyone I want knowing that they will not see all that. It's a question of preferences. Muted people by me can post anything they want on their blogs to be seen. But that not gonna happen in my blog. Very simple. And there is no issue in that. I din't understand why they are crying about that.''
''How you confirmed that ? Any link, any evidence ?
Because there is a difference between the team do that as people who want to hide something in the blockchain itself, and between them muting someone for personal reason. From what I know they can't just hide your content from the blockchain, that will be always seen to your followers. But they can hide only in their blogs what muted by them. They are also blurt members like me and you in this case. But in case the first one you mean, I want to see an example of someone who's content was hidden, censored, or something like that. I can't believe something without seeing an evidence. Otherwise it could be just an other manipulation.''

Another great thread here as well ! :
''That will not affect your posting here for sure. Blurtbot is not an official account, or something related to development or blockchain, it's just a regular guy writing there and here and acting like a robot sometimes. I'm muting him as well because I don't like what he writes about Russia and Russians. And I'm tired of hearing that from so many. And as you see that doesn't affect my blogs or something. I even know, or guess who's the owner of that account, but I will keep quiet. Anyway, both accounts are muted for me and I don't want to see from them. I gave them chance again and again explaining things about that Russian citizens has nothing to do with the conflicts, but if I feel like talking to someone who keep pushing for his/her thing without trying to understand, what I can do about that. Tired from such attacks from people hating me just because I'm Russian or live in Russia.''
''What's the problem if any account mute other account even if that's an official account. You're content will be still seen on your blog, not on theirs blog. Many people here don't understand the blockchain. There is a difference between a frontend and a blockchain. Blurt.blog is a frontend, blurt is the blockchain. It's impossible to delete anything from the blockchain. All the muted content you may find here : https://blocks.blurtwallet.com/#/
That's the blockchain explorer. In case I muted someone you will not see what he/she wrote on my blog, but you can see that on the blockchain explorer. The main account they use for announcements of course can mute some spammer in their own blog, but not on your blog. And even that will be always seen on the explorer.
As well, only blurt.blog, and I guess blurt.live have this new mute option, other frontends not all of them have it.
Let me give you the example of hive, they have ecency, they have peakd, they have hive.blog, they have leofinance.io, proofofbrain.io and many many other frontends. Each one of them could have it's own rules, own settings, and even it's own politics.
Ecency they were taking I guess 5% from all the earning of people, now they are taking nothing.
Peakd.com I guess they never took beneficiaries.
3speak.tv takes I guess 11%.
Other frontends also can set their preferences the way they like it.
And again, if you are muted by any account in blurt, even if that's the main account of announcements like @blurtofficial, or any of them, that doesn't mean your content in your blog for your followers will be hidden.
---
I hope I could explain it to you well now. And when I told you to give me evidnece, I mean of someone wrote something not aligned with the political view, or anything else and his content or her content was hidden in his own blog, for his own followers. I doubt that could be ever found here.
Read as well the content of one of the main figure in blurt and you will see how he's against censorship. @rycharde , please confirm my words here if I'm right.

I also had a nice discussion with @erh.germany in the following thread :
''Ok, let's suppose someone has a website where he promotes his products. And a competition will come and spam the comment section with the competitive product lying about the product on the website to discredit it. Should that spam be left there so no one will buy the product on the website what the owner spend money to promote buy the way. And when I'm telling spam, I don't mean only links, but lying about the product, making fun of it, memes to not make people buy it.... etc. Will you as a businessman leave all that spam there ?''
''I understand. That's your strategy to do things. But other people will like to do it their own way as well. We can't push everyone doing just like we do, or thinking as we do. Here I also feel a suppression of freedom, when a group of people push for something, why everybody should be like them ? They can always fork, or create their own frontend and do what ever they want there. That's the beauty of the blockchain. That people with different ideas, different point of views, different looking at things can co-exist. You and the other folk can create a frontend where there will be no muting, we will keep posting on blurt.blog and others that have the muting option. And that will create a competition between both folks, and the better will be used by the most. ☺''
I think the most recent comment is the best one.
Blurt is a welcoming blockchain to any folks in the world.
---
We all can co-exist !
---