I calculated recently how much I make, combining my investment returns and content-creation on Blurt, and it's 84 dollars per month (minus fees). That's pretty small potatoes!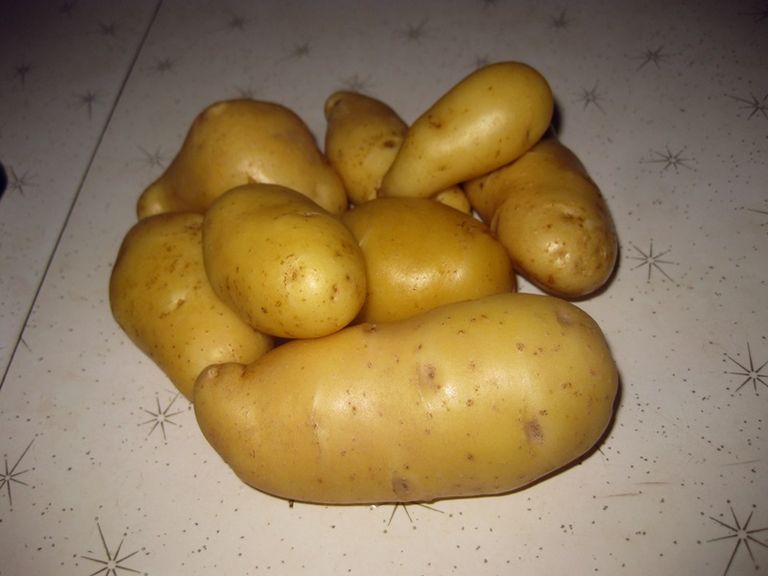 As far as I know, I'm a fairly high-ranking investor (about half a million BP), and one of the more prominent content-creators, so I'm probably making more than most people here. Which means none of us are really making anything. Not at current prices (0.007 USD) anyhow.
It occurred to me that trying to make money in this environment is a bit like trying to grow vegetables in a backyard garden. It takes a LOT of time, energy, resources, even risk... and the reward is usually not very substantial. The above potatoes were grown in my back yard this summer, and I ate them yesterday. Sure, they were tasty, but the amount of food I actually got from that segment of my yard (and regular weeding/watering) was pretty minimal.
Most non-gardeners are quick to ask "why not just do what I do, buy cheap produce from the shop?!" And they have a point. This isn't a very convenient or economic way to get food. Gardeners all over the world are aware of this fact. And yet, there are still billions of people growing food in their back yards! It's not economical, but there are upsides non-gardeners aren't aware of. For example, if you grow it, you know what went into it (fertilizers, pesticides, etc). When I grow my own food (and medicine), I do it 200% organically, which means NOTHING except dirt, water, air, and sunshine! No products or chemicals go near my garden. I grow using the methods I've learned from other gardeners and from experience. There's a certain pride in putting food on the table, from seed to soil to plant to plate. That first tomato of the season, right off the vine, can bring about tears of joy. Gardening is good for the body, the mind, and the soul. Give me a garden and a good internet connection, and I need little else in life.
But it's true, the amount of food you can grow in a back yard (even with advanced techniques) is limited. Most people only produce 5-10% of their caloric needs with such a veggie patch.
And yet, it can still be worth it. Sometimes the smallest potatoes have the best texture and flavour!
Perhaps the Blurt experience can still be worth it, too?
Sure, I'm only bringing in enough monthly to buy a couple bags from the local farmer's market with my investment, posts, comments, and curation rewards. Small potatoes indeed! Especially when the cost of living in my province (BC Canada) is about $4000 per month for a couple with 2 children. $100 here or there is not going to make a difference in my world, unfortunately. Which means I'm working a part time Blurt "job" (20+ hours a week) AND investing my entire crypto savings, and getting almost nothing in return. Much like growing food in the back yard. In both cases, I continue at it, despite the amount of time and energy I'm putting in, and how little I'm getting out.
That's an option, until it isn't. My personal situation is about to change - unfortunately, I am looking for somewhere new to live. But rent availability here is next to zero (the worst ever measured), and prices are higher than they've ever been. Recent changes at the Canadian central bank mean homeowners are selling in a rush, and rental prices are skyrocketing. I've rented for a long time, but this is the scariest rental market I've ever seen... and now I've got 2 little babies, meaning I need a 3 bedroom place, essentially impossible to find at any price.
That means it's going to be less likely I can grow food in my back yard next year. It also may mean I'm no longer able to justify the time and energy needed to maintain my presence on the blogchain. Jobs that take up a lot of time and don't bring in much pay are really just hobbies. Hobbies have to be set aside to make way for productive work, especially when times get tough.
So while I see benefits to gardening, and to participating in Blurt, both may soon become impossible to justify.
Which is too bad, because I really like those potatoes!
DRutter