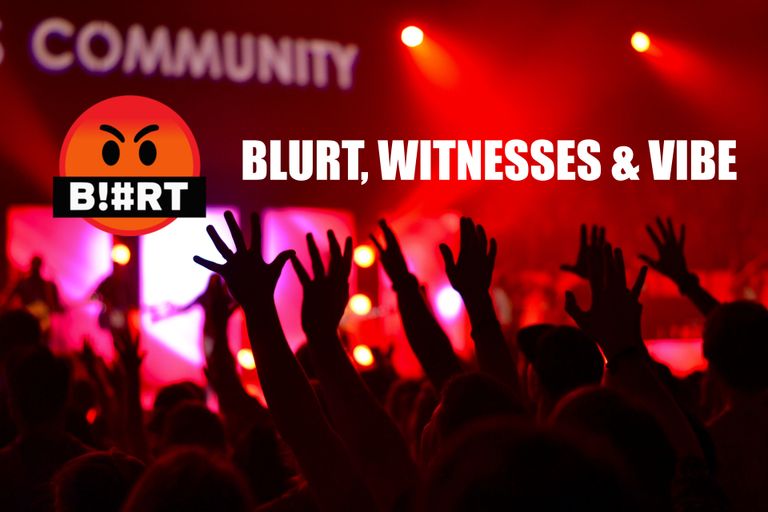 ---
Dear Blurt Community & Followers,
I would like to apologize to you, I got caught up in the vibe and the hustle of Blurt witnesses since yesterday and I forgot that some of you who follow me were not familiar with the DPoS (Delegated Proof of Stake) system of Blurt and may be worried about recent events. This is a breach of my duties as a witness, I should have made a post much earlier to reassure you.
I would therefore like to reassure you, the Blurt blockchain by itself does not suffer much and the Blurt blockchain lives its life outside of all this turmoil.
This is for a simple reason, the witnesses! And I hope that at the end of this post you will have understood the importance that witnesses have in securing the blockchain as well as the importance of your vote and will go to bring your support in recognition to the one(s) in whom you believe and trust by a vote(s).
The blockchain is secured by the first 20 witnesses (the top 20), nothing can happen until a supermajority, 16 out of the top 20 witnesses + 1 backup witness (outside the top 20), is obtained.
So even if a person (as it is now) puts all the energy he wants to push the witness of his choice to the first position it does not change something, it just brings personal pride to have done it.
We are neither on STEEM nor on HIVE, the will of a person cannot control the Blurt blockchain because here, each additional vote for a witness decreases the value of the voting power he will receive.
If you vote 1 witness, he will receive 100% of the value of your BLURT POWER.
If you vote 2 witnesses, each one will receive 50% of the value of your BLURT POWER
...
If you vote 10 witnesses, each one will receive 10% of the value of your BLURT POWER
it's really a good protection and we can say thank you to @megadrive for the idea, @saboin to code it, and all the top 20 witnesses (including @fervi) to approve it.
Don't take everything you hear lately seriously and see it more as an aggressive marketing campaign. When in doubt, don't hesitate to ask someone you trust and read different points of view.
As a dev, knowing a little bit about the heart of this blockchain, I will only tell you this, when some people will have understood and assimilated that they can create their own interface directly connected to the blockchain to present its content in their image, making it popular if they know how then they will play with it and will let the community blow away from their agitation.
For my part, despite what some people like to think, I find the work done on the Blurt blockchain more than respectable, just thinking of the work involved in removing the SBD (STEEM Backed Dollars) from the core of the blockchain knowing all the changes it implies I am impressed (sorry I'm a dev then it mean something for me but probably not for you hahaha), not to mention all the tools for dApp developers that had to be adapted for Blurt
I think many of you don't realize how lucky we are to have, among others, @saboin as a core dev, I wish he would take time (which he doesn't have like any good dev) to share his work through posts so that you too can see it too.
I'm still far from knowing everyone and their skills, but part of the reason I'm here on Blurt is seeing their motivation which makes me think this blockchain is worth it.
As for the witnesses, what a mix, each one has its own character, its own personality, don't believe that everything is smooth and without interest, in any case, one thing is sure, they all want to go in the same direction and take their responsibility towards you seriously.
That's why if you could show them your support by voting for the one(s) you trust and believe in then it would be a very nice signal from you especially since many did not sleep much last night.
you can vote here: https://blurtwallet.com/~witnesses
And if you don't know any of them then I invite you to have a look at some profiles
@saboin - core dev
@randula - the organizer of the Blurt Power Up Day #bpud (are you ready for October 1st?)
@outofthematrix - for its neutrality
@world-travel-pro - idem
@techcoderx - like this, I wanted hahaha
@casualfriday - because he is 57th and I would like to see him higher in the ranking
Regards,
@nalexadre
Original background photo of this post by William White on Unsplash