Fotografía de uso libre creada en Canva para @team-mexico, [Estadios de México] Estadio de Mazatlán, fotografías tomadas de Wikipedia.
Proyecto mexicano pensado en apoyar y orientar a los demás en su crecimiento en la plataforma. Esta es una publicación de reporte de votos.
Mexican project designed to support and guide others in their growth on the platform. This is a vote report post.
---
Estadio de Mazatlán "El Kraken" 🏟️⚽🦑
El Estadio de Fútbol Mazatlán,​ también llamado El Kraken,​ es un estadio de fútbol localizado en la ciudad de Mazatlán, Sinaloa, México, fue inaugurado en 27 de julio de 2020 y tiene una capacidad para 25,000 espectadores. Desde 2017 se buscó conseguir un equipo de fútbol profesional para ocupar el nuevo recinto, puesto que no existía un club que tuviera como sede la ciudad. En 2020 se aceleraron los trabajos de construcción del estadio con el objetivo de tenerlo listo antes del inicio de la temporada futbolística 2020-2021. Finalmente, el 2 de junio se confirmó la llegada de un nuevo equipo para el recinto, el club Monarcas Morelia fue trasladado desde Michoacán, y pasó llamarse Mazatlán Fútbol Club. - Wikipedia
Mazatlán Soccer Stadium, also called The Kraken, is a soccer stadium located in the city of Mazatlán, Sinaloa, Mexico, was inaugurated on July 27, 2020 and has a capacity for 25,000 spectators. Since 2017, there was a search to get a professional soccer team to occupy the new venue, since there was no club based in the city. In 2020, construction work on the stadium was accelerated with the goal of having it ready before the start of the 2020-2021 soccer season. Finally, on June 2, the arrival of a new team for the stadium was confirmed, the club Monarcas Morelia was transferred from Michoacán, and was renamed Mazatlán Fútbol Club. - Wikipedia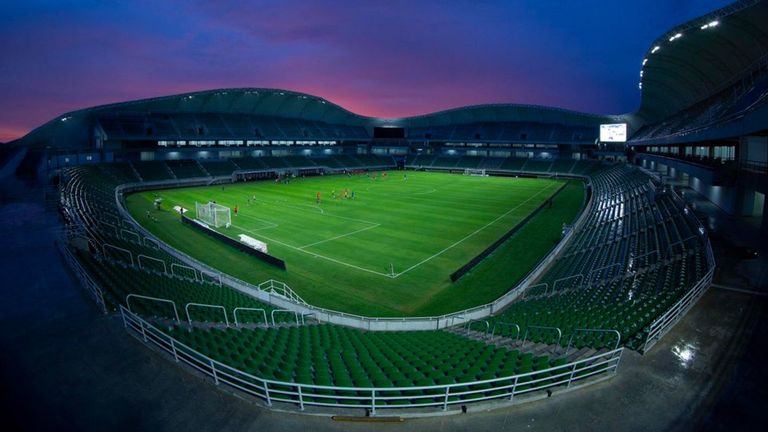 [Estadios de México] Estadio de Mazatlán, fotografías tomadas de Wikipedia.
---
Da clic en las imágenes, te llevara directo a la publicación seleccionada.
Click on the images, it takes you directly to the selected publication.
| | |
| --- | --- |
| Proceso Artístico, del sketch al digital con AI. [es+en] @mostrorobot | |
| | |
| ¡Acabo de encender 10K Blurtpower! 📈🔋@outofthematrix | |
| A Good Day In The Wilderness After The Morning Storm @michaelmullens | |
| [ESP+ENG] Volando al infierno / flying to hell [6](Relato / Story) @bigbdp | |
| | |
| | |
| Zona de Confort @napito | |
| [Eng/Esp] Editions in red / Ediciones en rojo @oscarps | |
| Black and White photography @fredkese | |
Muchas gracias a las personas que han delegado. Gracias por su apoyo a todos. Usa la etiqueta #team-mexico.
Many thanks to the people who have delegated. Thank you all for your support. Use the tag #team-mexico.
Nuevos Usuarios: Blurt.blog es una gran plataforma de cadena de bloques, acompañada de buenas recompensas, libertad de expresión y descentralización, crea tu blog y empieza a compartir contenido. Crea tu cuenta GRATIS: (No compartas tus contraseñas y guárdalas en un lugar seguro): https://blurtcreator.intinte.org/
New Users: Blurt.blog is a great blockchain platform, accompanied by good rewards, freedom of expression and decentralization, create your blog and start sharing content. Create your FREE account: (Don't share your passwords and keep them in a safe place): https://blurtcreator.intinte.org/
Intégrate al grupo de Telegram de @team-mexico 😀 donde yo y otros usuarios de México y de otros países de habla hispana compartimos experiencias y opiniones así como nuestros propios posts.
Join the @team-mexico Telegram group 😀 where I and other users from Mexico and other Spanish-speaking countries share experiences and opinions as well as our own posts.
| 👉Entra a https://t.me/TeamMexico1 👈 |

---
Posted from https://blurtlatam.intinte.org