South Africa has a rich array of hiking trails available to the professionals and amateur alike. I'm on the amateur end of the spectrum but have a love of nature and exercising outside. I think I'm allergic to gyms. So hiking is a natural fit.
Every holiday we try to find one or two local morning hikes to do while investigating the area. We do a bit of everything, coffee spots, beach, paddle boarding, walking, sightseeing and hiking.
Mossel Bay is a town that I have grown up visiting annually with my family, since we were tiny kids. Now we bring our own teenage kids and dogs and show them the things we did many years before.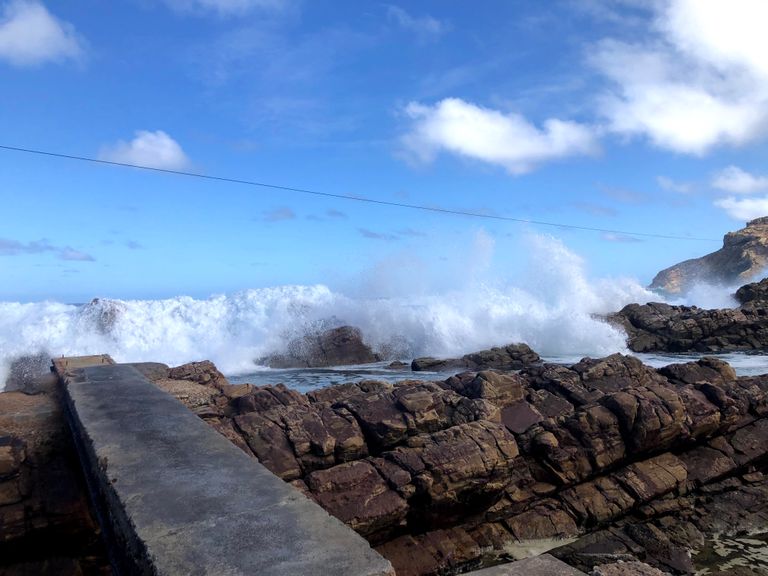 Die Poort gully
We always do a small section of the St Blaize hike and this particular day we did about 5kms before turning back.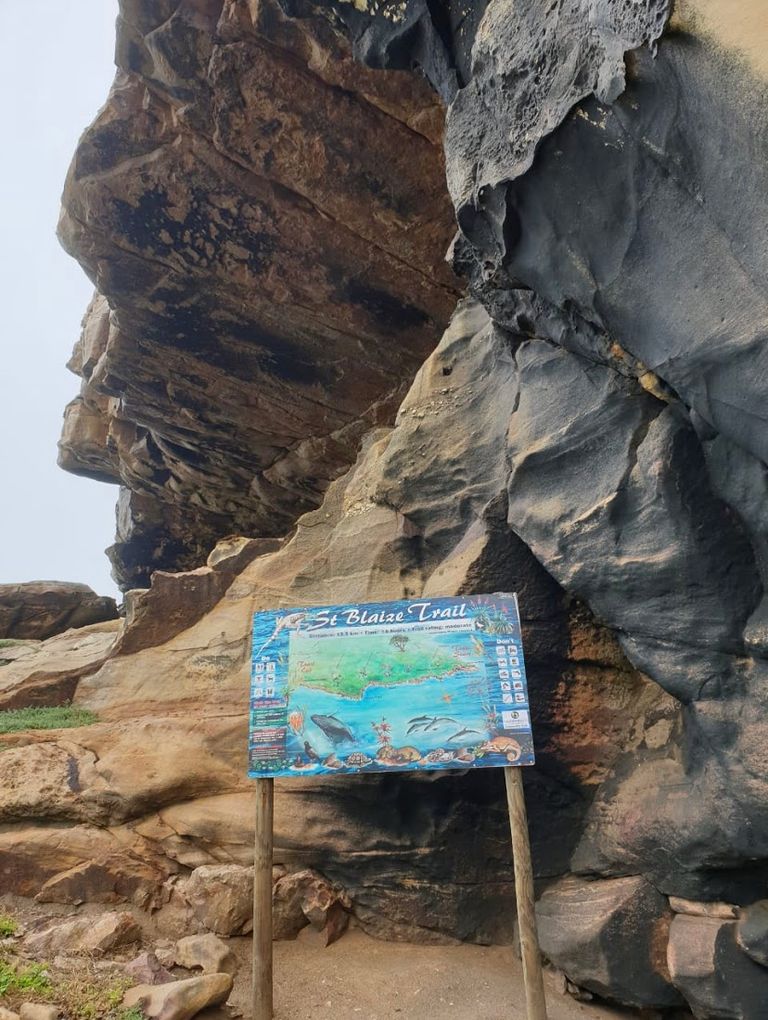 Cape St Blaize Caves
It starts at the amazing caves on Mossel Bay point, topped by the Cape St Blaize Lighthouse that definitely functions - it's kept us up at night with its flashing on foggy evenings. As you will see from the various photos, the fog seems to come and go quite quickly.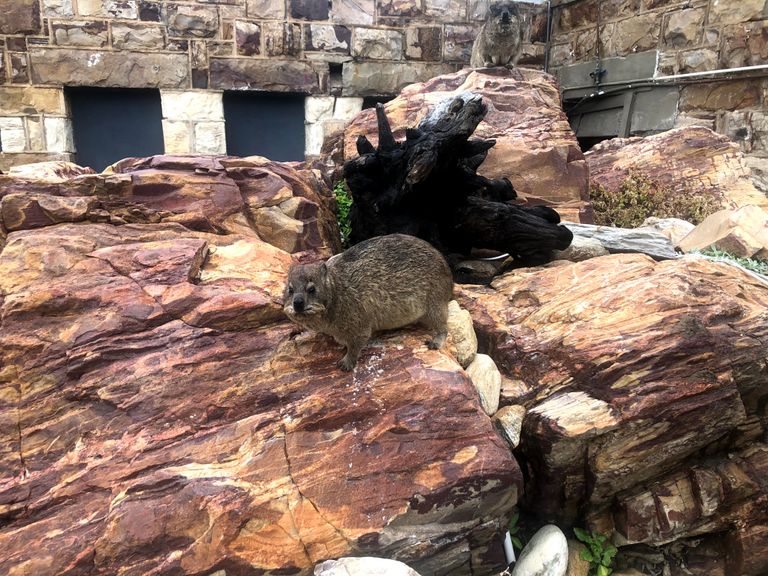 Visiting Dassie in a rock near the Aquarium
The cliffs are populated with Dassies (rock rabbits) that are relatively used to humans but could definitely give a nasty bite with their sharp teeth.
First up the steep rocky steps below the lighthouse, past the Dassie inhabited caves, to the narrow muddy path. The views are spectacular from the very beginning as you look down Die Punt where you begin below. It's also a regular swimming spot for everyone that knows about it.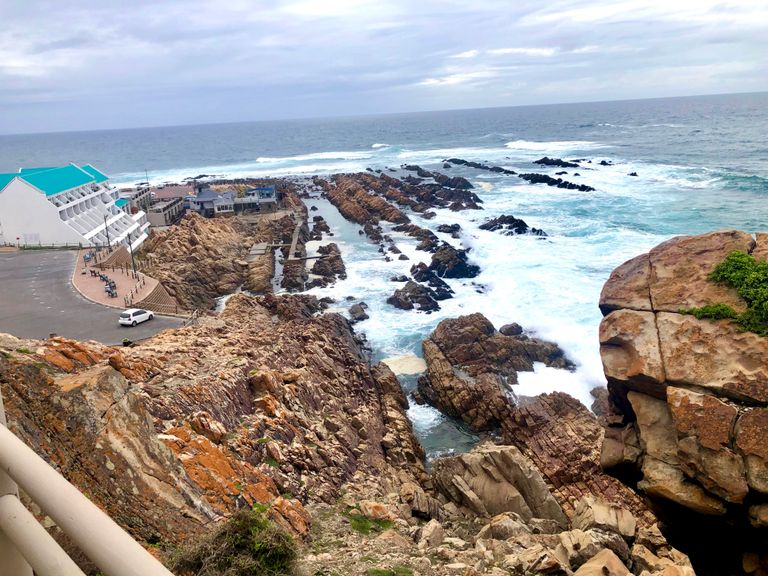 Die Poort from the start of the trail above
Then off along the cliffs you go. The day that we walked was partly clouding with a fog that came in and then lifted as we headed back. The entire trail is 16km long, but we weren't kitted for such a long day, so we went a certain way and then turned back for the point.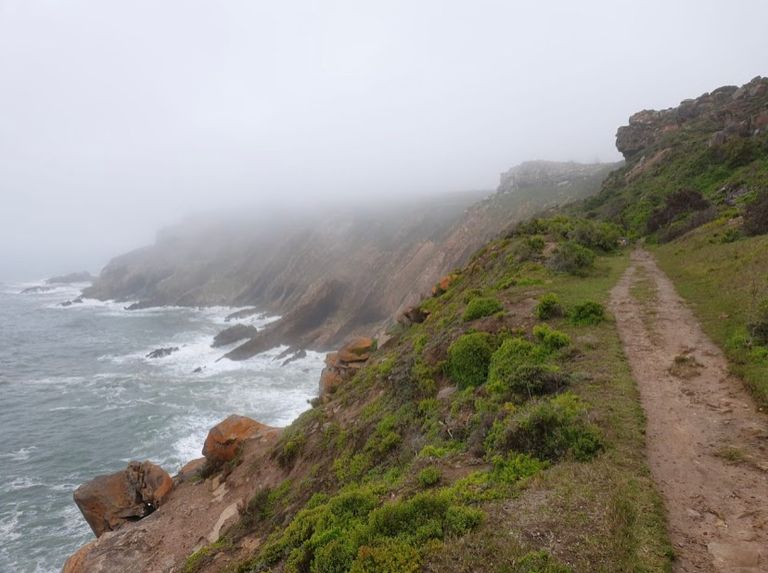 The St Blaize trail follows the cliffs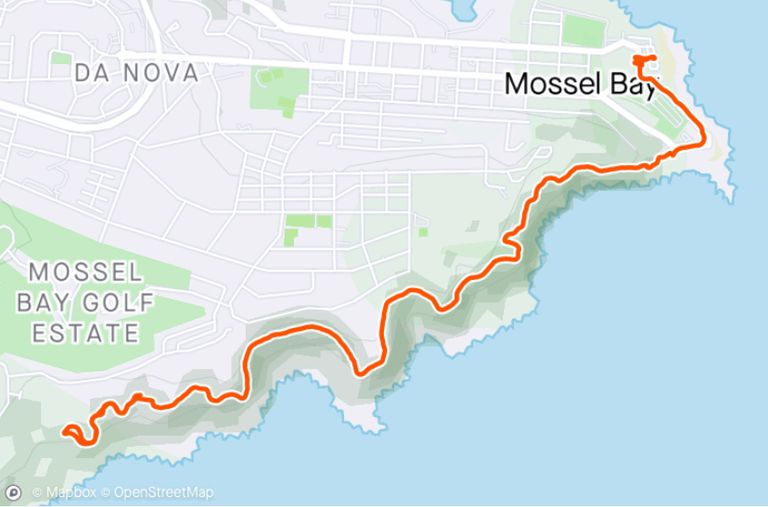 My Strava map of the trail
I don't usually enjoy a walk that returns the same way it comes. I much prefer a circular hike that takes you through different paths but ends where you start. This path is just 1 really long hike and you need someone to collect you at Dana Bay Carpark if you want to do the whole thing. It's all quite safe and there is really just the one main path to follow. You can't really go wrong.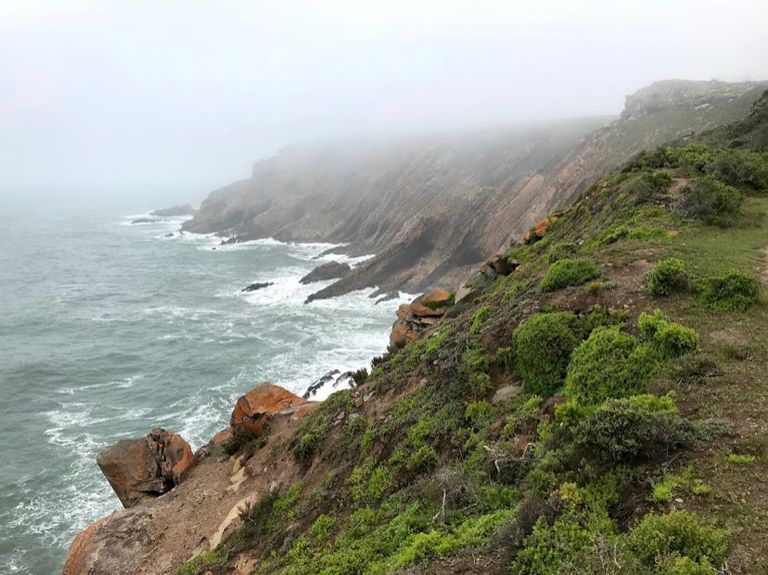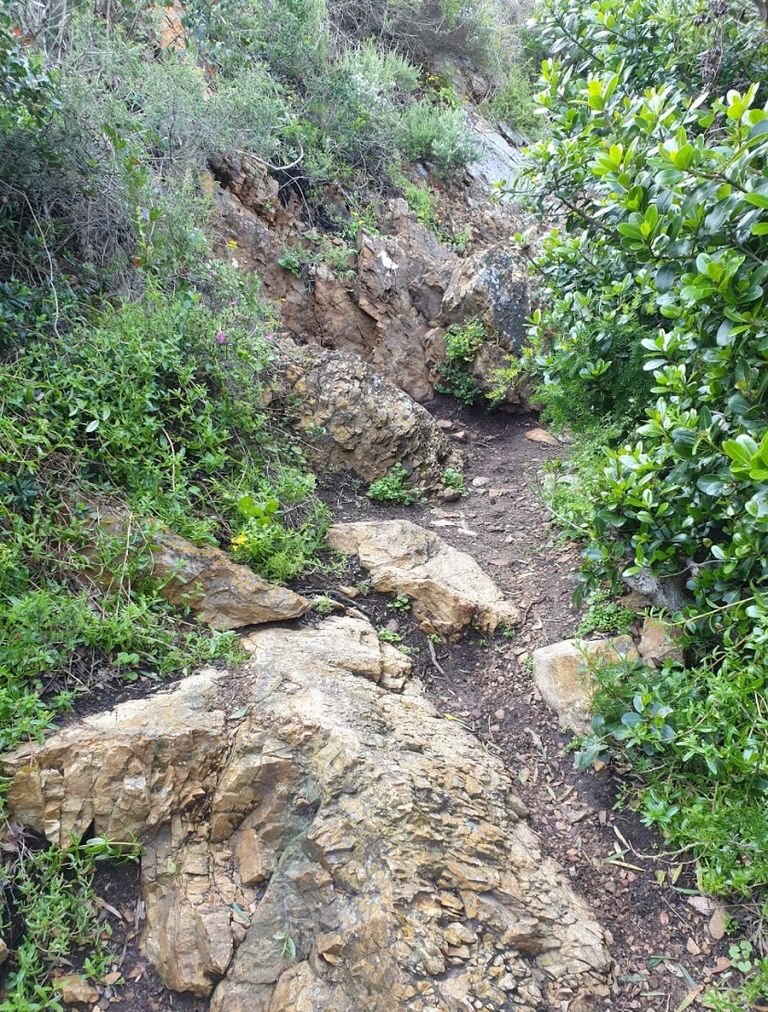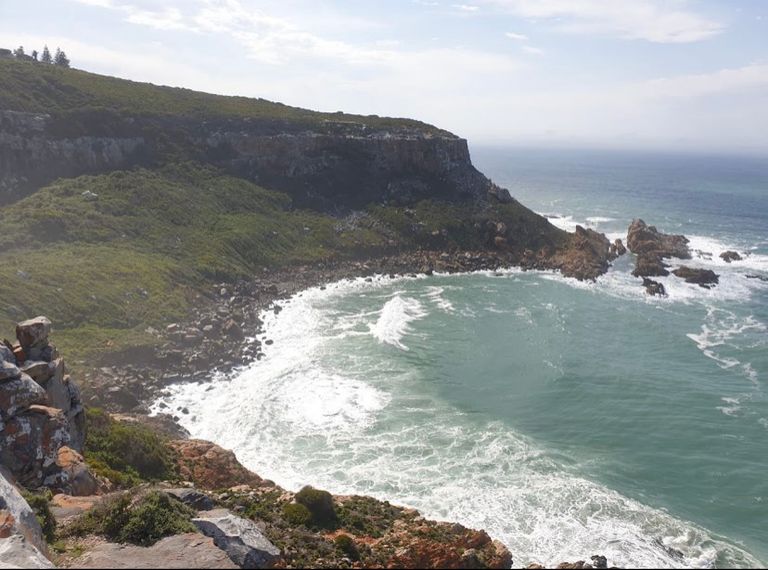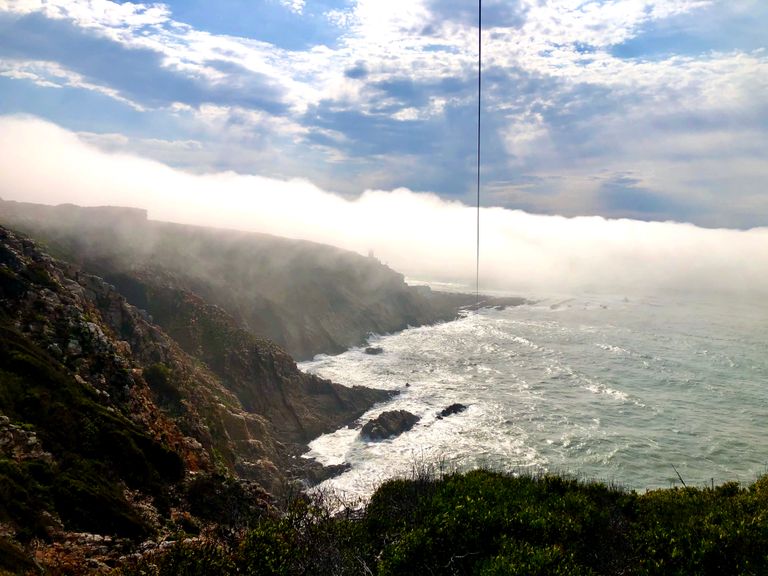 Back to the foggy cliffs (can you spot the zip line in this pic??? That's for another epic post. )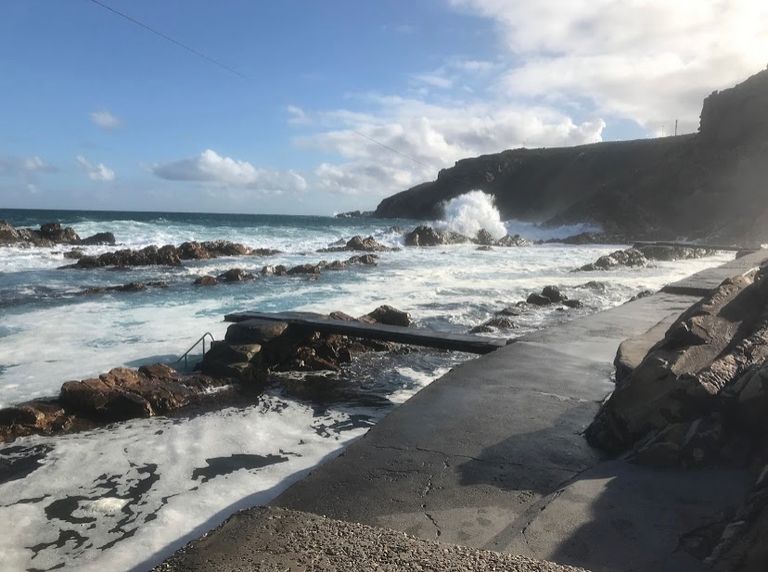 Finishing back at Die Poort before a good coffee and breakfast.
Doing it with friends just makes it so much more fun, with great conversations, peeing in bushes and stripping off layers as we got warm. I would absolutely do it again and am keen to do a full 16kms next time - I might need some new hiking boots before then.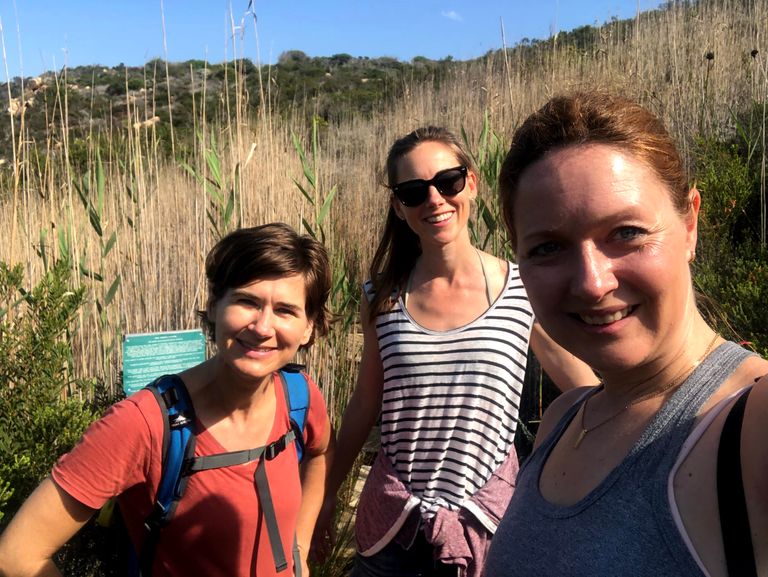 Hiking buddies - Beth, Miriam and me (Zoe)
To friends, the outdoors and many miles together!
All photos my own