Hello everyone I hope you will be well and good and will be enjoying good health.
Today I have brought an amazing platform for all of you where you can monetize your content links again and can earn crypto while sharing your links there. Yes you have rightly heard you can now earn crypto while sharing your links. Before going deep I want to tell you that you can easily get withdrawal from that loving platform and at any time and there is no any restrictions or any limit for the refferals you only have need to verify yourself and you can then withdraw your crypto tokens which are TMAC.
TipMeACoffee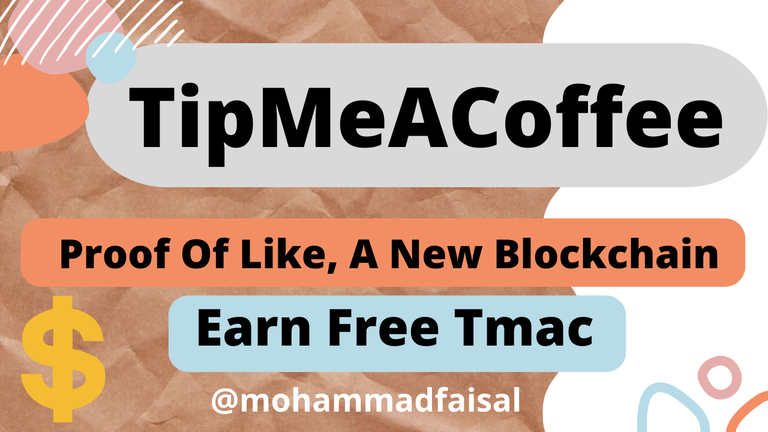 Image Designed by
Canva
TipMeACoffee is a new social media platform powered by the breeze dao. It works on the proof of like blockchain consensus. It means it is a blockchain platform where you guys can earn crypto while liking others posts and when others like yours then you again earn crypto tokens.
Working of TipMeACoffee
TipMeACoffee is an amazing platform where you share the links of your articles as you don't have any need to write a special article for the TipMeACoffee.
It is the best thing that you only share your links of your articles written on other platforms and then you earn extra income for sharing the links here.
TipMeACoffee rewards its users for the tmac tokens, the users earn tmac tokens while sharing their links.
When you guys share your links then you earn tmac tokens when others come and like your links means to say your posts on TipMeACoffee.
Every steemit user can share their links on the TipMeACoffee and can earn bonus rewards in the crypto in the form of the tmac tokens and in this way you guys can catalyze and boost your earnings with the collaboration of the TipMeACoffee a project by the breeze dao.
Links Limitations
Hey guys you will be thinking that if you can only share your steemit links or other links as well. Then the answer is yes, yes guys you can also share links expect the steemit. You can also share your links of your other social media networks.
You can also share links of YouTube videos as well as from other platforms or websites. You can get links from Google websites or any other websites to share on the TipMeACoffee and you can earn tmac tokens.
So guys you can share all types of links here and there is no any limitation. You are not limited to link sharings.
Technical Working of TipMeACoffee
Working of TipMeACoffee is simple you can easily share your links but there are some factors which you have to keep in notice while sharing your links.
VP and BW are the two terms used in the TipMeACoffee. Here the complete explanation is available you can see below:
VP: VP stands for the voting power in the TipMeACoffee. It is that power which is used to like others posts. It is used to vote others posts and when you like or vote others you also earn the same amount of tmac tokens which are directly transferred to your wallet. And the maximum value of the VP is 16,000 fixed by the TipMeACoffee platform. And each upvote costs VP.

BW: bw stands for the bandwidth, it is just like the steep power which is used for each transaction. Similarly, in the TipMeACoffee platform for every task for every transaction bandwidth is used. The maximum amount of bw is 64,000 fixed by the TipMeACoffee platform and it is enough in publishing and voting others.
These both things VP and BW are recovered with time but more the TMAC tokens in your account you have the recovery speed is more.
What is Tmac.finance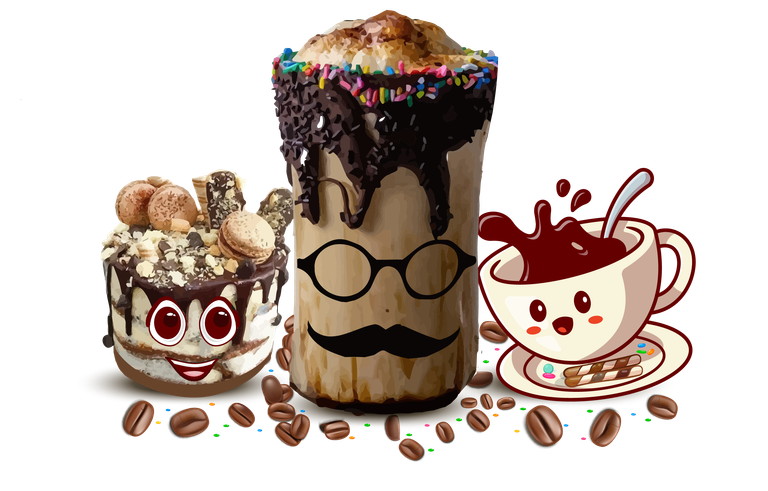 Image by
tmac.finance
Tmac.finance is another application by the breeze dao and it has great link with the TipMeACoffee as you can stake your tmac tokens at tmac.finance and you can increase your earning.
Currently tmac.finance is offering the biggest returns and it is the best defi offered on the BNB chain. It's working is very simple and you can easily stake your tmac tokens and you can increase and boost your tokens without any cost.
Benefits of Tmac.finance DeFi
It is one of the best defi platforms offered on the BNB chain as it is offering highest yeilds and with a lot of benefits listed below:
There is no staking fees.
There is no unstaking fees
There is no any limit for the staking
You are not bound to staking
You can quit at any time.
You can withdrawal your amount at any time without the unstaking fees deduction.
You can earn 10% affiliate earning from the staking.
The only win win situation is, offered by the tmac.finance
Wonderful opportunity for the DeFi investors.
So in this way by staking your tmac tokens you can boost your earnings at the tmac.finance a wonderful defi. It is the biggest opportunity for the investors and it's safe and sound because tmac is here to stay.
More Ways To Earn Tmac Tokens
You guys will be surprised after listening to the different things that you have still a lot of options for making money as it is the biggest and vast platform with a lot of more ways to earn tmac tokens.
You can earn tmac tokens by voting others.
You can invite your friends and can earn tmac tokens on each vote they receive. It gives you 2% tmac tokens from each upvote they receive. So promote TipMeACoffee and earn tmac tokens.
You can earn tmac tokens by becoming witness of the breeze blockchain. So produce blocks and earn tmac tokens. You can earn 0.3 tmac tokens for producing each block.
You can earn tmac tokens by taking part in the development of the TipMeACoffee. So here is a greatest opportunity for the developers to earn tmac tokens by utilizing their development skills.
How to Create Account
Creating account on the TipMeACoffee platform is simple.
Requirements for creating account are given below:
You must have an email address
You must have a discord account
Account Creation Procedure
TipMeACoffee has a unique way for the creation of accounts to avoid spam which is the biggest challenge for every platform.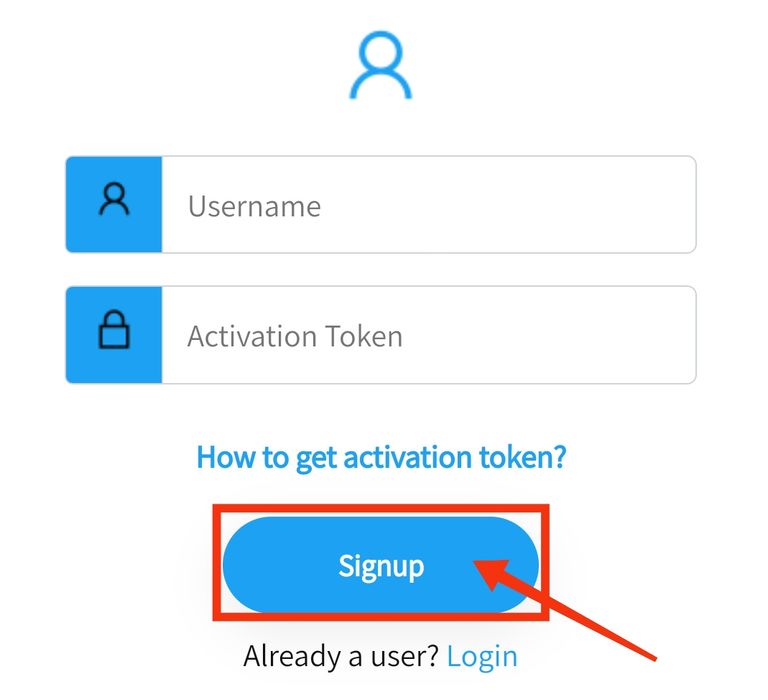 Screenshot by
TipMeACoffee
Go to TipMeACoffee.com

Firstly you have to join the TipMeACoffee discod server to get the account activation token.

Join TipMeACoffee Discord

Here in the discord server you will find a section for the account creation as you can see in the below screenshot.

Here in this account creation section you have to give the command for the account creation as it will give you a unique account creation token for the creation of your account.

So give the command just like this $claim username as you can see in the above section.

The bot Join Tmac will send you a DM with the account creation token.

Here you can see that in this way you will receive a token in your DM.
Copy this token and paste it in the website as you can see below.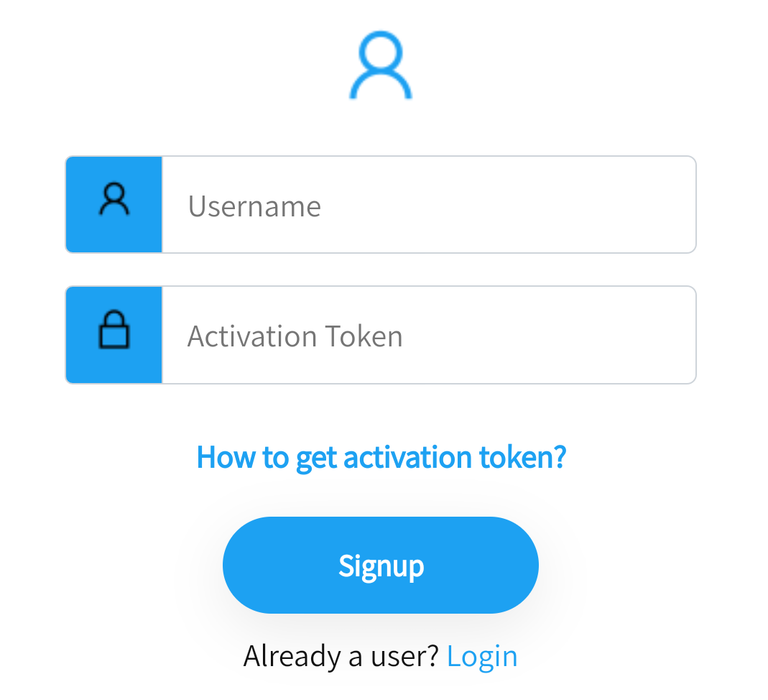 The username should be same as you have selected in the discord server because the token will only work for that unique username.

After that your account has been created and you have been given an active key, save this active key as it cannot be recovered later.

Save it at the safe place because it is the ownership of your account if you have this key you can perform the transactions otherwise you cannot do anything.

So now your account has been successfully created and you can now share your links and upvote others to earn tmac tokens.
How To Post Links
Posting links on TipMeACoffee is as simple as copy and paste.
Open TipMeACoffee and click on the marked pen sign with the red box.

You will see an interface as you can see below.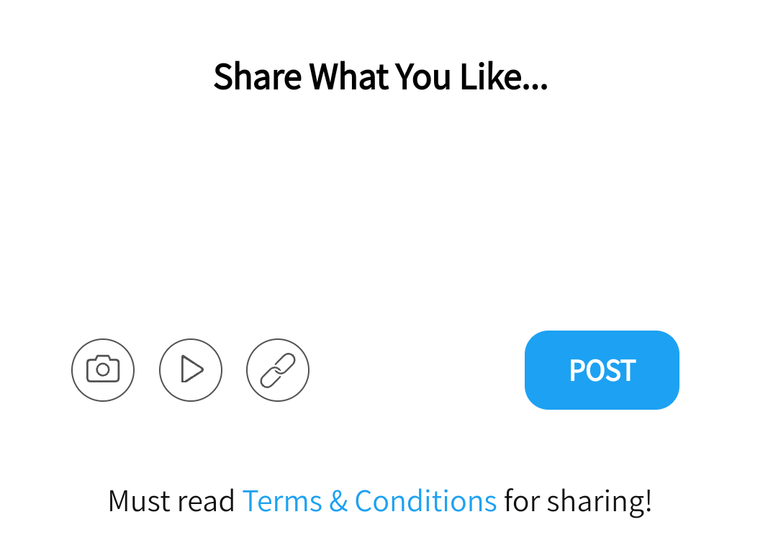 Here you have to paste your links.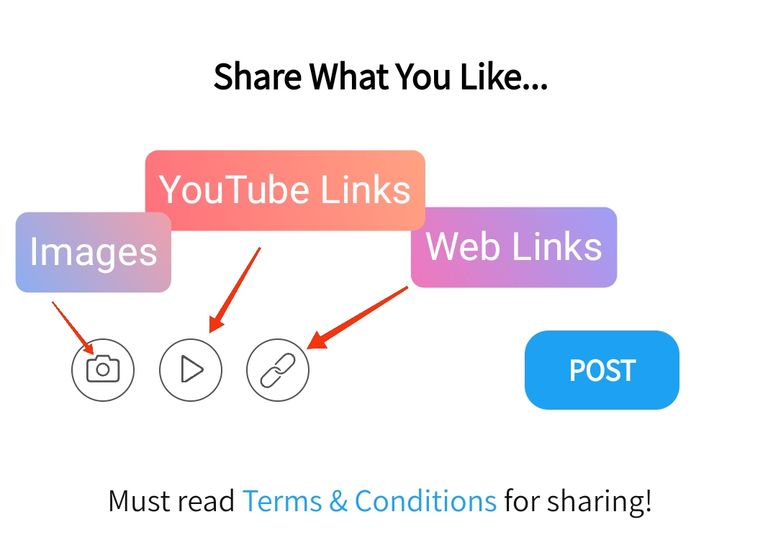 You can see the three different options in the above picture.
First section is for uploading your own images and text.

Paste your YouTube Links in the second option as highlighted above.

Paste your web links in the last section as highlighted above.

After pasting your links in the desired section click on Post.

TipMeACoffee automatically fetch that link along with the title and the text.

After this you have to give tags along with the # sign. Two tags are necessary.

Each tag should be separated by the space.

Now Select Category according to the post link. And avoid spamming other categories.

Now click on Share and your link has been shared successfully.
In this way you guys can share your links on TipMeACoffee and can earn more rewards fr your content.
How to Upvote
It is also simple and easy to do upvotes and to earn tmac tokens for every upvote. It will cost you VP and BW as I have explained these terms in the above section.
Simply click on the clap button and your upvote will be broadcasted. And it will earn you tmac tokens.
How To Withdraw Tmac Tokens
This is the most important thing to be discussed. As you know nowadays fake platforms are in excess who do not reward their users and just utilize their efforts for their benefits.
But TipMeACoffee (tmac) is a trusted platform by a lot of users and it give you withdrawal at any time whenever you want.
Here are some steps to withdraw your tmac tokens.
Firstly you should be a verified user.
Tmac is a BEP20 token. So you should have a BEP20 address to receive your tmac tokens.
Go to your wallet.
Paste your address.
There is currently 1% chain fee.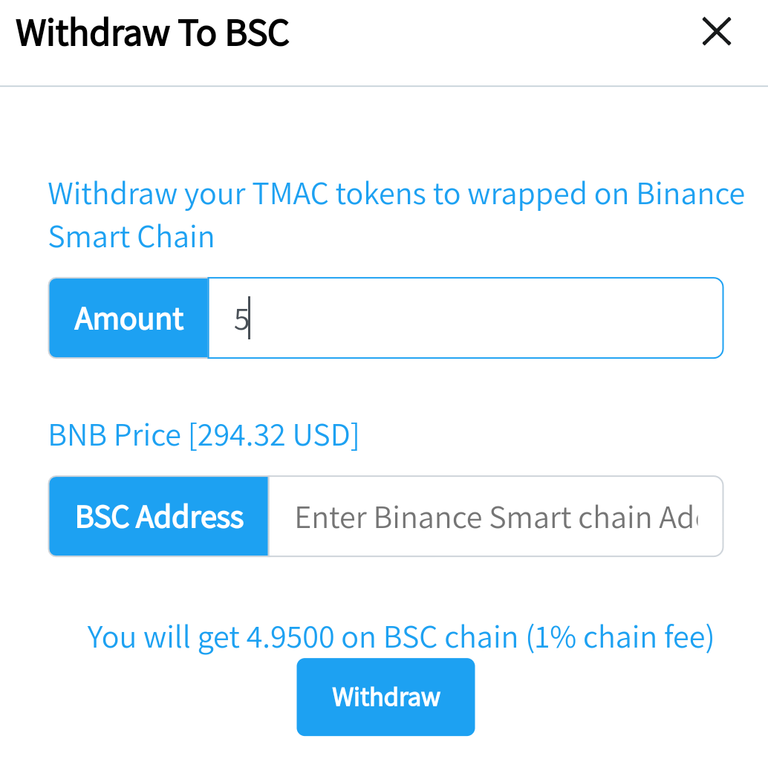 Here you can see the live proof of the withdrawal. I going to withdraw my 5 tmac tokens as you can see in the above screen.
So I have entered my address and withdrawal has been processed.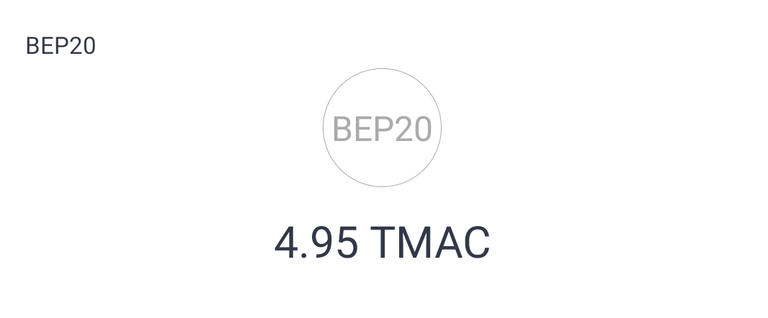 And finally you can see I have received the commited amount of tmac tokens in my wallet.
How to Trade
Now the question is that how and where we can trade these tmac tokens. So let me tell you that how can we trade these tokens.
I hope everyone is familiar with the pancakeswap defi exchange. You can trade these tmac tokens in the pancakeswap. We can buy and sell tmac tokens in the pancakeswap.
Here is the trading pair of the tmac token in the pancakeswap. We can buy and sell tmac tokens here.
Contract Address of tmac: 0xd26afe5e0c3e9f86279a9a8071fdddd7a3c2e52c
Rewards and Airdrops
TipMeACoffee is the wonderful platform with a lot of Airdrops and other rewards. It has carried out many Airdrops and users have been rewarded with those rewards.
They are giving breeze tokens in the airdrop and soon breeze token will be launched and it's listing price is $0.4.
Currently there is one airdrop is going on and you can join it and can accumulate breeze tokens.
Old Airdrops:
TipMeACoffee has already done the previous Airdrops, these were the biggest Airdrops as given below:
First airdrop was of $2,00,000 worth breeze tokens.
Second biggest airdrop was of 3,00,000 worth breeze tokens.
YouTube Video Contest to win iPhone 13 max pro. Every video will get 1000 breeze tokens ($400) and 20 best videos will get 3000 breeze tokens ($1200)
These all above Airdrops has been completed and winners has been chosen.
Current Airdrop:

This is going on and it is $4,000 worth breeze tokens airdrop.
Breeze Blockchain Explorer - Breezescan
Breeze blockchain has its blockchain explorer where you can explore the TipMeACoffee transactions.
It is the Breezescan where you can track your TipMeACoffee data. You can search the transactions as well as you can check your account activities as well. You have to put your username in the search bar section and you will find your account activity details.
So it has a complete system and you can track your data within the blockchain and can access the transactions at anytime as all the data is saved in the breezescan blockchain explorer.
TipMeACoffee Social Media Handles
TipMeACoffee has different social media handles which are given below:
Follow these handles and be updated from the latest news and updates from the TipMeACoffee.
For more information you can watch this video about the TipMeACoffee. If you have still any questions you can ask here I will try my best to respond you.
---
All the screenshots have been taken from TipMeACoffee website and discord
Note:- I have already published this post at steemit, and I am also publishing it here.