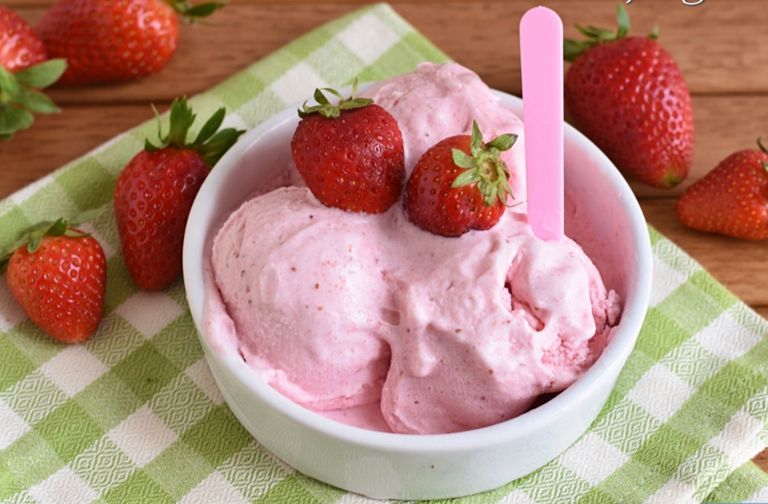 Actualmente las frutillas que se encuentran en el mercado son muy grandes y jugosas, pero hay que reconocer que su sabor nada tiene que ver con el mucho más delicado de las "hermanas" más pequeñas comúnmente llamadas fresas silvestres que todavía hoy crecen espontáneamente en varios bosques de Italia.
Muchos de los fitonutrientes que se encuentran en las frutillas no solo tienen propiedades antioxidantes sino que también son excelentes antiinflamatorios. Los estudios han demostrado que estos compuestos funcionan sinérgicamente para beneficiar el sistema cardiovascular. Su actividad reduce la oxidación de grasas en las membranas celulares, disminuye el porcentaje de colesterol LDL malo en sangre y reduce la actividad de la angiotensina. La angiotensina es una hormona cuya hiperactividad provoca una vasoconstricción y, en consecuencia, un aumento de la presión arterial con todos los riesgos que ello conlleva.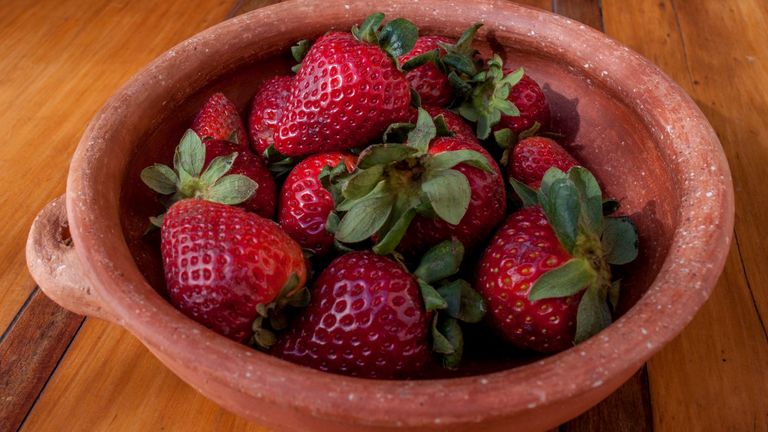 Currently the strawberries found on the market are very large and juicy, but it must be admitted that their taste has nothing to do with the much more delicate one of the smaller "sisters" commonly called wild strawberries which still today grow spontaneously in various woods of Italy.
Many of the phytonutrients found in strawberries not only have antioxidant properties but are also excellent anti-inflammatories. Studies have shown that these compounds work synergistically to benefit the cardiovascular system. Their activity reduces the oxidation of fats in cell membranes, decreases the percentage of bad LDL cholesterol in the blood and reduces the activity of angiotensin. Angiotensin is a hormone whose overactivity causes vasoconstriction and consequently an increase in blood pressure with all the resulting risks.

para 4 personas.
300 g de frutillas
80 g de azúcar
150 g de leche
150 g de nata montada
1 huevo
½ vaina de vainilla
1 ralladura de limón
For people n. 4
300 g of strawberries
80 g of sugar
150 g of milk
150 g of whipped cream
1 egg
½ vanilla pod
1 lemon zest

(30-35') Heladera (30') Congelador (alrededor de 5 horas)

En un cazo ponemos a calentar la leche con la vaina de vainilla abierta a lo largo para que suelte mejor su aroma y con la ralladura de limón (sólo la parte amarilla).
Tan pronto como llegue a ebullición, retira del fuego y deja que se enfríe.
Mientras tanto, lava las fresas y déjalas escurrir bien.
Bate el huevo con el azúcar hasta que esté espumoso, luego agrega las fresas y licúa todo.
Luego vierte la leche sobre la mezcla, a la que le has quitado la ralladura y la vainilla.
Por último, incorporar suavemente la nata montada y verter todo en la heladera, haciéndola funcionar durante una media hora aproximadamente.
Si en su lugar utilizas el congelador, vierte la mezcla en la cubitera previamente enfriada, pero sin llenarla por completo, porque la congelación aumenta el volumen.
Cubrir y poner en el congelador.
Después de aproximadamente una hora, una hora y media, saca la bandeja del congelador: la mezcla habrá comenzado a endurecerse, especialmente en los bordes.
Luego mezcle enérgicamente, tratando de romper los cristales de hielo que se hayan podido formar o, mejor aún, mezcle a baja velocidad.
Luego vuelve a meterlo en el congelador y pasada una hora, hora y media, repite la misma operación.
Finalmente déjalo de nuevo en el congelador durante unas dos horas: en este punto el helado debería estar listo.

(30-35') Ice cream maker (30') Freezer (about 5 hours)
In a saucepan, heat the milk with the vanilla pod, opened lengthwise so that it releases its scent better, and with the lemon zest (only the yellow part).
As soon as it reaches a boil, remove from the heat and let it cool. In the meantime, wash the strawberries and let them drain well.
Beat the egg with the sugar until it appears frothy, then add the strawberries and blend everything.
Then pour the milk onto the mixture, from which you have removed the zest and vanilla.
Finally, gently incorporate the whipped cream and pour everything into the ice cream maker, making it work for about half an hour.
If you use the freezer instead, pour the mixture into the previously cooled ice tray, but without filling it completely, because freezing increases the volume.
Cover and put in the freezer.
After about an hour, an hour and a half, remove the tray from the freezer: the mixture will have begun to harden, especially around the edges.
Then mix vigorously, trying to break any ice crystals that may have formed or, better still, blend at low speed.
Then put it back in the freezer and after an hour, an hour and a half, repeat the same operation.
Finally leave it back in the freezer for about two hours: at this point the ice cream should be ready.

Y como siempre me despido de todos con un:
And as always I bid you all farewell with a: