All the uses of the contents herein - and their derivatives - are strictly prohibited without the explicit consent of the author, except for dissemination without modification through media and social media channels.
---
Hello!
Today, I would like to join a contest I discovered in the last weeks, the one organized by @blurtconnect-ng. You can find more HERE. The theme I want to propose is a quick recipe I prepared some days ago: Salmon and Rocket Rigatoni pasta.
---
The INGREDIENTs and the EQUIPMENTs
The ingredients are:
salmon
rocket
Rigatoni pasta
extra virgin olive oil
garlic
water
salt
and the necessary equipments are:
pots
stove
knife, fork and spoon
ladle
The PREPARATION of the dish
First, I took a pot that was two-thirds full of water and placed it on the stove. I lit the fire and grabbed the other basic ingredients: the rocket tops and a few slices of smoked salmon. It's important to remember to clean and wash the rocket tops before starting the preparation.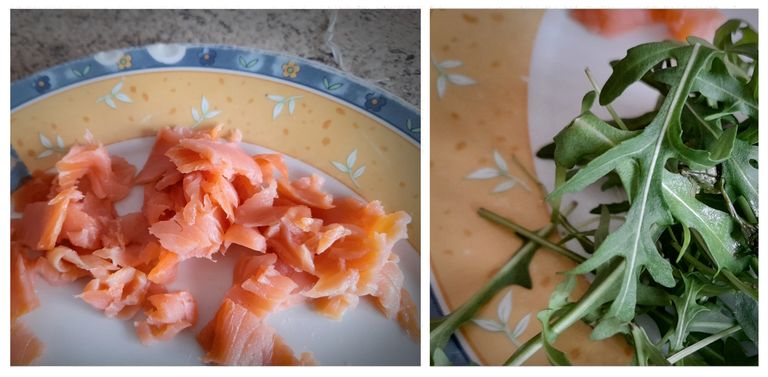 Then, I chopped up both the salmon and the rocket: I created a coarse mince with the rocket and I obtained very irregular pieces from the salmon. Even if you can't see it in the picture, I combined both ingredients in a bowl, adding some extra virgin olive oil and garlic.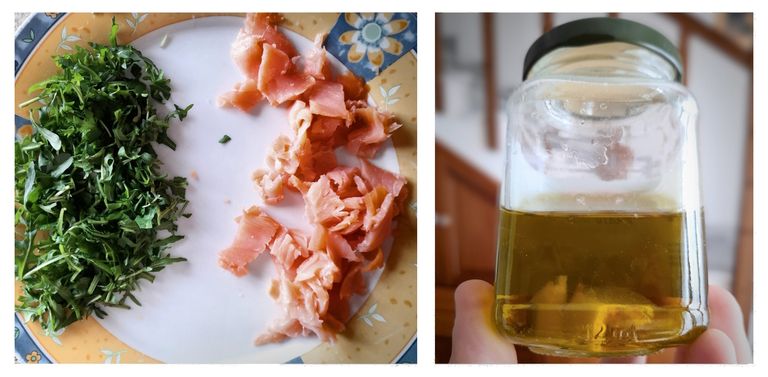 I used a flavored oil that I had already prepared, but you could also use a clove of garlic and put it in a cup of oil and leave it to rest for a couple of hours. This way, the oil will absorb the garlic flavor just enough.
After these steps, it was time for lunch. I saw that the water in the pot was starting to boil, so I added some salt and a particular type of wholemeal Rigatoni. Not sure how to find them? Don't worry, for this very simple recipe both whole Rigatoni and non-wholemeal white pasta are fine; someone told me that it is not easy to find these particular types of pasta in all countries, so, in its absence, you can also opt for any other type of pasta you're able to find.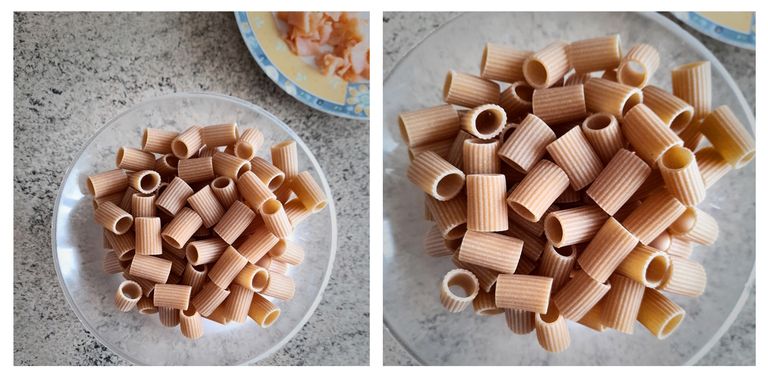 After cooking for about 15 minutes, I drained the pasta and dipped it in the salmon, oil and rocket sauce. The result was a tasty and light dish, ideal for an untrained stomach. For those who have problems, I recommend avoiding garlic, which is a bit heavier to digest.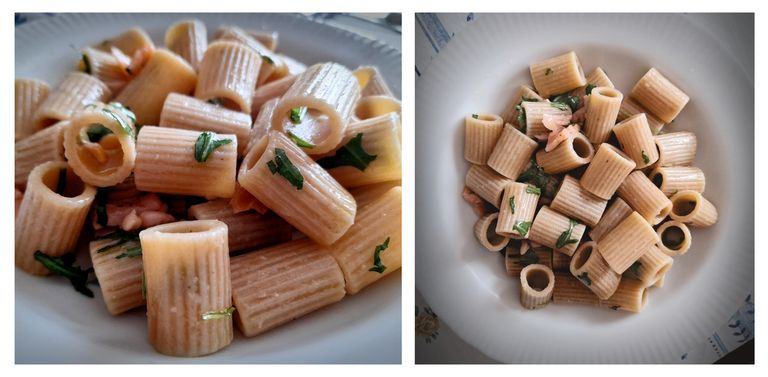 ---
The end
Another very simple, quick and tasty recipe. I love these type of food preparations because they are very suitable for a quick break during the working days. Do you think the same, or? Have you ever tried this recipe? And other type of Italian pasta?
And nothing more, even for today I reached the end. I hope you enjoyed this post and it left you with a useful cue for some ideas to bring to the table. I greet you and I hope that we will meet again in a future post. I recommend: if you liked the post, leave an upvote! ;)