The ongoing craze about FIFA digital collectibles aka NFT is much noticeable. With exclusive prizes in different NFT competitions & gamification, it really seems very attractive. FIFA itself licenses multiple Web3 and NFT games for World Cup. Also, the top crypto site called Crypto.com is also running fantasy football games on the official FIFA website. It looks like a total paradigm shift to me in a positive way.
I'm not into NFTs. But my feed is blown away by such news and that sure is interesting. I was thinking about how much those NFTs are actually worth. Looks like, they are not at least price less. But the question is how authentic those programs are. No need to say that the top NFTs are outstanding in the field. You may have heard about the hype of NFTs launched by Cristiano Ronaldo. When people like them come into the platform, there's no way we can stay ignorant.
That's when NFT hawkers try to cash in!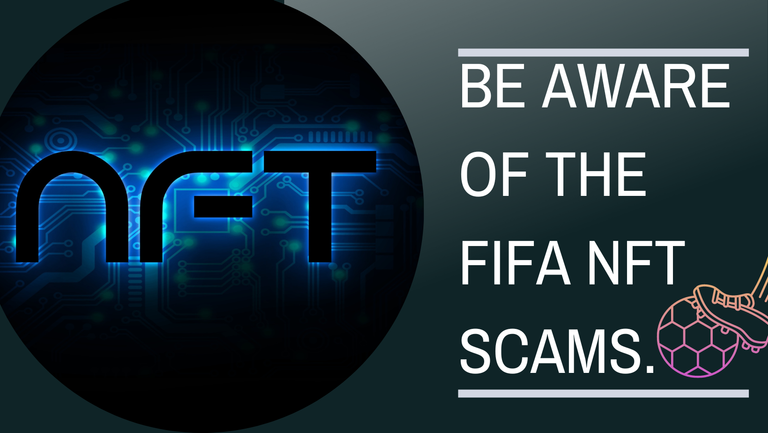 Photo: Made by Canva.
The truth is not all NFT launches are authentic. One thing about NFT that always scares me is how genuine the fake one looks. It's hard to distinguish because scammers are always ahead of the game. Often time, the scammers pose as genuine NFT trading platforms on social media to promote NFT giveaways. You will sign in to the real program but get the fake one.
Also, creating a token for an NTF is so easy; anyone can do that and with the evil intention they can scam some money as well. Platforms like different NFT sites are new and may not be secure, so any crypto wallet data that users enter might be at risk if the site's database is leaked. Also, they are not on watch as much as other crypto sites.
"The Cybersecurity Company, Kaspersky, uncovered many phishing sites and NFT scams profiting from the Qatar 2022 World Cup football event." - source.

"Fake FIFA merchandise like T-shirts, phone cases with popular players and even signed balls are another lure cybercriminals are using" - source.
All this info is enough to make a noticeable person alert about this. Still, some will fall for the scams.
*I would suggest always using the reputed NFT marketplace. Never fall for lucrative advertisements and giveaways. Keep an eye on the link you are clicking on and the site is redirecting you. Check the NFT history and the pricing. And last but not the least, keep your wallet, device, and pass/seed secure.
I believe, if you invest in the right NFTs you can make good money and earn some nice collectibles. Keep in mind to be aware of the scam, that's it.
Good luck.
Thanks for reading.