This challenge is a small one created to help more people around the world.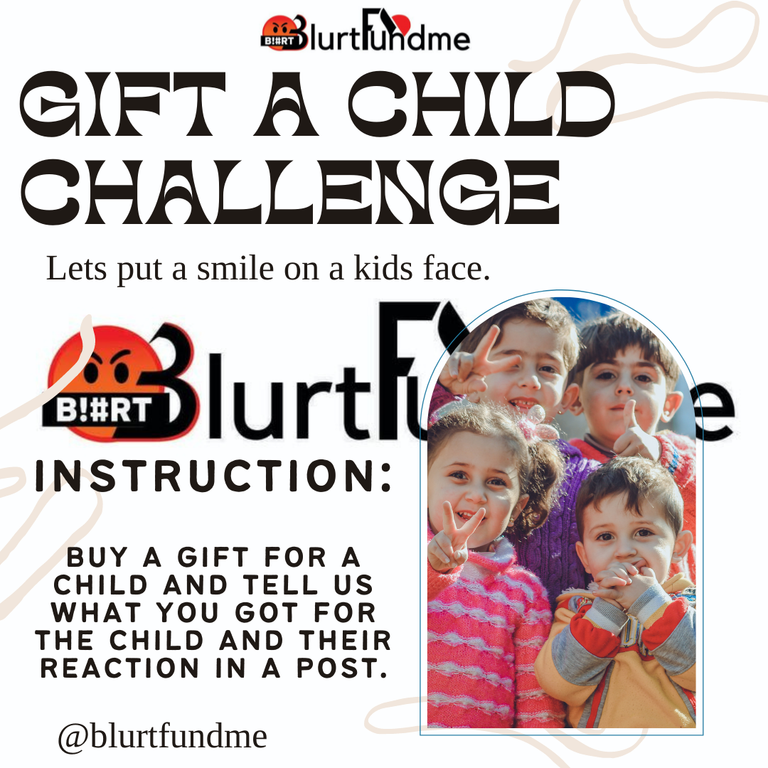 INTRODUCTION
Gifting a child initiative is not a contest rather we are challenging everyone on blurt to GIFT A CHILD WITH SOMETHING GOOD, to put a smile on their face, as children are gifts to us let us make them smile, it mustn't be your relative.
You can go round and do this for any child, if posible ask them what they want or you can decided to surprise them and we're here for them.
This initiative is created to anticipate the celebration of WOLRD'S CHILDRENS DAY since this is the month for children, let start making them happy before 27th May 2022 to show that we love them.
---
This challenge instructions are simple and are as follows:
Buy anything nice, it can be a book, snack, meal or anything good.
Give it to the child in your environment.
Take a picture of when your buying the gift and probably a picture of when your giving the child the gift.
Make a post explaining to us what you got for the child and their expression.
Mention @blurtfundme and also Use the #blurtfundme, your country tag e.g #nigeria, #newlifevision, #blurtlove and any other tags of your choice to get your post seen.
Copy the post link and paste under this post for easy access by curators.(Compulsory)
Note: You can gift as many children as you can but the rules are 1 account to one post and you must show your face holding the gift in of the images.
---
OUR CALL FOR SUPPORT
Since this is not a contest, we're looking at making sure every individual who gifts a child and makes a post about gets upvoted. This challenge is open to everyone
We are calling on all curation account to give us their support by curating anyone that gifts a child starting from this moment till the expiration of this post.
Let us show to the kids around us that we love them and that blurt loves them too.
PS; While making posts on other social media platform endeavor to talk about blurt and possibly tag us to the post as we are on twitter, facebook and instagram with username @blurtfundme.
---
@BLURTFUNDME

Fundraising for the people and charities you care about Get help. Give kindness.

BLURT TO THE MOON 🌙




---

Posted from https://blurtlatam.com