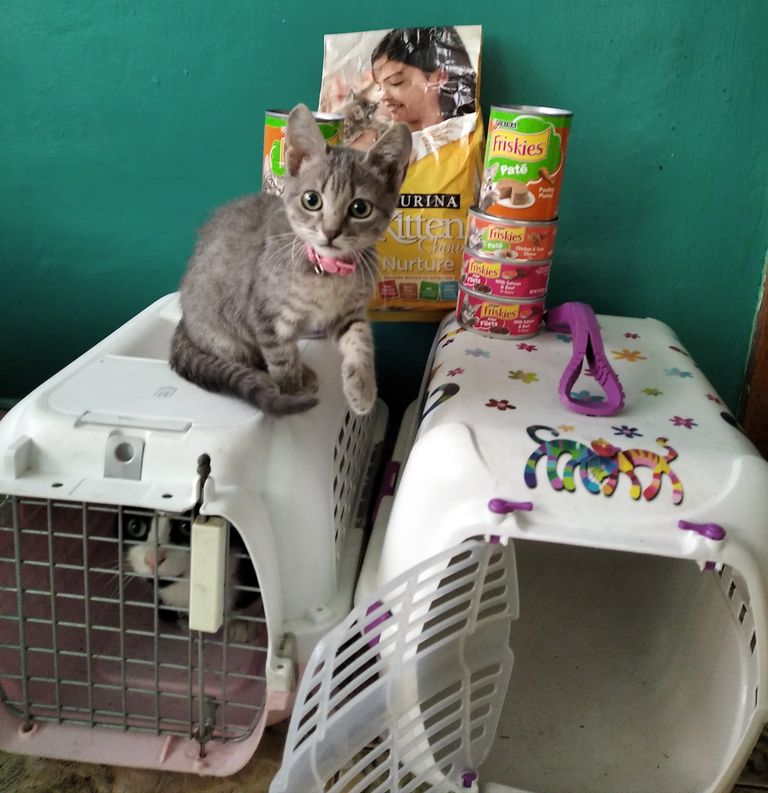 Hola querida comunidad de Blurt, esta es la presentación de la mas pequeña de la manada su nombre es Rusa Simoneta. Está pequeña bola de pelos, a quien vi por primera vez en una jornada de esterilización en enero de 2020, llegó al lugar junto a su mamá quien sería esterilizada.
Su madre es una preciosa siamesa pequeña y su papá un gato común de color gris, de esta unión nacieron tres hermosos bebes Rusa la mayor de color gris, y sus dos hermanos menores machos de color beige muy claro con rayas de tonos grises y marrones.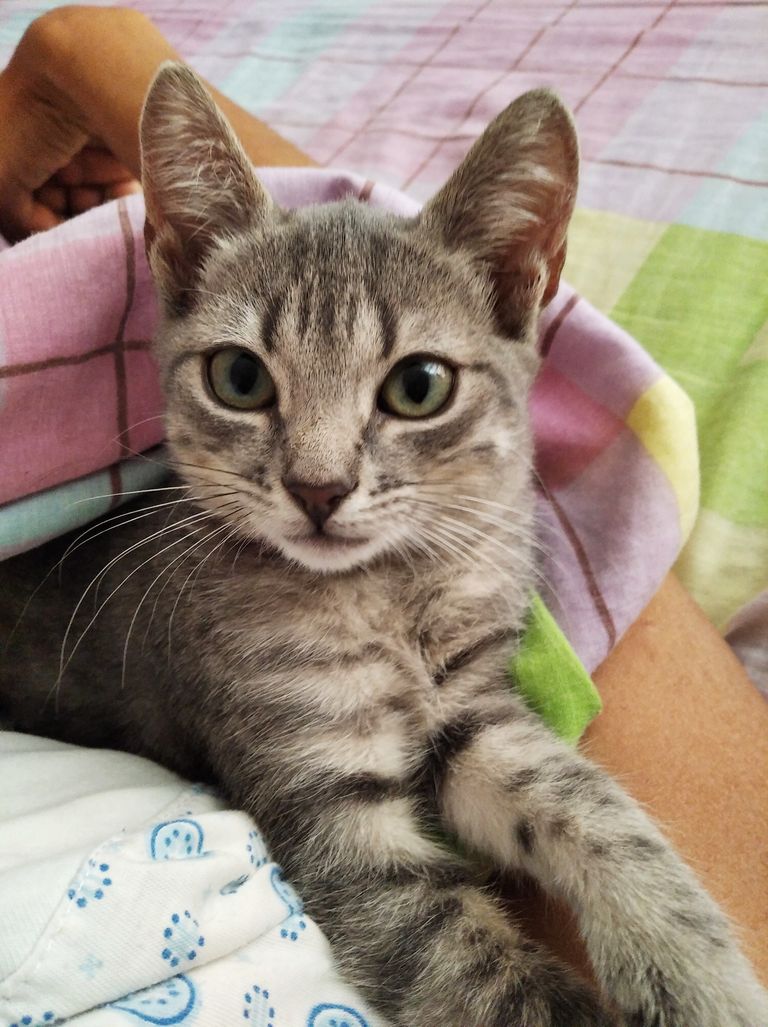 Aunque la familia de la madre de Rusa me indicó que ella, ya había sido prometida a una familia, les di mi número de teléfono por si necesitaban ayuda para buscarle hogar a ella o sus hermanos y unos meses después recibí la llamada debido a que no podían tener mas tiempo a los bebés, me los entregaron y los publique para que fueran adoptados, sus hermanos fueron adoptados rápidamente, y yo me quedé con la enana de color gris.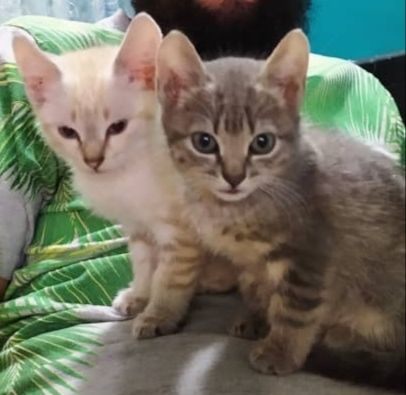 Rusa and one of her brothers
Está gatita tiene varias características que la hacen única, primero su pelaje, ella es súmate esponjosa, tocar su pelaje es algo que se siente bien, la textura es muy agradable y su pelo tupido, por otro lado, no creció mucho está por cumplir ya tres años y parece que tuviera como seis meses, esto hace que se vea muy tierna y como consecuencia todos desean cargarla, abrazarla y besarla.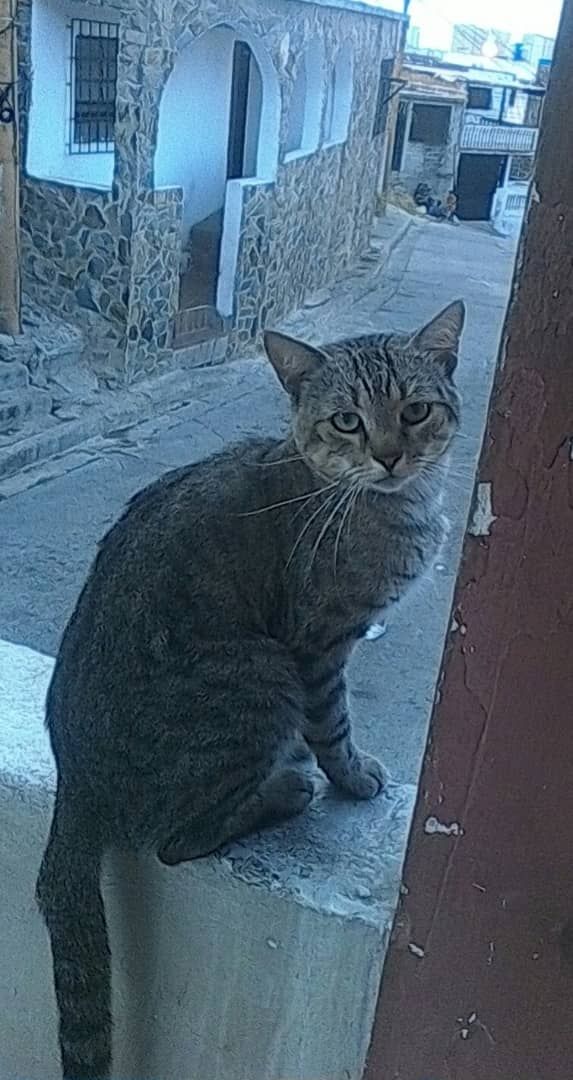 Rusa's father
Así mismo, por ser pequeña yo digo que es una gata Bonsái, en casa esto causo mucha gracia y de vez en cuando dicen: "allí viene la gatita Bonsái". Otra característica que la hace particular es su carácter, ella detesta que la carguen, abracen, que la estrujen y besen, pero al ser tan linda y pequeña es muy común que esto ocurra, Rusa es de muy buen apetito y debido a ello ha ganado algo de peso, y además es poseedora de una bolsa primordial.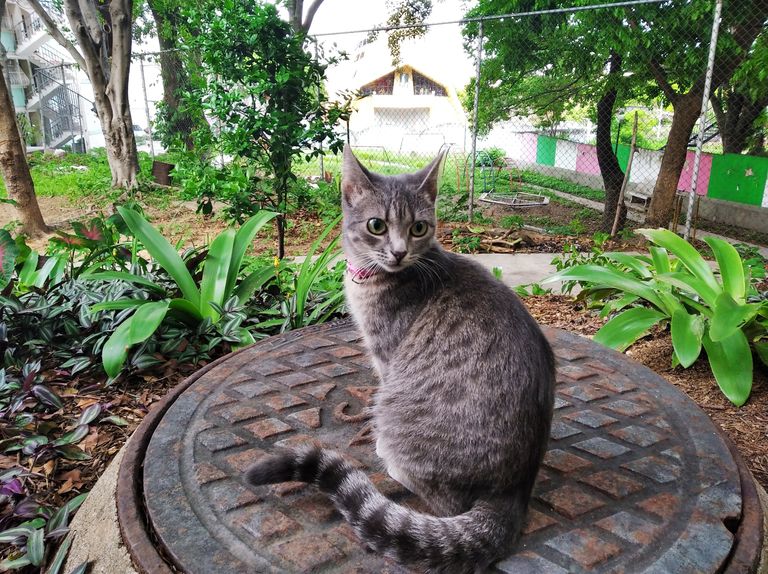 Rusa in the garden
Al ser constante sometida a dosis de cariño extremo, Rusa Simoneta solía pasar mucho tiempo con mi abuela una anciana que recientemente murió a la edad de 99 años y para nuestra sorpresa estuvo sobre su cuerpo hasta que la funeraria llego para retirar el cuerpo, parecía que quería darle calor o tal vez despedirse.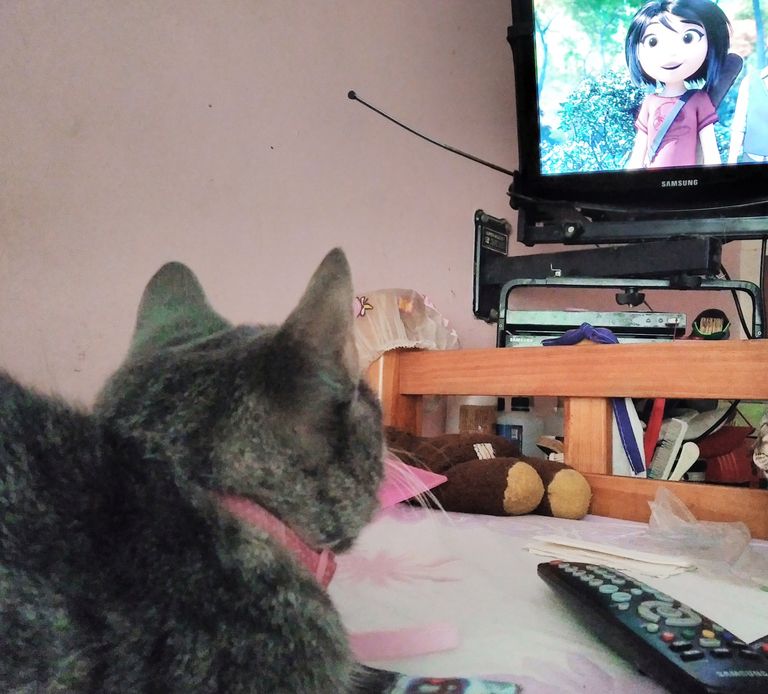 Rusa watching tv
Rusa como buena gatita, ama jugar, sobre todo en horas nocturnas y en la madrugada, sus principales compañeros de juego son Akiles y Greta, pero también tiene sesiones de juego con Señor Gato, quien tiene mucha delicadeza para jugar con su hermanita adoptiva.

Me despido, no sin antes aniñarlos para que adopten un gato, si no lo tienes, es bueno que conozcas que son excelentes animales de compañía y créeme cambiará tu vida, te dará muchas horas, de risa, cariño y entretenimiento. Espero sus comentarios, un gran abrazo para ustedes.



Hello dear Blurt community, this is the presentation of the smallest of the herd, her name is Rusa Simoneta. This little ball of fur, who I saw for the first time in a spay day in January 2020, arrived to the place together with her mother who was going to be spayed.
Her mother is a beautiful little Siamese and her father is a common gray cat, from this union were born three beautiful babies, Rusa, the oldest gray, and her two younger brothers are very light beige with stripes of gray and brown tones.
Although Rusa's mother's family told me that she had already been promised to a family, I gave them my phone number in case they needed help to find a home for her or her siblings and a few months later I received the call because they could not keep the babies any longer, they gave them to me and I published them to be adopted, her siblings were adopted quickly, and I kept the gray dwarf.
This kitten has several characteristics that make her unique, first her fur, she is very fluffy, touching her fur is something that feels good, the texture is very nice and her hair is thick, on the other hand, she did not grow much, she is about to turn three years old and looks like she is about six months old, this makes her look very tender and as a consequence everyone wants to hold her, hug her and kiss her.
Also, for being small I say that she is a Bonsai cat, at home this caused a lot of fun and from time to time they say: "here comes the Bonsai cat". Another characteristic that makes her particular is her character, she hates to be held, hugged, squeezed and kissed, but being so cute and small it is very common that this happens, Rusa has a very good appetite and because of this she has gained some weight, and she also has a primordial pouch.
Being constantly subjected to doses of extreme affection, Rusa Simoneta used to spend a lot of time with my grandmother an old lady who recently died at the age of 99 years old and to our surprise she was on her body until the funeral home arrived to remove the body, it seemed that she wanted to give her warmth or maybe say goodbye.
Rusa as a good kitty, loves to play, especially at night and in the early morning hours, her main playmates are Akiles and Greta, but she also has play sessions with Señor Gato, who is very gentle to play with his little adopted sister.

I say goodbye, but not before encouraging you to adopt a cat, if you don't have one, it is good that you know that they are excellent pets and believe me it will change your life, it will give you many hours of laughter, affection and entertainment. I look forward to your comments, a big hug for you.

Translat with www.DeepL.com/Translator (free version)
Own photos, taken with Xiaomi Redmi 7A / Fotos propias, tomadas con Xiaomi Redmi 7A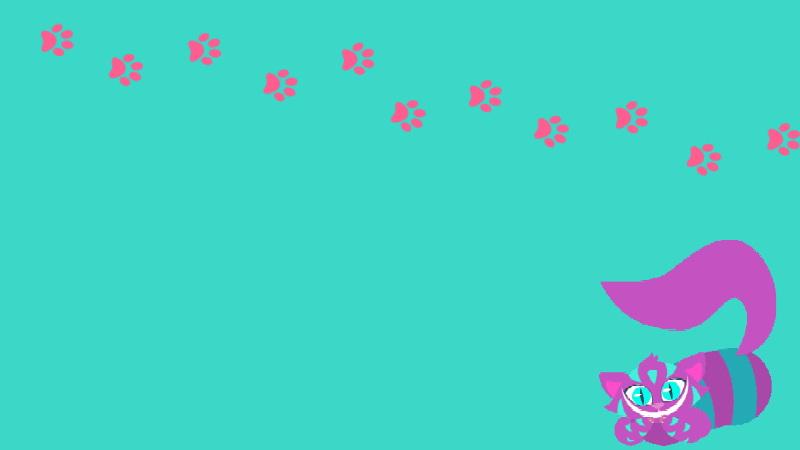 Gif created with Canva/ Gif creado con Canva