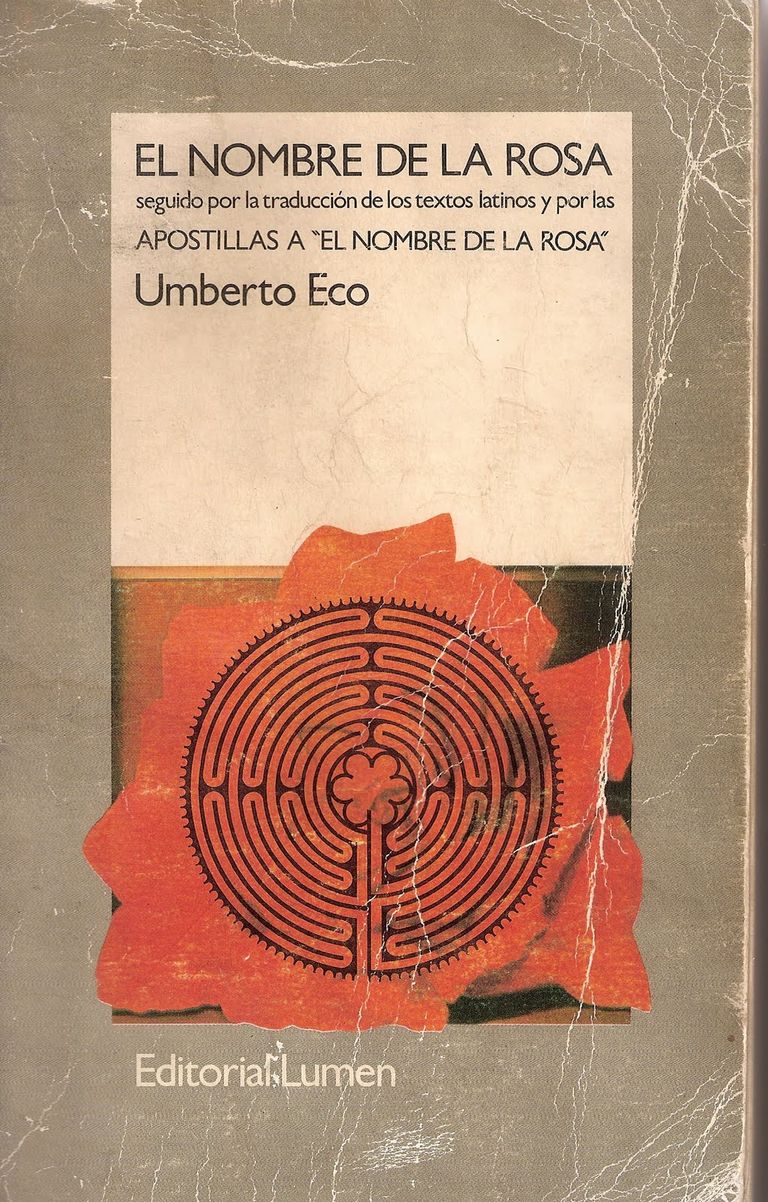 El Nombre de la Rosa del italiano Umberto Eco es uno d elos libros clásicos del siglo XX, transformado en exitosa película .
Si hay dos libros que caracterizan la obra literaria del semiólogo, filósofo y escritor italiano Umberto Eco son El Nombre de la Rosa y El Péndulo de Foucault.
Una reseña de la primera de ellas es la que quiero compartir hoy con todos los #hivers literarios de esta Comunidad.
El Nombre de la Rosa es la primera novela del gran escritor italiano escrita en 1980 y que vio acrecentada su popularidad después de haber sido llevada al cine con una excelente intepretación de Sean Connery.
En realidad Umberto Eco había comenzado a escribir ensayos, su verdadero pasión mucho antes, allá por 1956 siendo aún muy joven, y continúa haciéndolo prácticamente hasta su muerte en el año 2016.
Su producción literaria a nivel de novelas es muy limitada y comprende solo siete libros desde el primero de ellos, El Nombre de la Rosa, hasta el último publicado en el año 2015 poco antes de su muerte con el nombre de Número Cero, cada uno de ellos escrito con un intervalo no menor de 6-7 años entre uno y otro.
En forma paralela ha escrito algunas obras de narrativa infantil (cinco en total) como La Bomba y El General en 1966 y la última Tres Cuentos en el año 2004.
Umberto Eco siempre fue reaccio a las novelas, por ese motivo tardó bastante en escribir su primera obra literaria en este género, y optó por una temática en la que se ha especializado durante gran parte de su vida: literatura medieval y en lo que a género literario se refiere optó por el género del misterio y, en particular, el misterio deductivo
El libro está ambientado en la Edad Media, en el Norte de Italia, en un monasterio benedictino, y refleja fielmente el diario de un monje ya anciano que relata las aventuras pasadas cuando era novicio, muchas décadas atrás. Dividida en siete días, la narración sigue el ritmo de la vida monástica y tiene como protagonistas a Guillermo de Baskerville, monje franciscano, y al novicio Adso de Melk, que es quien va narrando la historia.
Lo curioso de la obra es que éste no era el título original previsto por Eco. El primer título era La Abadía del Asesinato que fue abandonado rápidamente por Eco quien lo considró demasiado convencional. El segundo título propuesto Adso da Melk era para seguir la corriente inglesa dando a los libros el nombre de los personajes, proyecto también abandonado porque en la literatura italiana los libros con esos títulos nunca tuvieron el apoyo del público.
Finalmente el nombre elegido y que sería -a la postre- el definitivo El Nombre de la Rosa tiene origen en su condición de semiólogo y filósofo y se relaciona con la frase latina con la que termina el libro: "stat rosa pristina nomine, nomina nuda tenemu" que traducida literalmente daría algo como: "La rosa primigenia [ahora] existe [sólo] como nombre: poseemos nombres desnudos", aunque también el nombre se refiere al hecho que de todas las cosas al final no queda más que un mero nombre, un signo, un recuerdo.
La novela fue llevada al cine con el mismo nombre en 1986, dirigida por Jean-Jacques Annaud con Sean Connery y Christian Slater como protagonistas principales en los roles de Guillermo de da Baskerville y Adso de Melk respectivamente.

La trama (real o ficticia es algo que debe descubrir el lector) comienza en realidad con el mismo prólogo del autor en el libro cuando afirma que durante una estancia en el exterior tuvo la posibilidad de leer un manuscrito cuto autor era un monje benedictino en el cuá relataba un misterioso suceso acaecido en la Edad Media en una abadía del norte de Italia (recordemos que Eco fue un profundo investigador de historia y literatura medieval).
El manuscrito estaba escrito en latín y el autor procedió a su traducción copiándolo en varios cuadernos que luego se transformarían en el libro.
A partir de ese momento comienza a contar la historia Adso de Melk.
Estamos en la parte final del año 1327 en medio del trayecto que conduce a Guillermo y Adso a un monasterio benedictino de la orden cluniacense en las montañas alpinas del norte de Italia, donde estaba prevista la celebración de una conferencia del orden de los franciscanos (aliados del emperador Luis) y los delegados del papa con sede en Aviñon. Recordemos que en ese momento el poder de la curia papal estaba sometido al rey francés.
Los dos monjes pertenecen a órdenes religiosos distintos: por un lado Guillermo de Baskerville es franciscano e inquisidor arrepentido mientras que Adso de Melk su discípulo en un monje benedictino y Guillermo va a la reunión en representación del emperador para sostener la tesis pauperista (pobreza evangélica).
Al mismo tiempo, algunos crímenes y desapariciones comienzan a verificarse en el monasterio. El abad, responsable no solo de la abadía sino también del en el desarrollo de la conferencia (que prevé diversas negociaciones) tiene mismo del fracaso de la misma luego que su hermano Adelmo es encontrado muerto durante una ventisca de nieve y encarga la investigación del hecho a Guillermo, dada su anterior experiencia como inquisidor.
A esa muerte inicial se suman otras muertes violentas todas ellas más o menos relacionadas con la vida del monje Adelmo pero sin una aparente conexión directa entre ellas. Todos estos crímenes acaden mientras los franciscanos y los delegados locales entablan negociados sobre el tema de como encarar el concepto de pobreza en la Iglesia Católica, y fundamentalmente, como transmitir esos conceptos a los fieles.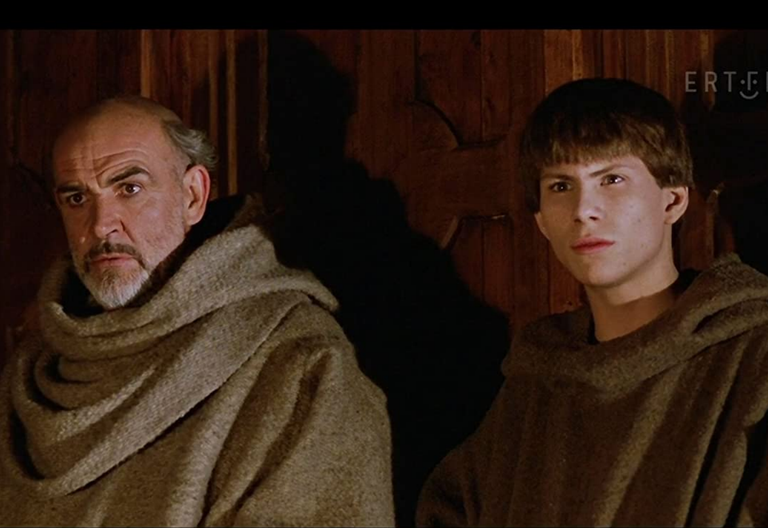 Sean Connery y un joven Christian Slater son los principales protagonistas en el film de Annaud personificando a Guillermo de Baskerville y Adso de Melk respectivamente
A un cierto punto Guillermo -que pasa muchas horas en la biblioteca tratando de desentrañar el misterio que rodea a esas muertes, descubre un antiguo manuscrito griego celosamente guardado en la biblioteca y orgullo del monasterio que podría darle algunas pistas. La biblioteca es en realidad un intrincado laberinto que solo conocen a la perfección sin correr el riesgo de perderse, el bibliotecario y su ayudante.
Relaciones carnales de algunos monjes entre si y con algunas aldeanas y parroquianas de la aldea van completando un cuadro sórdido donde la sombra del crimen va cubriendo de a poco el entero monasterio.
Dado el cariz que han tomado los acontecimientos el emperador manda a un nuevo inquisidor Bernardo Gui quien durante sus investigaciones descubre la relación carnal de Salvador con una de las aldeanas y gracias a la presencia de un gallo y un gato ambos de color negro, símbolos del esoterismo duramente perseguido por la Santa Insquisición, los hace torturar y declarar que en la conjura y asesinatos de los monjes está involucrado el bodeguero del monasterio Remigio da Varane que tiene un negocio clandestino donde vender alcohol y obtiene los favores sexuales de algunas aldeanas. Ambos son declarados culpables de los asesinatos.
En una atmósfera cada vez más tensa Guillermo y Adso no están totalmente convencidos de la presunta culpabilidad de los condenados (culpables obviamente de otros delitos pero no del asesinato) y tratan de descubrir la verdad penetrando en el laberinto de la biblioteca y descubriendo donde se encuentra el manuscrito que se trata de proteger a toda costa: se trata delúltimo ejemplar que queda del segundo libro de la Poética de Aristóteles, uno de los primeros tratados antiguos sobre la comedia y la risa.
El final del libro nos presenta al venerable anciano Jorge da Burgos, un anciano ciego, profundo conocedor de los secretos del monasterio y antiguo bibliotecario que intenta matar a Guillermo ofreciéndole el manuscrito con las páginas envenenadas.
Pero Guillermo de Baskerville prevenido porque sospecha del anciano bibliotecario lo hojea con las manos protegidas por un guante, y entonces el viejo monje, en un exceso d fanatismo religioso, devora las páginas envenenadas del manuscrito para que ninguno pueda recuperarlas y leerlas, demostrando al mundo los efectos beneficiosos de la risa y la alegría.
Guillermo y Adso intentar detener al bibliotecario pero solo logran voltear la lámpara provocando un incendio que desvastará completamente toda la abadía, a la que el joven asistente volverá algunos años más tarde encontrando ruinas y soledad en loq ue había sido escenario asesinatos e intrigas, venenos y descubrimientos.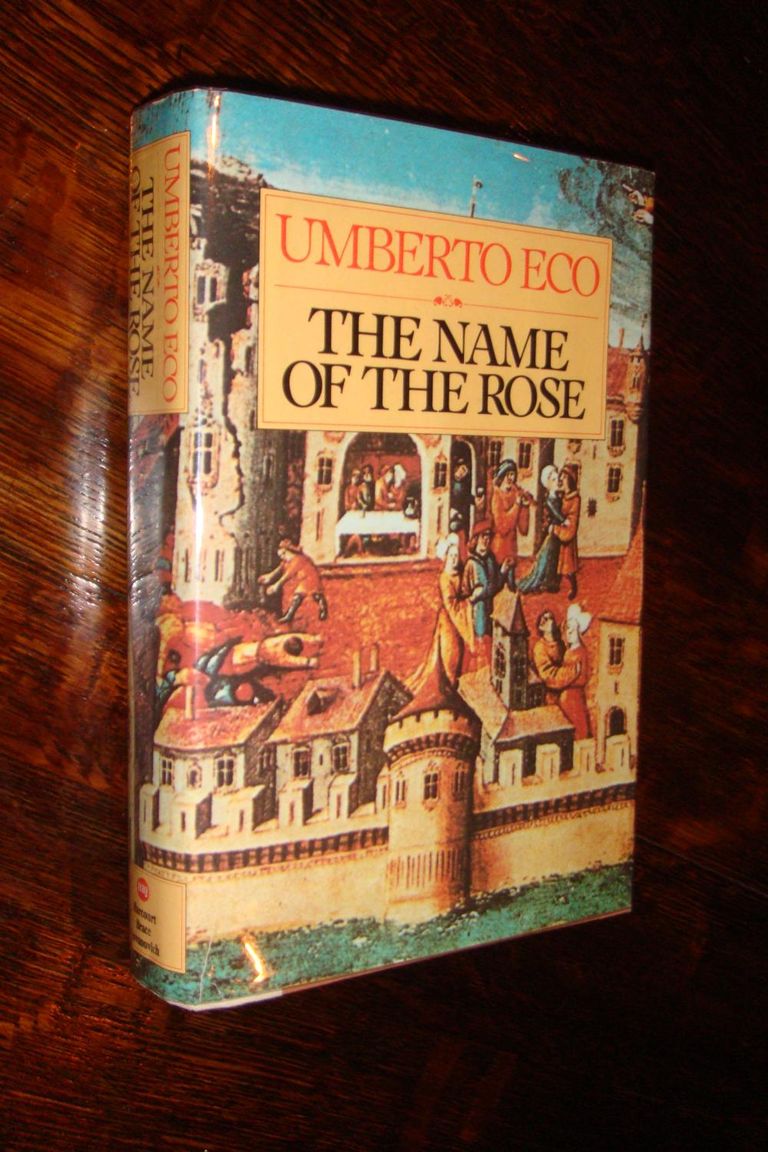 The Name od the Rose is an international bestseller by one of Europe's great contemporary thinkers and scholars.
If there are two books that characterise the literary work of the Italian semiologist, philosopher and writer Umberto Eco, they are The Name of the Rose and Foucault's Pendulum.
A review of the first of these is what I want to share today with all the literary #hivers in this Community.
The Name of the Rose is the first novel by the great Italian writer, written in 1980 and which saw its popularity increase after being made into a film with an excellent performance by Sean Connery.
In reality, Umberto Eco had begun writing essays, his true passion, long before, back in 1956 when he was still very young, and he continued to do so practically until his death in 2016.
His literary output in terms of novels is very limited and comprises only seven books, from the first, The Name of the Rose, to the last one published in 2015 shortly before his death under the name of Number Zero, each of them written with an interval of no less than 6-7 years between one and the other.
In parallel, he has written some works of children's fiction (five in total) such as The Bomb and The General in 1966 and the last Three Stories in 2004.
Umberto Eco has always been averse to novels, which is why it took him a long time to write his first literary work in this genre, and he opted for a subject in which he has specialised for most of his life: medieval literature, and as far as literary genre is concerned, he chose the mystery genre and, in particular, the deductive mystery.
The book is set in the Middle Ages, in Northern Italy, in a Benedictine monastery, and faithfully reflects the diary of an elderly monk who recounts the adventures he had as a novice many decades ago. Divided into seven days, the narrative follows the rhythm of monastic life and features William of Baskerville, a Franciscan monk, and the novice Adso of Melk, who narrates the story.
The curious thing about the work is that this was not the original title intended by Eco. The first title was The Abbey of Murder, which was quickly abandoned by Eco, who considered it too conventional. The second title proposed, Adso da Melk, was to follow the English trend by naming the books after the characters, a project also abandoned because in Italian literature books with such titles never had the support of the public.
Finally, the name chosen, which would ultimately become the definitive The Name of the Rose, originates from his condition as a semiologist and philosopher and is related to the Latin phrase with which the book ends: "stat rosa pristina nomine, nomina nuda tenemu", which literally translated would give something like: "The primordial rose [now] exists [only] as a name: we possess naked names", although the name also refers to the fact that in the end nothing remains of all things but a mere name, a sign, a memory.
The novel was made into a film of the same name in 1986, directed by Jean-Jacques Annaud and starring Sean Connery and Christian Slater as William of Baskerville and Adso of Melk respectively.

The plot (real or fictitious is for the reader to discover) actually begins with the author's own prologue in the book when he states that during a stay abroad he had the chance to read a manuscript whose author was a Benedictine monk in which he recounted a mysterious event that took place in the Middle Ages in an abbey in northern Italy (remember that Eco was a profound researcher of medieval history and literature).
The manuscript was written in Latin and the author proceeded to translate it by copying it into several notebooks that would later become the book.
From then on, Adso of Melk began to tell the story.
We are in the latter part of the year 1327 in the middle of the journey that leads William and Adso to a Benedictine monastery of the Cluniac order in the Alpine mountains of northern Italy, where a conference of the Franciscan order (allies of Emperor Ludwig) and the delegates of the pope based in Avignon was scheduled to take place. It should be remembered that at that time the power of the papal curia was subject to the French king.
The two monks belong to different religious orders: on the one hand, William of Baskerville is a Franciscan and a repentant inquisitor, while his disciple Adso of Melk is a Benedictine monk and William goes to the meeting on behalf of the emperor to support the pauperist thesis (evangelical poverty).
At the same time, crimes and disappearances began to take place in the monastery. The abbot, responsible not only for the abbey but also for the development of the conference (which foresees several negotiations) has the same of its failure after his brother Adelmo is found dead during a snowstorm and entrusts the investigation of the fact to Guillermo, given his previous experience as an inquisitor.
This initial death is followed by other violent deaths, all of them more or less related to the life of the monk Adelmo but with no apparent direct connection between them. All these crimes occur while the Franciscans and the local delegates engage in negotiations on the issue of how to deal with the concept of poverty in the Catholic Church, and fundamentally, how to transmit these concepts to the faithful.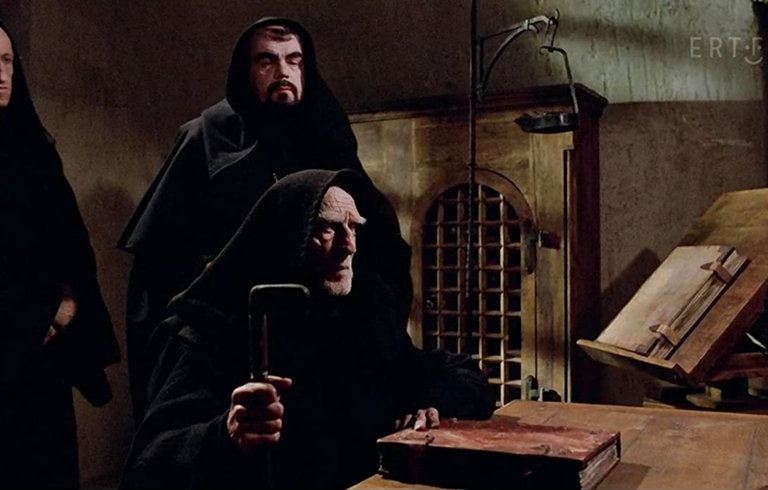 The library of the monastery in Annaud's film where the manuscript that is the motive for all the crimes is hidden.
At a certain point William - who spends many hours in the library trying to unravel the mystery surrounding these deaths - discovers an ancient Greek manuscript jealously guarded in the library and pride of the monastery that might give him some clues. The library is in fact an intricate labyrinth that only the librarian and his assistant know perfectly without running the risk of getting lost.
Carnal relations of some of the monks with each other and with some of the villagers and parishioners of the village complete a sordid picture in which the shadow of crime gradually covers the entire monastery.
Given the turn of events, the emperor sends a new inquisitor, Bernardo Gui, who during his investigations discovers Salvador's carnal relationship with one of the villagers, thanks to the presence of a black cockerel and a black cat, symbols of esotericism harshly persecuted by the Holy Insquisition, he has them tortured and declares that in the conspiracy and murders of the monks is involved the monastery cellarman Remigio da Varane, who has a clandestine business where he sells alcohol and obtains sexual favours from some of the villagers. Both are found guilty of the murders.
In an increasingly tense atmosphere, Guillermo and Adso are not entirely convinced of the presumed guilt of the condemned (obviously guilty of other crimes but not of the murder) and try to discover the truth by penetrating the labyrinth of the library and discovering where the manuscript they are trying to protect at all costs is located: it is the last remaining copy of the second book of Aristotle's Poetics, one of the first ancient treatises on comedy and laughter.
The end of the book introduces us to the venerable old man Jorge da Burgos, a blind old man, a profound connoisseur of the secrets of the monastery and a former librarian, who tries to kill Guillermo by offering him the manuscript with the poisoned pages.
But William of Baskerville, forewarned because he suspects the old librarian, leafs through it with his hands protected by a glove, and then the old monk, in an excess of religious fanaticism, devours the poisoned pages of the manuscript so that no one can retrieve and read them, demonstrating to the world the beneficial effects of laughter and joy.
Guillermo and Adso try to stop the librarian but only succeed in overturning the lamp, causing a fire that completely devastates the abbey, to which the young assistant returns some years later to find ruins and solitude in what had been the scene of murder and intrigue, poisons and discoveries.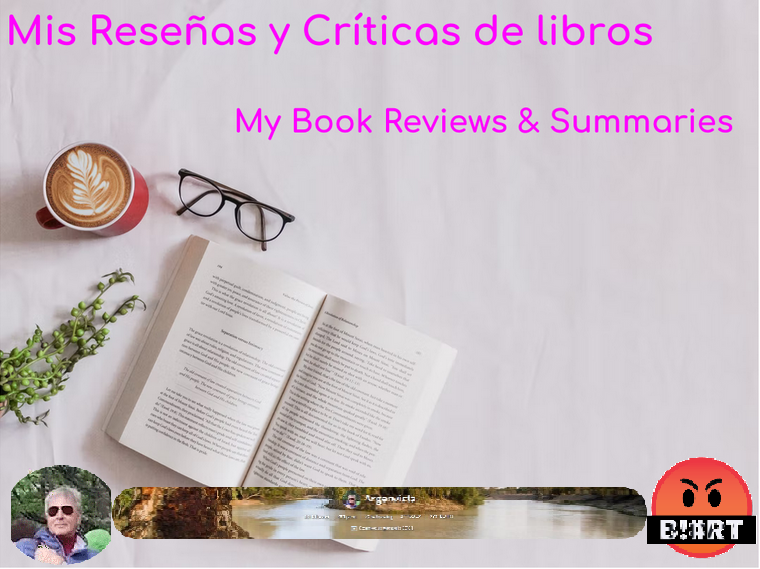 ---
Posted from https://blurtlatam.intinte.org