Hello everyone has a nice day, many people are probably looking for a place to make good memories with their family on Christmas & New Year's Eve. Today I have a place to show you if you come to Phuket for this period, perfect for Christmas shopping, taking pictures, and eating delicious food!
Let's go, that's Central Shopping Center.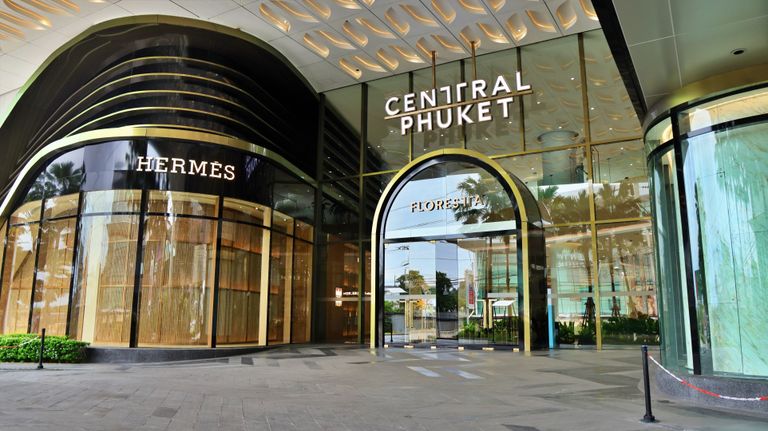 สวัสดีคร้าาาาาาาาาาา..... เพื่อนๆ ทุกคน ขอให้วันนี้เป็นวันที่ดีสำหรับทุกคน นี่ก็ใกล้จะสิ้นปีล้าววววว..... เพื่อนๆ กำลังมองหาสถานที่ดีๆ เพื่อเก็บความทรงจำกับครอบครัว ช่วงส่งท้ายปีเก่า ต้อนรับปีใหม่อยู่ใช่ม๊าาาาาา..... วันเน้...... บัวมีสถานที่ดีๆ มาบอกด้วยแหล่ะ เป็นสถานที่เหมาะแก่การช้อปปิ้ง กินข้าว และเช็คอินถ่ายรูปสวยๆ อวดลงโซเชียลด้วยหล่ะ ไปกันเล้ยยยยยยย.....
This decoration is located at the bridge between Central Festival and Central Floresta. It gives you a perfect Christmas atmosphere covered in snow. There are Santa Claus, reindeer, a snowman, and chairs for you to sit and take photos with Santa Claus.
When I was young I would also like Santa Claus to give me some presents. But never received a gift from Santa Claus. Because my house doesn't have a chimney like a western house then Santa can't come to bring me my gifts. Then I asked my mam to put one and she answered me: But Bua we don't need one, it's not cold enough in Thailand to need a fireplace to create warmth.😁😁😁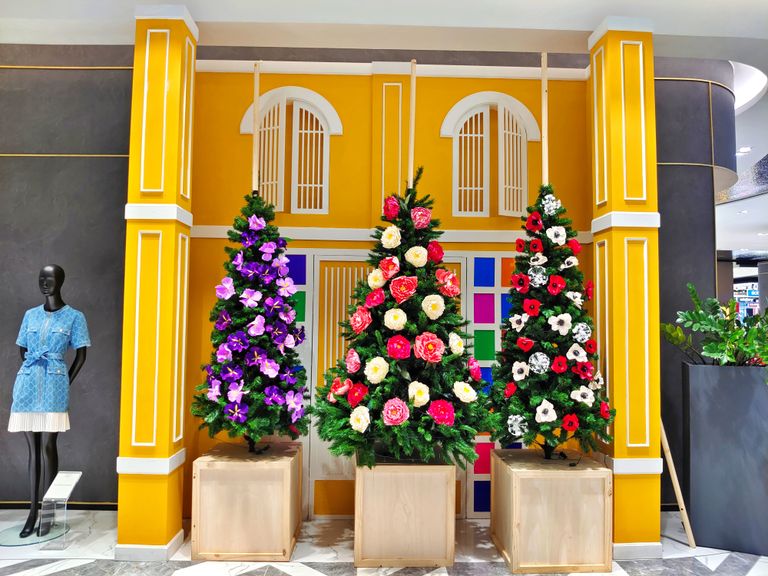 You will see many beautiful Christmas trees of various sizes located throughout the mall after you start to walk into it. It is a sign that it is nearing Christmas.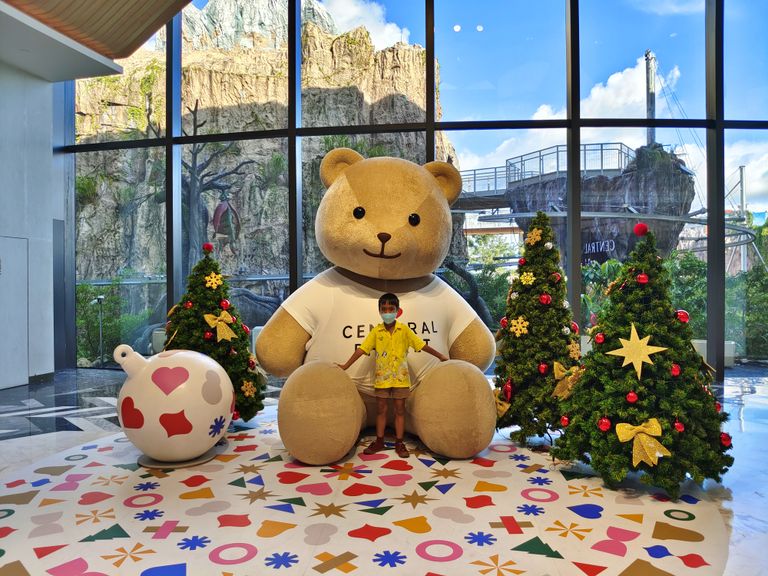 My youngest son wanted to take a picture with a big bear and a Christmas tree.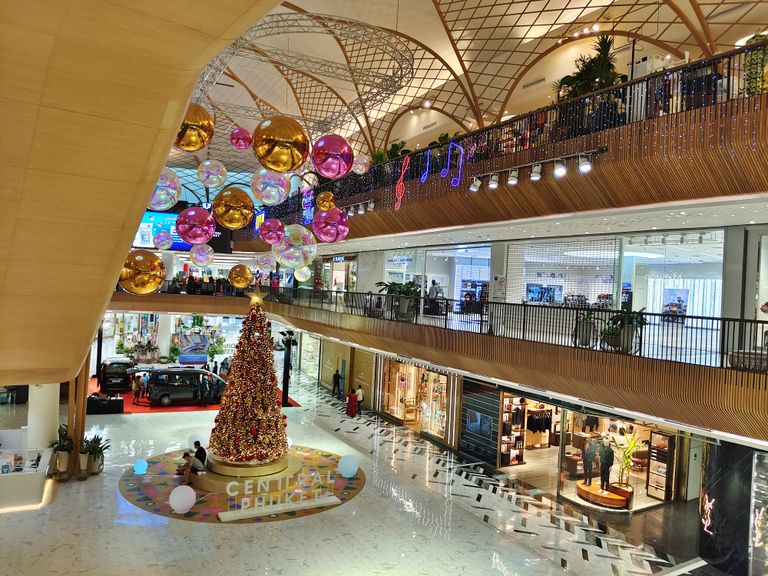 A huge Christmas tree beautifully decorated is located on the 1st floor of the shopping mall.
ตรงสะพานทางเชื่อมระหว่างเซ็นทรัลเฟสติวัล กับเซ็นทรัลฟลอเรสต้า ก็จะมีจุดถ่ายรูปที่สร้างบรรยากาศให้เหมือนกับเทศกาลคริสต์มาส ก็มีทั้งหิมะ ซานตาคลอส ตุ๊กตาหิมะ กวางเรนเดียร์ แล้วก็มีเก้าอี้ให้ถ่ายรูปสวยๆ คู่กับลุงซานต้าด้วย ตอนเด็กๆ บัวก็อยากได้ของขวัญจากลุงซานต้าเหมือนกัน แต่ก็ไม่เคยได้สักครั้ง คงเป็นเพราะที่บ้านของบัวไม่มีปล่องไฟให้ลุงซานต้า เอาของขวัญมาให้ 555
เดินเข้ามาภายในห้างสรรพสินค้าก็จะเห็นต้นคริสต์สวยๆ มากมาย ตั้งอยู่ทั่วบริเวณห้าง แล้วก็มีต้นคริสต์มาสต้นใหญ่ม๊วกกกกก.... ตั้งอยู่ที่ชั้น 1 ต้นนี้สวยที่สุด มีลูกบอลสีพาสเทลห้อยๆ อยู่ด้านบนด้วย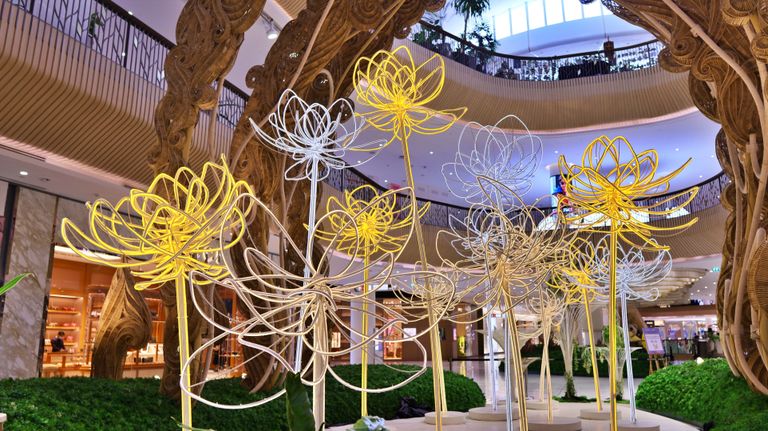 Enchanted Garden, a photo-taking spot, strolling on the 1st floor of the mall, outstanding with a sculpture of a braided rattan arch.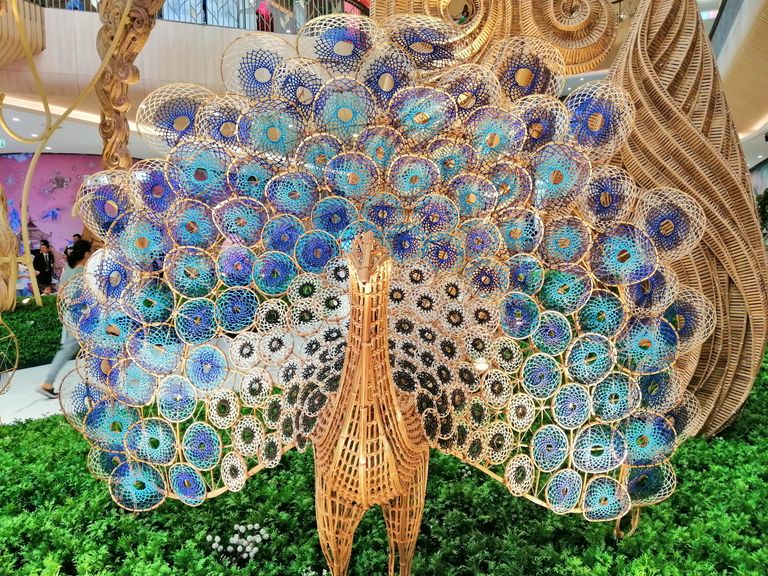 Peacocks are made from braided rattan.
บริเวณชั้นหนึ่งจะมีจุดให้ถ่ายรูปเยอะมาก ไม่ว่าจะเป็นซุ้มชฏาที่สานด้วยหวาย จนเป็นรูปของชฎา และนกยูง แม้แต่ของตกแต่งบนเพดานก็สวยหยดเลยค่ะ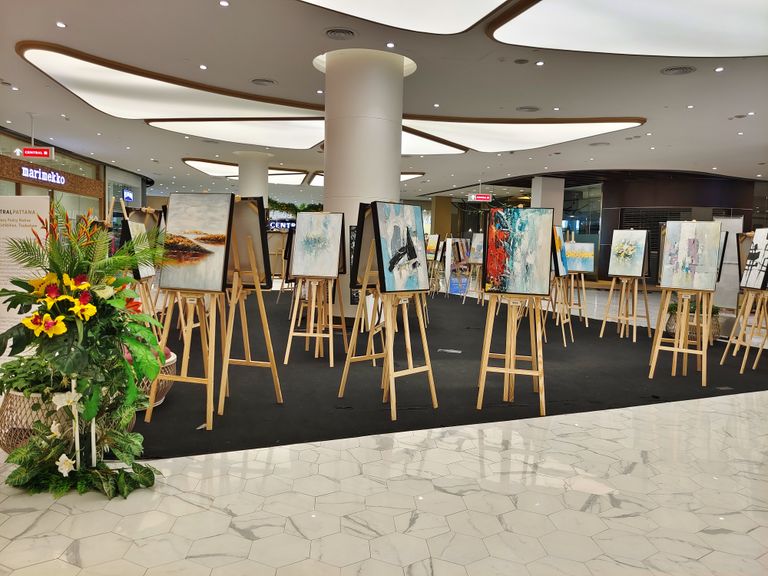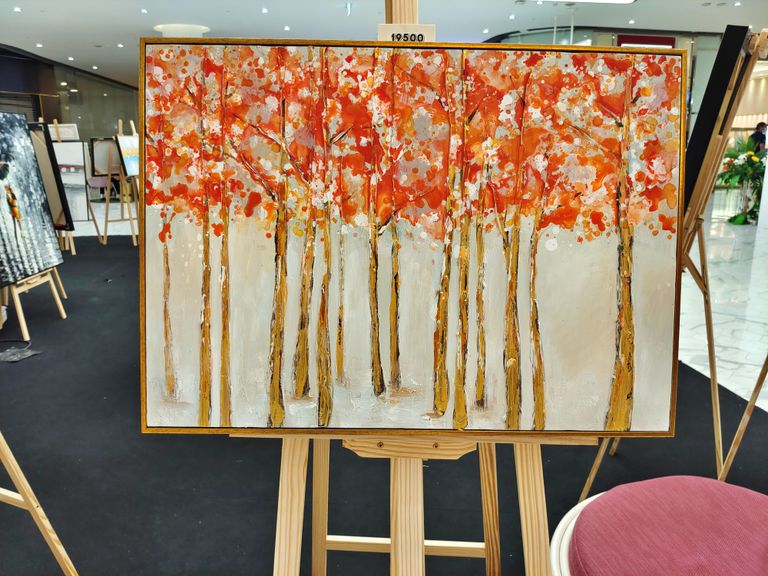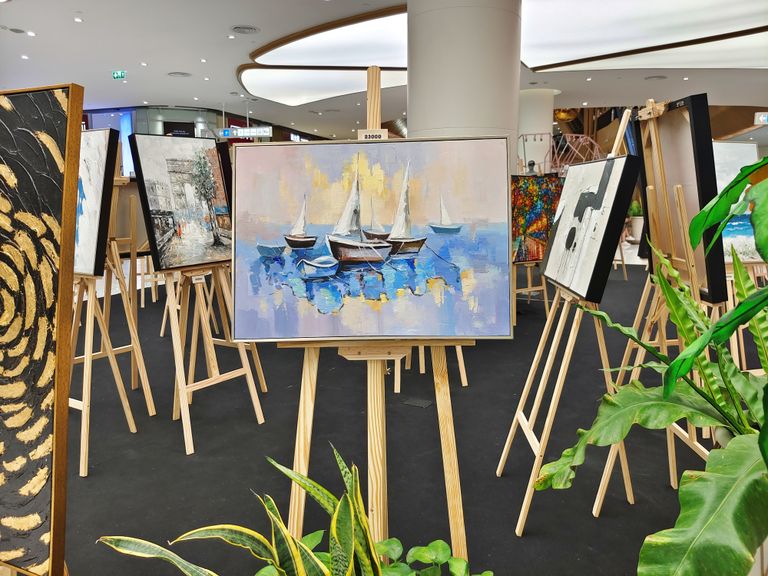 There is also an exhibition of paintings on the 1st floor all the time, but the topic of the paintings is constantly changing.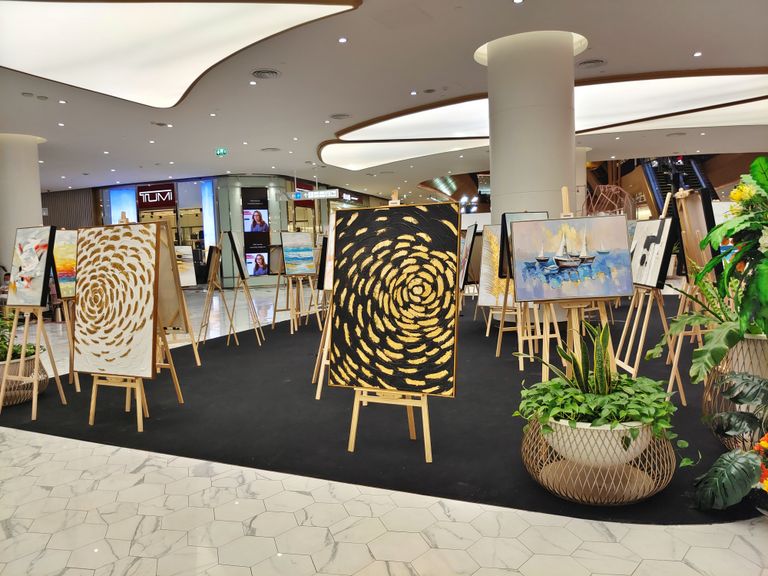 นอกจากนั้นยังการแสดงภาพวาด จากศิลปิน จัดแสดงที่ชั้น 1 ตลอด แต่จะเปลี่ยนหัวของของภาพไปเรื่อยๆ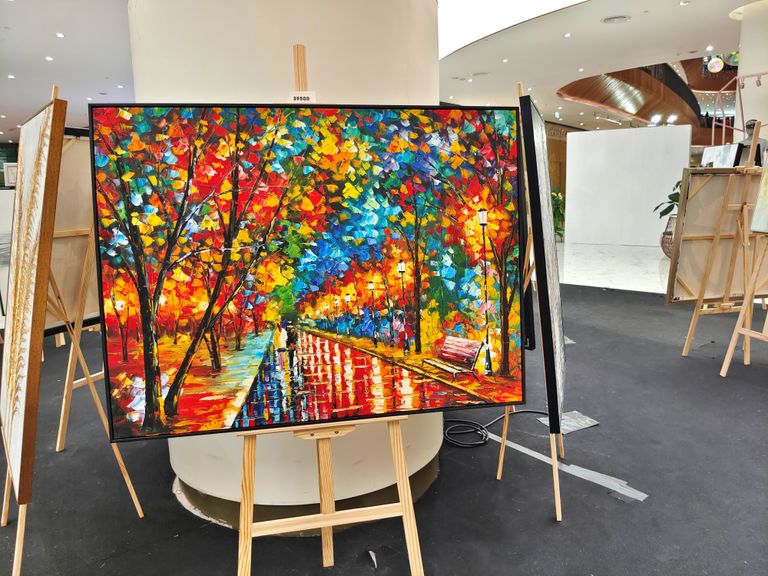 I like this painting.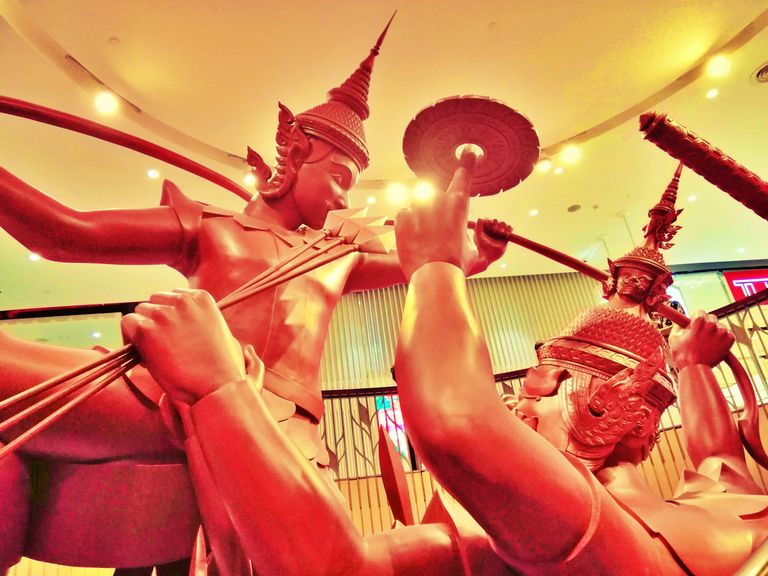 "The Great Epic" was Inspired by Ramayana literature. It presents the battle between Rama and Ravana. as large as 2 floors.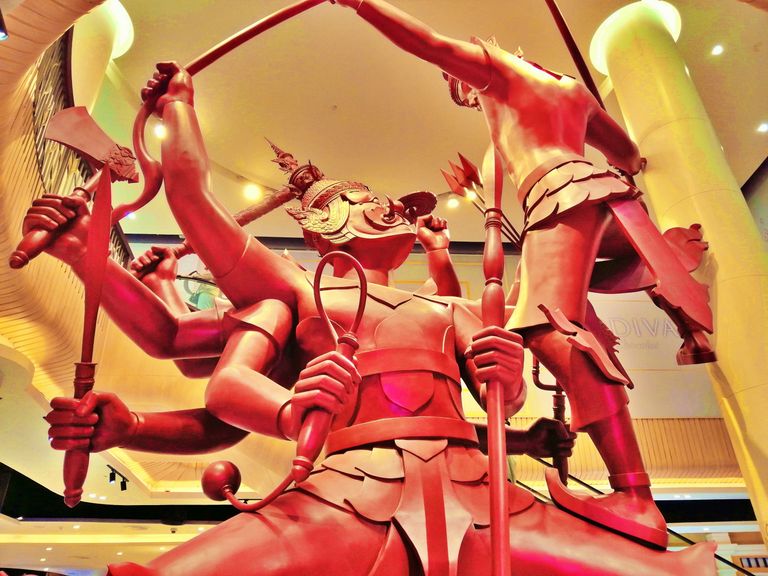 มหากาพย์อันยิ่งใหญ่ ได้รับแรงบันดาลใจมาจากวรรณคดีเรื่องรามเกียรติ์ จำลองประติมากรรมการต่อสู้ระหว่างพระรามกับทศกัณฐ์ สูงมาก สูงถึง 2 ชั้น จนบัวถ่ายเก็บไม่หมด
Bell, is a contemporary Thai sculpture dummy bell decorated on the ceiling surrounded by golden bodhi leaves. I jokingly thought that if I walked past the bell and then a big bell fell on the passerby, what would it be like? But it probably won't happen.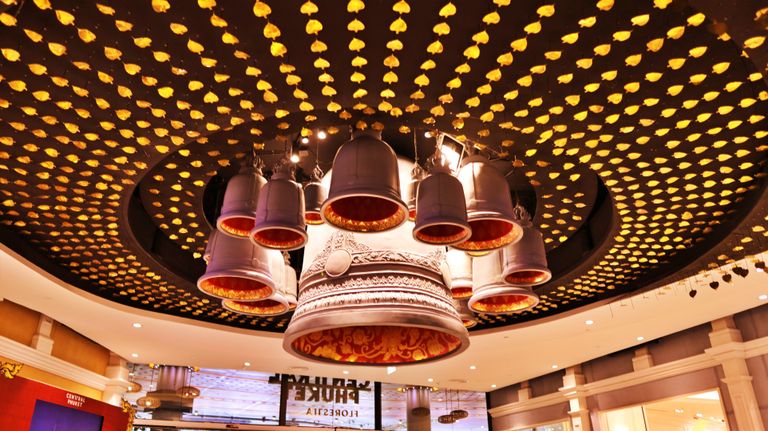 ระฆังใบน้อยใหญ่ ประดับไว้บนเพดาน ที่มีใบโพธิ์สีทองตกแต่งอยู่ล้อมรอบ เป็นประติมากรรมไทยร่วมสมัย บัวก็คิดเล่นๆ ว่าถ้าเกิดมีใครเดินไปแล้ว ระฆังใบใหญ่หล่นลงมาพอดีจะเป็นยังไง มันคงไม่เกิดหรอกเนอะ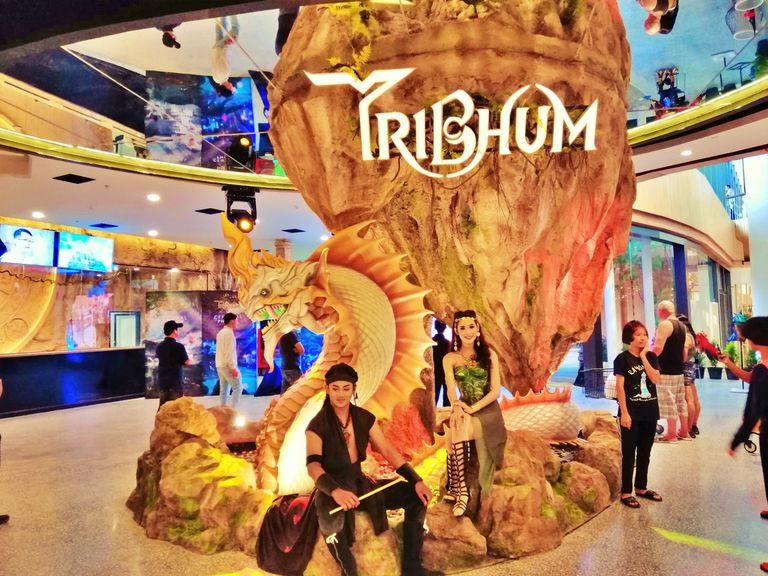 "Triphum", is the world's first and only walk-through 3D adventure amusement park. Inspired by the belief in Thailand's Tribhum Combined with the excitement of outdoor adventures.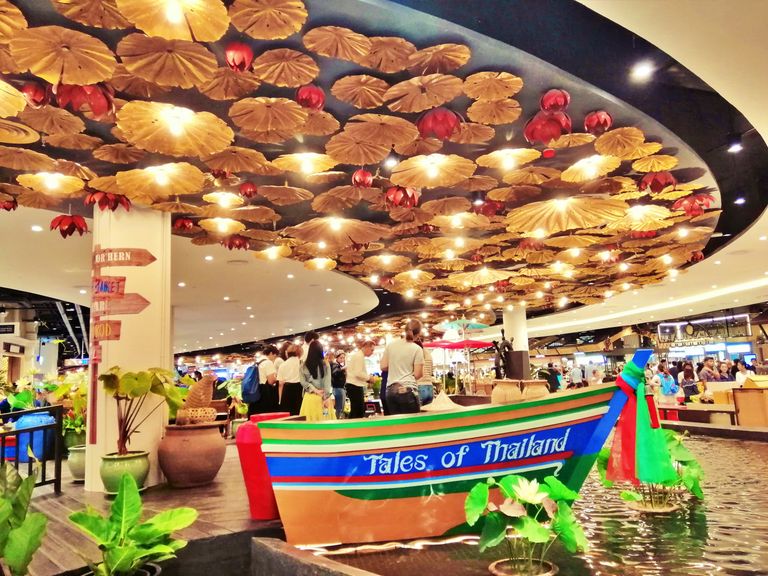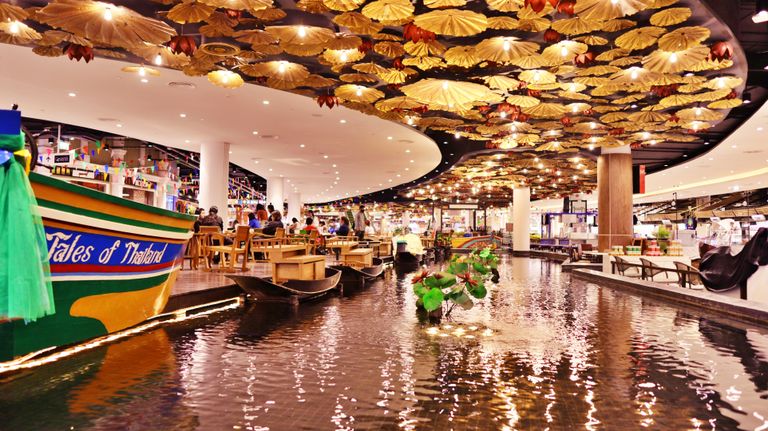 Here you can enjoy the floating market. That simulates the atmosphere of the famous floating market of Thailand to Phuket.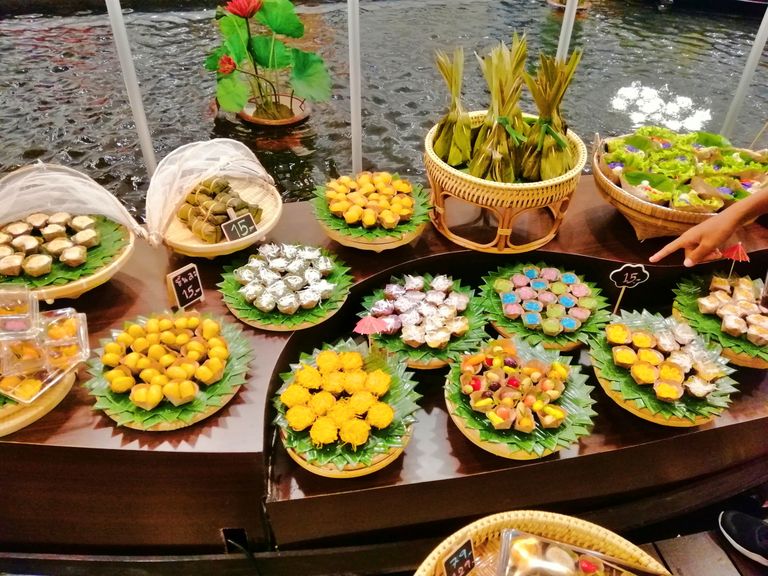 "Taste of the Island", enjoy authentic Thai food from famous restaurants in all 4 regions and this is a famous Thai dessert.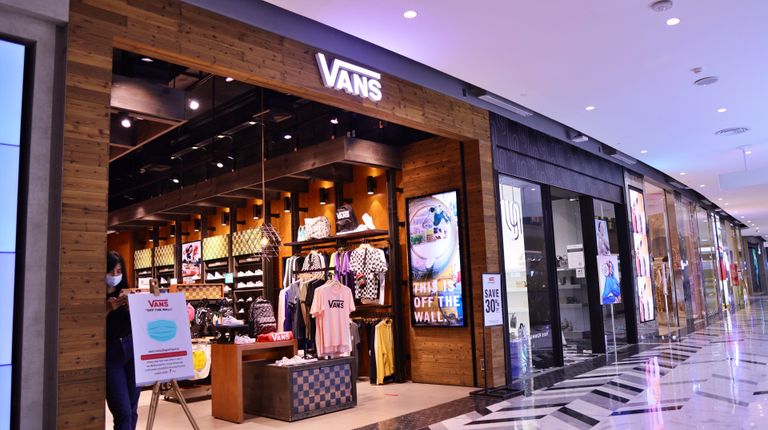 Let's go for a walk on the 2nd floor. This floor is a fashion and lifestyle product zone. and accessories like eyeglasses, watches, and more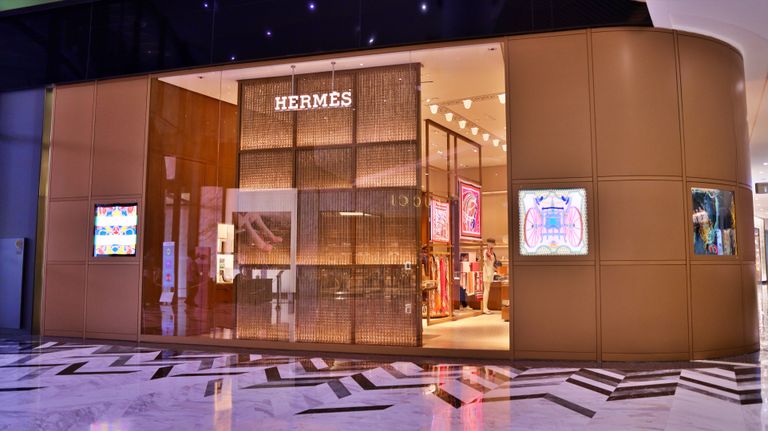 There are high-end luxury stores for people who like it. and obsessed with fashion Come shopping here and enjoy the whole day.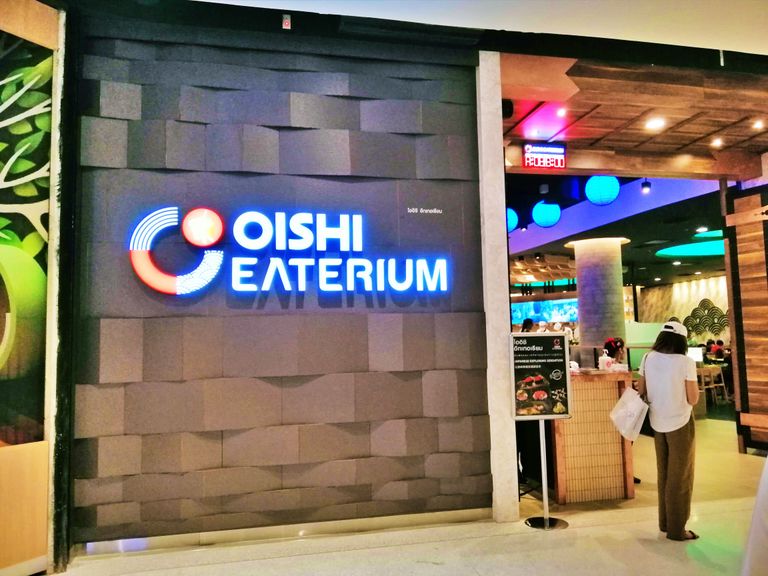 Tired of walking, let's go find something to eat. Oishi Eaterium, the country's first Japanese buffet restaurant Served in the All You Can Eat concept that allows you to enjoy unlimited food with a variety of foods. Japanese food, European food, Chinese food, and fresh seafood, a variety of more than 80 items.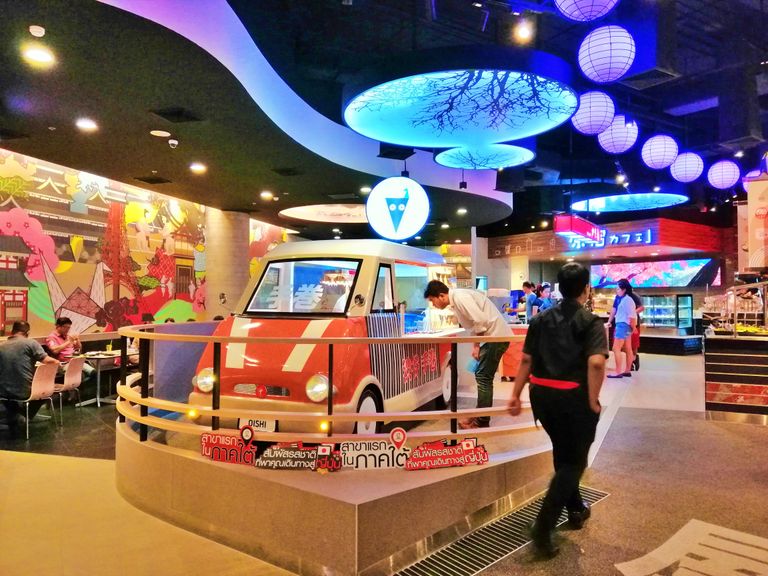 The interior atmosphere of Oishi Eaterium is decorated and presented differently according to the Yatai style. Feels like walking on a food court in Japan The two sides of the road are full of delicious restaurants and a good atmosphere.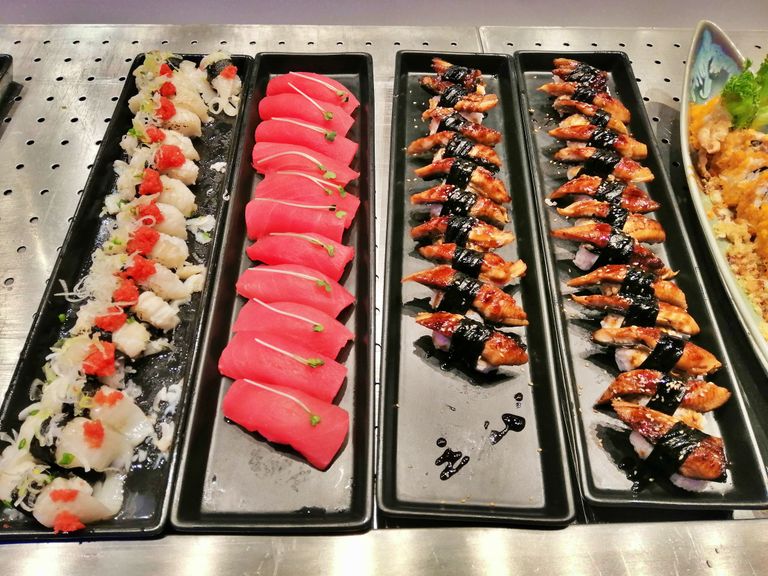 Extremely delicious.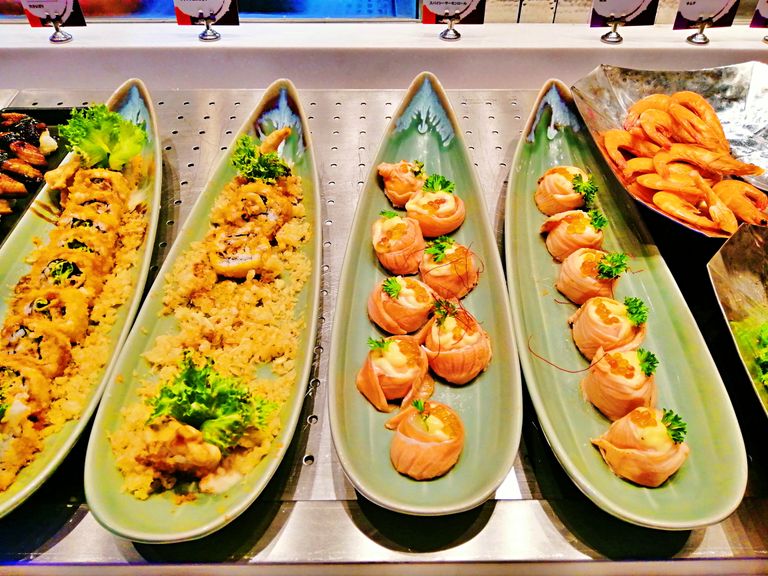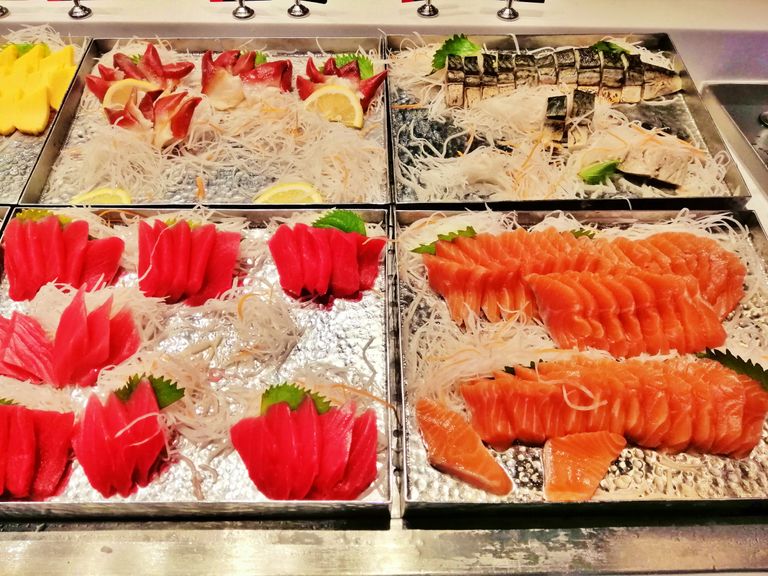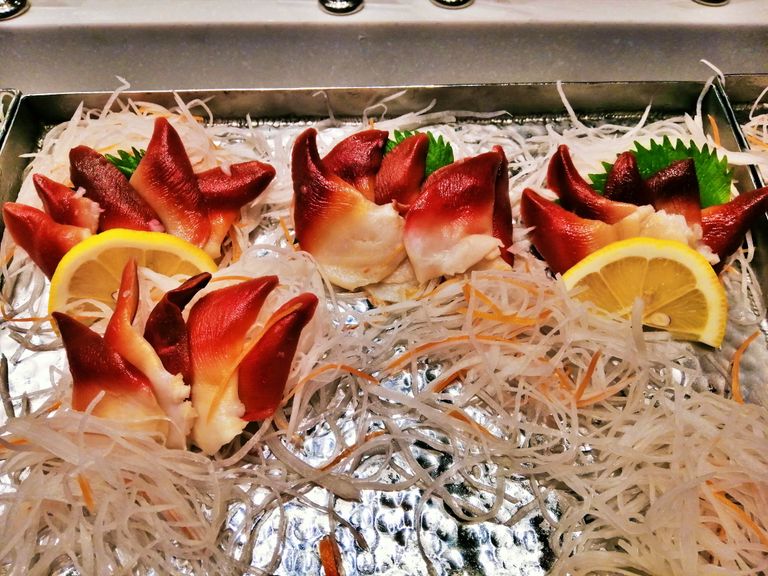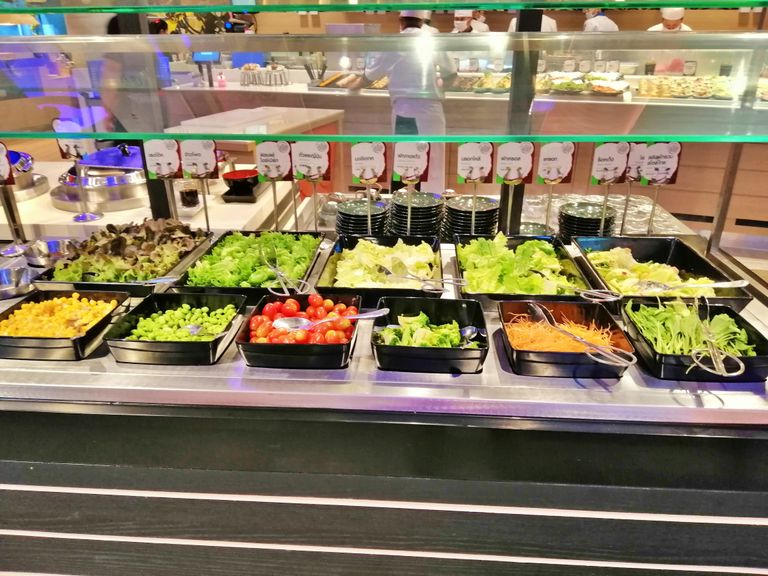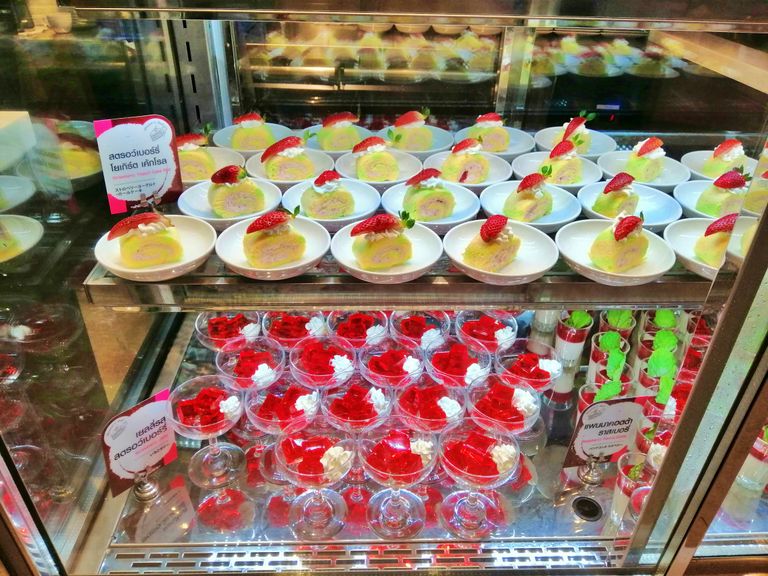 Strawberry's always a good choice.