Aloha zusammen,
(englisch down below)
nach mehreren Tagen Vorbereitung und wildem rumgeteste haben wir es endlich geschafft und der erste Stream meiner Freundin läuft gerade, wo sie zeichnet und demnächst auch paar Games zocken will.
Kleine Info über sie:
Ihr Künstlername ist Rambutan und sie zeichnet verschiedene Dinge im Mangabereich.
Sie hat sich sonst auf YT und Instagram rumgetrieben, aber nach den Umstellungen des grandiosen Algorithmus und den momentanen Bedingungen wegen Corona versucht sie sich auf Twitch zu etablieren.
Auf Hive hatte sie unter dem Namen @rambutan.art hin und wieder mal etwas gepostet, aber beim Verwalten von YT, Instagram, Shop und Conventions ist es etwas untergegangen xD
Wer einen Blick auf ihre Kunst werfen will hat hier die Möglichkeit
Rambu auf YT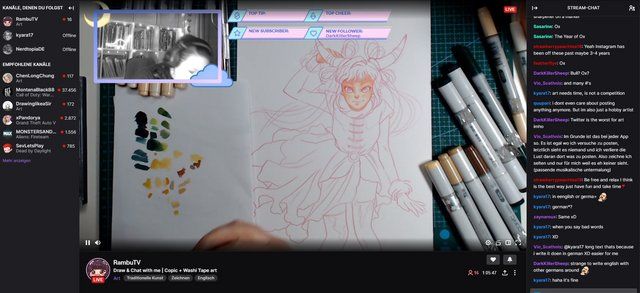 Wer reinschalten will:
Rambu auf Twitch
Aloha together,
after several days of preparation and wild rumgeteste we have finally made it and the first stream of my girlfriend is currently running, where she draws and soon also wants to play some games.
Little info about her:
Her pen name is Rambutan and she draws various things in the manga genre.
She used to hang out on YT and Instagram, but after the changes to the grandiose algorithm and the current conditions because of Corona, she's trying to establish herself on Twitch.
On Hive she had been posting under the name @rambutan.art every now and then, but while managing YT, Instagram, store and conventions it got a bit lost xD
Who wants to take a look at her art has the opportunity here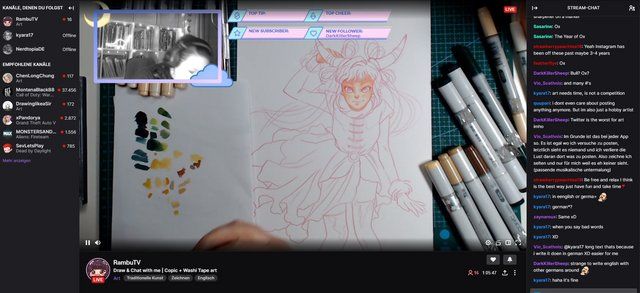 Who wants to tune in:
Rambu auf Twitch