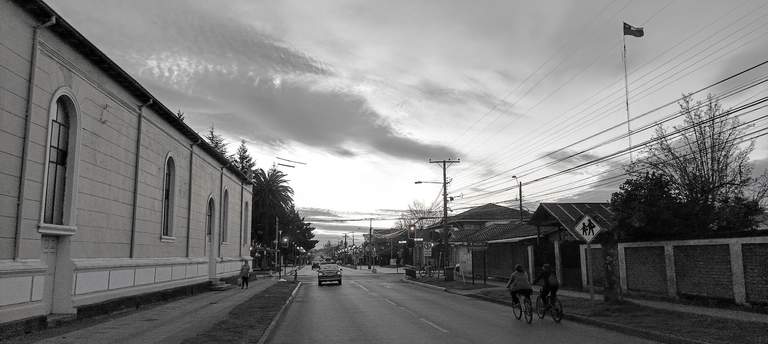 ---
The Device I used was Xiaomi Redmi Note 10

Simple Rules to follow in this Black & White photography challenge:
• Your own photo
• Black and white images that represent any positive meaning in life
• Present one or two image every day
• You may add people, if you want
• No explanation
• Use tag #bnwphotography.
Reglas simples a seguir en este desafío de fotografía en blanco y negro:
• Tu propia foto
• Imágenes en blanco y negro que representan cualquier significado positivo en la vida
• Presente una o dos imágenes todos los días
• Puede agregar personas, si lo desea
• Sin explicación
• Utilice la etiqueta #bnwphotography.
---
The time has not yet come and already the melancholy, the distancing from the family, starting again, but with more experience and all those things that I felt when I emigrated to another country, have begun to appear, influencing my mood.
It is something that until now I have not learned to handle, however, I must admit that each migration has made me stronger, and I have learned many new things that have helped me to work in the new country in which I am going.
It doesn't mean that I go from country to country looking for a better life, which is true, but it doesn't mean that I enjoy doing it like having a cappuccino every morning.
I read from someone the following: "If we have to think anyway... why not think big?" So, what I do is enjoy everything that happens to me in the adaptation process and learn as much as I can, well we never know what the future holds, and for that, we must always be prepared.
Aún no ha llegado el momento y ya la melancolía, el distanciamiento de la familia, volver a comenzar, pero con mayor experiencia y todas esas cosas que sentí cuando emigro a otro país, han comenzado a aparecer, influyendo en mi estado de ánimo.
Es algo que hasta ahora no he aprendido a manejar, sin embargo, debo reconocer que cada migración me ha hecho más fuerte y he aprendido muchas cosas nuevas que me han servido para trabajar en el nuevo país al que voy.
No significa que voy de país en país buscando una mejor vida, lo cual es cierto, pero tampoco es que disfruto hacerlo como tomar un cappuchino cada mañana.
Leí de alguien lo siguiente: "Si de todas maneras tenemos que pensar... ¿Por qué no pensar en grande? Así que, lo que hago es disfrutar todo lo que me ocurre en el proceso de adaptación y aprender tanto como pueda, pues nunca sabemos que nos depara el futuro, y para eso debemos estar preparados siempre.
---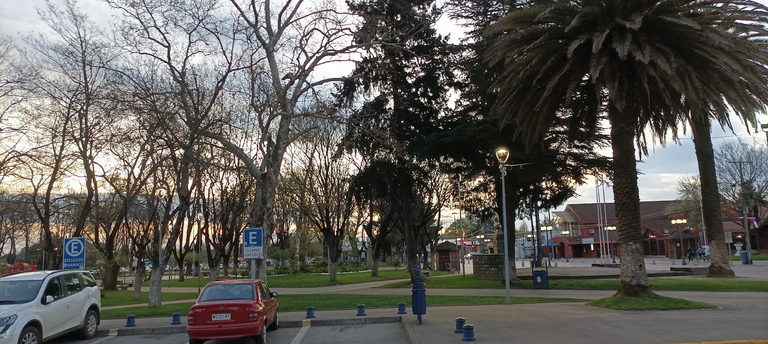 When these feelings appear in me, I just start to take a walk and contemplate what surrounds me; The main square of the city is one of my favorite places, since the sunsets look splendid from any angle that the photo is taken.
Feeling the breeze, still cold, makes my thoughts travel and my imagination begins to flourish to build images in my mind of how great my life will be, now in the United States.
I am fully convinced that things will go for the best, because I have learned to flourish wherever it is planted and, despite this, that feeling of expectation does not disappear completely, and it brings to my mind those moments where despair touched my life for being in a country completely alone.
Some feelings are unspeakable, so I don't know how to explain them, but I manage to control those emotions by taking a walk or petting one of the dogs that roam in this square; Watching people talk, eat something or simply walk in their accelerated pace to go home.
When I managed to calm my thoughts, I went back home, took a shower, and started writing this article, with which I manage to release more tension, the one that comes from the conversations I have with some people with alarming news who are not sure that they are true.
Tomorrow will be another day, and although today for the first time I was on the trending page
I don't know if I'll be able to do it again in the short term. I am grateful for those people who voted for my publication because without them, this would never have been possible.
Cuando estos sentimientos aparecen en mí, solo comienzo a dar un paseo y contemplar lo que me rodea; La plaza principal de la ciudad, es uno de mis lugares favoritos, ya que los atardeceres se ven espléndidos desde cualquier ángulo que tome la foto.
Sentir la brisa, aún fría, hace que mis pensamientos viajen y mi imaginación comience a florecer para construir imágenes en mi mente de cómo será de genial mi vida, ahora en los Estados Unidos.
Estoy plenamente convencido que las cosas irán de lo mejor, pues he aprendido a florecer donde quiera que esté plantado y, a pesar de esto, esa sensación de espectativa no desaparece por completo, y trae a mi mente esos momentos donde la desesperación tocó mi vida por estar en un país completamente solo.
Hay sentimientos que son indecibles, así que no sabría cómo explicarlos, pero logro controlar esas emociones dando un paseo o acariciando a uno de los perros que deambulan en esta plaza; Mirar a la gente conversar, comer algo o simplemente andar con su paso acelerado para dirigirse a sus casas.
Cuando logré calmar mis pensamientos, retorné a mi casa, me di una ducha, y comencé a escribir este artículo, con el que logro liberar más tensión, esa que viene por las conversaciones que tengo con algunas personas con noticias alarmantes que no tienen la certeza de que sean ciertas.
Mañana será otro día, y aunque hoy por primera vez estuve en la página de tendencia
no sé si volveré en el corto plazo a lograrlo. Estoy agradecido por esas personas que votaron mi publicación, pues sin ellos, esto jamás habría sido posible.

Tal vez no todos somos grandes escritores, pero estoy seguro de que siempre tenemos algo que contar. Oneray
Perhaps not all of us are great writers, but I'm sure we always have something to say. Oneray
Todas las imágenes son de mi autoría a menos que indique lo contrario y han sido editadas con Canva
All images are my own unless otherwise stated and have been edited with Canva
---
Posted from https://blurtlatam.com