Only 5 days to August!
Are You Ready?
We have come closer to September #BPUD! Don't forget to store the day.
Don't be late.. Collect blurt as much as possible..
📣📣📣📣 5 Days More!
![image.png](UPLOAD FAILED)
Last #BPUD we were able to raise 93000+ BP which was the highest power-up amount in BPUD history.
Still, we are in a bear market. But this is a golden opportunity to new investors to grab some great profits. I am pretty sure Blurt is a gem for investors and you will see the profit from 2,3 years.
The main idea of this event is to encourage all of you to power up blurt together and motivate others to power up blurt. It is clear that the a high winning probability with members with low BP. But this makes competition among members to buy Blurt as well as power up to pass another. Since the price of Blurt is still good to buy, everyone can power up some blurt to participate in the BPUD event.
Whales are also invited to join with #BPUD even though they have less probability of winning the delegation prize. But still, they have some vote prizes and mostly they can inspire minnows and dolphins to power up.
So let's invite everyone to this great event.
One can take #BPUD as a contest, but frankly, it is more than a contest. It is all about community powering up together.
Let's Do This Together!
Special Notice:
From Next month, We hope to change some rules of the BPUD Event like the minimum BP amount in your wallet before Power up, Minimum Blurt amount to power up. And the Great News is, we hope to increase the total prize pool also. Do you like to have a 75,000 BP or 100,000 BP Delegation Prize Pool for Next BPUD Event?
---
Following is the updated prize list of #BPUD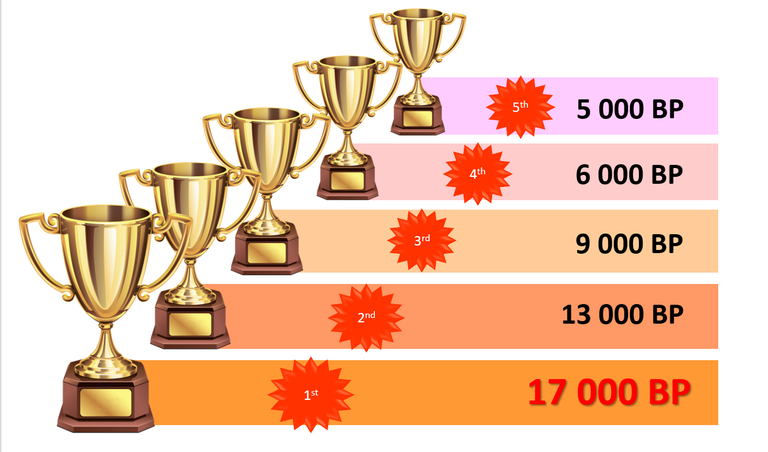 Highest Blurt Powerups
1st Place - 50% vote prize from megadrive
2nd Place - 40% vote prize from megadrive
3rd Place - 30% vote prize from megadrive
4th Place - 20% vote prize from megadrive
5th Place - 10% vote prize from megadrive
This places will be selected from highest powerups and the powerup amount should be larger than 500 Blurt to recieve this special vote prize.

Following is the distribution of sponsors on each prize.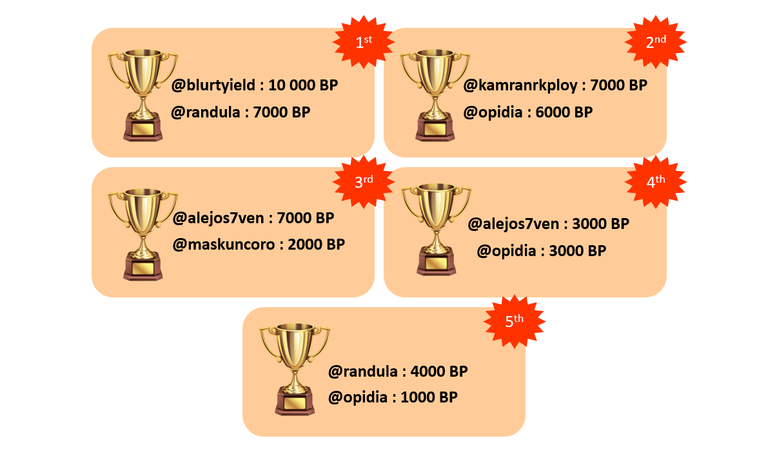 Applause to our delegators!👏👏👏👏👏
@alejos7ven
@blurtyield
@kamranrkploy
@maskuncoro
@megadrive
@opidia
@randula
---
Don't forget to vote me as a Witness
https://blurtwallet.com/~witnesses?highlight=randula