Blurt prize is still going down and you may have the chance to buy blurt. This price down is not only for blurt but also for the whole crypto market. So don't be afraid of investing money on blurt. You may see a great profit within 1 or 2 years from now.
Already September month is going and half of the month is ended. So we are heading to October month and I thought it was time to start the countdown for BPUD October.
How can we miss the #BPUD October!
.......Special Notice.......
As we announced in the last Bpud Event, We have changed Some rules of the BPUD Event with higher prizes also. So better to read all of them.
---
If you have no clue what is
#bpud
,
#bpud is all about powering up your liquid Blurt to Blurt power. You can join the event by powering up on the 1st of October from your local time, and preparing a post with screenshots of your wallet before and after powering up.
Prerequisites
You must have at least 1000 BP in your account to join this event. 1000 BP must be your own (, not delegations).
No active power downs or power-downs within a month prior to #bpud
Rules
Your powerup for the event must be made on 1st of the month according to your local time. Please indicate your country in a hashtag so that I can verify it faster.
You must share a post under #bpud tag by showing screenshots of your wallet before and after powerup.
Minimum powerup amount should be 500 BLURT.
Winner Selection Method
Winners will select and announce before the 5th day of the month.
The winner is selected considering the percentage that they have powered up.
Ex:
User A
BP before powering up = 1000 BP
Blurt powered up = 2000 Blurt
Contribution = 200%
User B
BP before powering up = 2000 BP
Blurt powered up = 1000 Blurt
Contribution = 50%
User A is considered as the winner among them.
---
Following is the updated prize list of #BPUD
Winners will receive delegation prizes for next 25 days.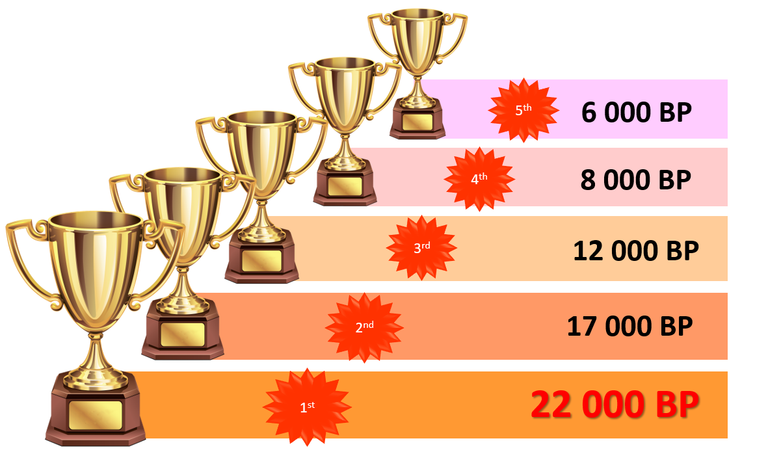 Highest Blurt Powerups
1st Place - 50% vote prize from megadrive
2nd Place - 40% vote prize from megadrive
3rd Place - 30% vote prize from megadrive
4th Place - 20% vote prize from megadrive
5th Place - 10% vote prize from megadrive
Following is the distribution of sponsors on each prize.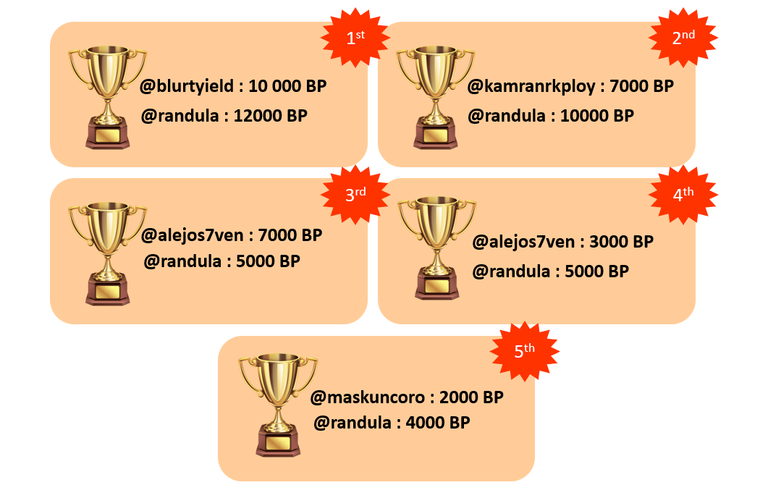 Applause to our delegators!👏👏👏👏👏
@alejos7ven
@blurtyield
@kamranrkploy
@maskuncoro
@megadrive
@randula
If anyone wish to support for upcoming BPUD events, You can drop a comment under this post or you can contact me over the discord.
---
Don't forget to vote me as a Witness
https://blurtwallet.com/~witnesses?highlight=randula