This will be a very short post (especially by my standards). It was prompted by a post by a man I hold in much esteem here, @rajitsear.
He is leading the village he oversees into becoming more modern and making life better. He has been an inspiration for myself as I watch what the power and intent of one man can have on so many people.
One of his projects is building medical facilities. The village he is at has so little, no public maintained roads, no medical facility, nothing much as all really and he is changing things there with his vision and will.
His most recent post alarmed me, as he brought in medical folks to vaccinate and I remembered what happened in Nigeria several years ago where they (WHO) were said to have mixed in HCG with the tetanus vaccine to cause 500000 women to become infertile.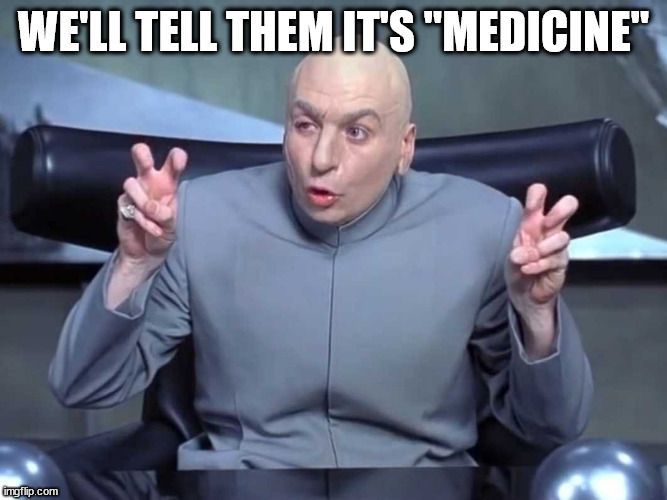 (source is a meme generator called imageflip)
I did my normal research to share the most up to date facts with him and came across a recent documentary on it as well.
Sadly, as I grew to know all to well in my years on blogging on human trafficking, the link I shared initially with him was taken down in less than twelve hours of my sharing it with him
I found another link where the video is hosted on a website, a 30 minute documentary sharing the proof of this diabolical agenda.
I'm now going to share my last comment with links for those who are interested in knowing more on how some in power are using the medical field to perform crimes against humanity on us.
Here is my comment to him with relevant links.
My apologies the video was already taken down from when I watched it last night. Here are some articles and then will share a link to the producers of the video, but you will need to give them an email address to access it which I was trying to avoid for you.
The short of it is the WHO perfected an infertility vaccine and it's estimated they administered it to 500000 women in Nigeria before they were caught. It was mixes in with the tetanus vaccine. They were using HCG to cause the female body to abort the fetus once it began growing and sending off chemicals that the HCG in the vaccine had programmed the body to see as a threat.
It was your own church ironically that uncovered this entire evil scheme.
https://www.inquisitr.com/1593224/kenyan-doctors-find-anti-fertility-agent-in-tetanus-vaccine-catholic-church-says-yes/
https://thenewamerican.com/doctors-un-vaccines-in-kenya-used-to-sterilize-women/
https://www.scirp.org/Journal/PaperInformation.aspx?PaperID=81838
I found a website that has the video without requiring you to give your email address. It's just under 30 minutes. I beg of you to please watch this video and you will see the proof as given by your own church and the doctors and laboratories showing exactly how they know this and the efforts taken by government to shut them up.
https://thewashingtonstandard.com/infertility-a-diabolical-agenda-video/
I've mostly moved away from writing on these horrible schemes, but felt compelled to as I know rajitsear is a man of conscience and would likely blame himself if in his desire to make life better to the village he cares for it allows in such evil schemers as we saw operating in Nigeria just a few years ago.
I share it now with the rest of you as I hope the next time someone is demanding one "trust to the science" you will keep in mind those paying for the science might be misusing it to perform crimes against humanity.