New Contest
Image
---
---
---
New contest
Write a funny anecdote from childhood
When we can remember our time as children, we usually take a nice trip to the past that can steal smiles and beautiful experiences from us.
This contest invites you to travel back to your childhood and share anecdotes that make you laugh, we are going to fill Blurt with smiles and good energy.
Steps to follow
Go back to your past, to the time when you were a child and bring to the present some anecdotes that have made you laugh:
1.- Write these anecdotes in a creative publication, at least 350 words.
2.- Share your entry to the contest in the comments of this publication.
5.- You share your participation in this contest on other social networks.
6.- This contest closes with expiration of this publication.
Awards
First Place 200 Blurt
Second Place 100 Blurt
Third Place 50 Blurt
Fourth Place 30 Blurt
In addition, all the posts will be voted with my account and will be supported with the votes of other friends as well, as well as the comments.
Instructions
Use the tags #anniversary #positivecommunity
Share your post on other social networks
Enjoy the participation and interaction with other participants.
---
---
Previous Contest Winner
@oneray was the Blurt winner
I want to express my sincere thanks to this user, because he is here to stay, and today he is the winner of this contest that I lovingly organized for the entire Blurt community.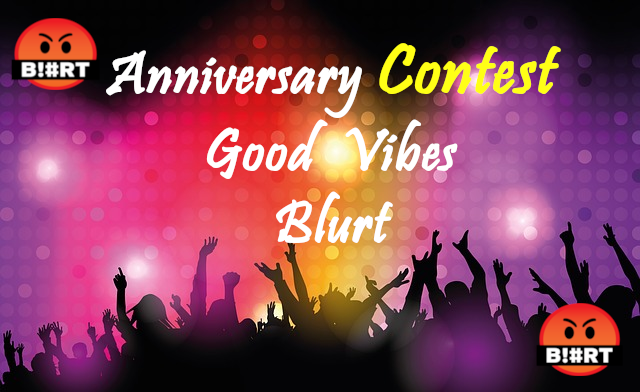 Image

Here you can read their participation Anniversary Contest: Good vibes in Blurt [ESP-ENG]
Every time I can make a contest, I love the opportunity it gives me to meet other users and value their enthusiasm, so I invite you to visit and meet @oneray who always has kind words and beautiful energy, it's like saying it's a user who adds value to any chain.
Moves the energy positive
For the sake of moving good energy, I invite you to share good thoughts, the community is always important and their contributions can make a difference, therefore, I always share that they create new and creative content so that they take advantage of this blockchain as a means of advertising.
I wait for you
In this process of motivating communities, I hope that they share their voice and are encouraged to produce wonderful things for the month of July, which is the anniversary month and precisely our central date will be July 4, the important date of the birth of Blurt.
Invite a new user, help them get to know our Blockchain, introduce your guest on other social networks and invite them to the celebration party.
I share my love and good vibes for everyone, because soon we are going for more.
Community in Spanish:
Blurt Spanish Telegram
With love
Angelica7
---
---
Nuevo Concurso
Imagen
---
---
---
Nuevo concurso
Escribe una o varias anécdotas chistosa de la infancia
Cuando podemos recordar nuestra época de niños, solemos hacer un lindo viaje al pasado que puede robarnos sonrisas y bonitas experiencias.
Este concurso los invita a viajar a su época de niños y compartir anécdotas que los hagan reír, vamos a llenar a Blurt de sonrisas y de buena energía.
Pasos a seguir
Remóntate a tu pasado, a la época cuando eras niño y trae al presente algunas anécdotas que te hayan hecho reír:
1.- Escribe estas anécdotas en una publicación creativa, al menos 350 palabras.
2.- Comparta en los comentarios de esta publicación su entrada al concurso.
5.- Compartes tu participación de este concurso en otras redes sociales .
6.- Este concurso cierra con vencimiento de esta publicación.
Premios
Primer Lugar 200 Blurt
Segundo Lugar 100 Blurt
Tercer Lugar 50 Blurt
Cuarto Lugar 30 Blurt
Además, todas las publicaciones serán votadas con mi cuenta y serán apoyadas con los votos de otros amigos, así como los comentarios.
Instrucciones
Utilice las etiquetas #anniversary #positivecommunity
Comparte tu publicación en otras redes sociales
Disfruta de la participación e interacción con otros particiantes.
---
---
Ganador del Concurso Anterior
@oneray fue el ganador de Blurt
Deseo expresar mi más sincero agradecimiento a este usuario, porque llegó para quedarse, y hoy es el ganador de este concurso que con mucho cariño organicé para toda la comunidad en Blurt.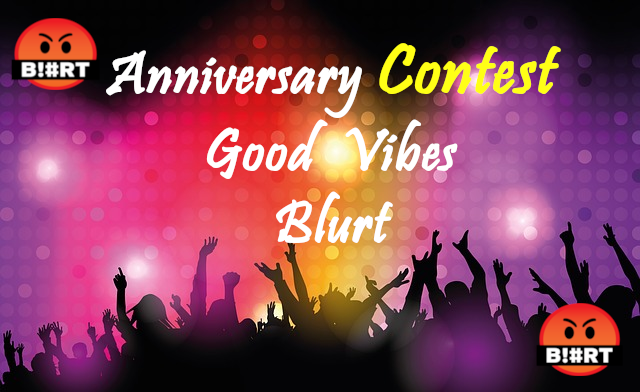 Imagen

Aquí pueden leer su participación Concurso Aniversario: Buenas vibras en Blurt [ESP-ENG]
Cada vez que puedo realizar un concurso, me encanta la oportunidad que me brinda conocer a otros usuarios y valorar su entusiasmo, por ello los invito a visitar y conocer a @oneray quién siempre tiene palabras amable y una hermosa energía, es como decir que es un usuario que aporta valor a cualquier cadena.
Mueve la energía en positivo
En aras de mover la buena energía, te invito a compartir buenos pensamientos, la comunidad siempre es importante y sus aportes pueden hacer la diferencia, por ello, siempre comparto que creen contenido nuevo y creativo para que aprovechen esta blockchain como un medio de publicidad.
Los espero
En este proceso de motivación de comunidades espero que compartan la voz y se animen a producir cosas maravillosas para el mes de julio, el cual es el mes de aniversario y con exactitud nuestra fecha central será el 4 de julio, fecha importante del nacimiento de Blurt.
Invita a un nuevo usuario, ayúdalo a conocer nuestra cadena de Bloques, presenta a tu invitado en otras redes sociales e invítalo a la fiesta de celebración.
Les comparto mi cariño y buena vibra para todos, porque pronto vamos por más.
Comunidad en Español:
Blurt Español Telegram
Con Cariño
Angelica7
---
---
---
---
Historia original // Original story
---
Blurt eres tú, soy yo, blurt somos todos // Blurt is you, it is me, blurt we are all
Que nadie apague tu luz interior // Let no one turn off your inner light
Información Importante:
---
---
Posted from https://blurtlatam.com
---
Posted from https://blurtlatam.com