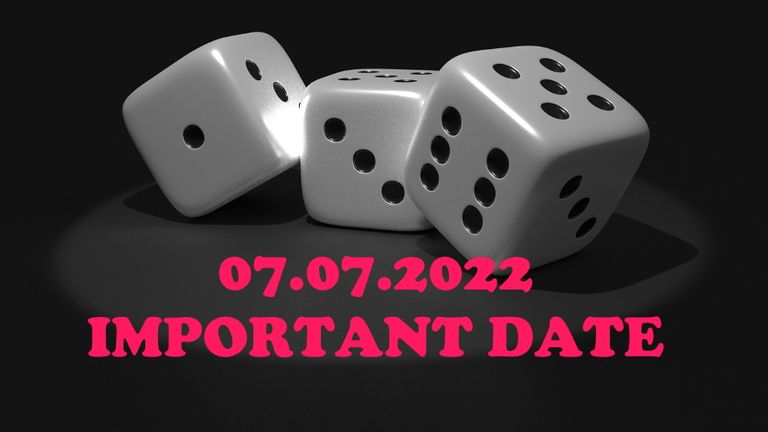 Deutsch: Bitte scrolle nach unten.
 
Dear readers,
07.07.2022 is a very important date for Blurt.
At the start of Blurt, the Foundation made a binding commitment to end its regency exactly after 2 years. And now these 2 years will be over exactly on 07.07.2022.
What will this mean?
The members of the Foundation will be normal Blurt users, just like you and me.
The million-strong Witness votes from Foundation accounts will have to be removed on 07/07/2022. This will definitely lead to a different ranking among the top witnesses, as the Communnity votes will become the most important after the Foundation votes are removed. Therefore, I will also solicit your Witness votes below.
The monthly payments to all members of the Foundation must end by 07/07/2022. Until the community will have decided about it, in my opinion, to @saboin the payments should be continued for the time being, because @saboin receives them for his developer work. All payments from our community property to so called team members, guards, moderators, etc etc must be stopped by 07/07/2022. After 07/07/2022, the community shall decide on the allocation of such payments and not a single Foundation member. Since all functions/positions were previously awarded by one person, after 07/07/2022 all functions/positions will be up for new disposition by the community.
As of 07/07/2022, the current Foundation must disclose all Foundation accounts and their balances. Also of accounts from which delegations to other accounts are established. Any Blurt community property must be disclosed as of 07/07/2022.
We urgently need a voting system for the community and for the top20 witnesses after 07/07/2022. The people who promised to create such a system have unfortunately not kept their promises so far. However, a lot of money has already been paid for it.
Until 07.07.2022 Blurt is ruled by a single person.
From 07/07/2022, Blurt has a real new chance to become a decentralized blockchain.
On my own business:
You all know that I have always stood up for the good of small accounts. My actions on Blurt have always been generous and helped many users.
In order to get again a strong position in the witness list, which, as I said, will be re-sorted from 07.07.2022, I ask you today for your witness votes for my witness @double-u.
If you want to vote for me as a Witness, go this way:
https://blurtwallet.com/~witnesses?highlight=double-u
Just one more request: Please reblurt this post very actively so that as many users as possible learn about this very important date. Thank you!
All the best to you! Stay healthy!
Best regards, your @double-u


Deutsch
 
Liebe Leser,
der 07.07.2022 ist ein sehr wichtiges Datum für Blurt.
Zum Start von Blurt hatte sich die Foundation verbindlich verpflichtet, ganau nach 2 Jahren ihre Regentschaft zu beenden. Und nun werden diese 2 Jahre ganau am 07.07.2022 vorüber sein.
Was wird das bedeuten.
Die Mitglieder der Foundation werden ganz normale Blurt-Nutzer sein; so wie du und ich.
Die millionen-starken Witness-Votes von Accounts der Foundation müssen zum 07.07.2022 entfernt werden. Dies wird bestimmt zu einer anderen Rangfolge unter den Top-Zeugen führen, da die Votes der Communnity nach der Entfernung der Foundation-Votes am wichtigsten werden. Daher werde ich auch weiter unten um eure Witness-Votes werben.
Die monatlichen Zahlungen an alle Mitglieder der Foundation müssen zum 07.07.2022 beendet werden. Bis die Community darüber entschieden haben wird, sollen, meiner Meinung nach, an @saboin die Vergütungen vorerst weiter gezahlt werden, da @saboin diese für seine Entwickler-Arbeit erhält. Alle Zahlungen aus unserem Gemeinschaftseigentum an sogenannte Team-Mitglieder, Wächter, Moderatoren, usw. usw. müssen zum 07.07.2022 beendet werden. Die Community soll nach dem 07.07.2022 über die Vergabe solcher Vergütungen entscheiden und nicht ein einziges Foundation-Mitglied. Da alle Funktionen/Positionen bisher von einer Person vergeben wurden, stehen nach dem 07.07.2022 alle Funktionen/Positionen neu zur Disposition durch die Community.
Zum 07.07.2022 muss die bisherige Foundation alle Foundation-Konten und deren Kontostände offenlegen. Auch von den Konten, von denen Delegationen an andere Konten eingerichtet sind. Jegliches Blurt-Gemeinschaftseigentum ist zum 07.07.2022 offen zu legen.
Wir benötigen nach dem 07.07.2022 dringend ein Abstimmungs-System für die Community und für die Top20-Zeugen. Die Personen, die die Schaffung eines solchen Systems versprochen hatten, haben ihre Versprechen leider bisher nicht eingehalten. Es wurde aber schon viel Geld dafür bezahlt.
Bis zum 07.07.2022 ist Blurt von einer einzigen Person regiert.
Ab dem 07.07.2022 hat Blurt eine echte neue Chance, eine dezentralisierte Blockchain zu werden.
In eigener Sache:
Ihr wisst alle, dass ich mich immer zum Wohl von kleinen Accounts eingestzt habe. Mein Handeln auf Blurt war immer großzügig und hat vielen Usern geholfen.
Um wieder eine starke Position in der Zeugen-Liste, die sich, wie gesagt, ab 07.07.2022 neu sortieren wird, zu erhalten, bitte ich euch heute um eure Witness-Votes für meinen Zeugen @double-u.
Wenn ihr mich als Witness voten möchtet, geht's hier entlang:
https://blurtwallet.com/~witnesses?highlight=double-u
Noch eine Bitte: Bitte reblurtet diesen Post sehr rege, damit möglichst viele User von diesem sehr wichtigen Datum erfahren. Danke!
Alles Gute wünsch' ich euch! Bleibt gesund!
Liebe Grüße, euer @double-u