[DE] Please scroll down for English version
Ein paar Worte zur COAL-Liste, wie es zukünftig besser funktionieren könnte und ein Vorschlag für eine zukünftig bessere Lösung.
Grundsätzlich haben wir ein Dilemma, auf der einen Seite legen wir auf Blurt sehr großen Wert auf freies Bloggen und auf der anderen Seite müssen wir bestimmte Accounts einschränken, wenn wir nicht untergehen wollen.
Aktueller Stand
Jeder kann in Discord im report-abuse-or-appeal Channel Accounts melden. Jemand vom Blurt Team prüft den Account und setzt ihn dann ggf. auf die COAL-Liste.
Das Ganze ist ein sehr aufwändiger Prozess, derjenige der meldet, hat vorher vielleicht schon Stunden recherchiert, vom Blurt Team nochmals die Prüfung, doppelte Arbeit. Dazu kommt, manchmal meldet sich später der betroffene Account, streitet alles ab, gibt sich empört, obwohl die Sache eindeutig ist. Es ist wirklich erstaunlich, wie unverfroren manche vorgehen.
User und Accounts
Bevor wir zu einer möglichen Verbesserung kommen, zum besseren Verständnis kurz der Unterschied zwischen Usern, Bots und MultiAccounts.
User: Ein User ist der Mensch, der hinter einem Account steht. Wir wissen, hinter dem Account jacobgadikian steht Jacob, hinter megadrive Ricardo usw. Das sind alles echte Accounts mit echten Menschen dahinter.
Bot: Ein Bot ist ein Account der von einer Software gesteuert wird, dahinter steckt ein Betreiber, der die Software am Laufen hält.
MultiAccounts: Das sind 10, 100 oder mehr Accounts, die von einem oder einer Gruppe von Usern betrieben werden. Vorwiegend um ein Maximum an Rewards aus dem System zu extrahieren oder durch Spam oder andere Aktionen der Chain und somit den Usern zu schaden.
MultiAccounts arbeiten teilweise mit spezieller Software, die z.B. Texte aus den Internet stiehlt, verfremdet und dann wieder veröffentlicht.
Kennzeichen von MultiAccounts sind eine minimale Beteiligung an der Community, Upvotes kommen von Upvote-Bots und/oder regelmäßig von immer den gleichen Usern. Transaktionen zu Börsen wie Ionomy oder ProBit haben oftmals das gleiche Memo, somit das gleiche Konto auf der jeweiligen Börse.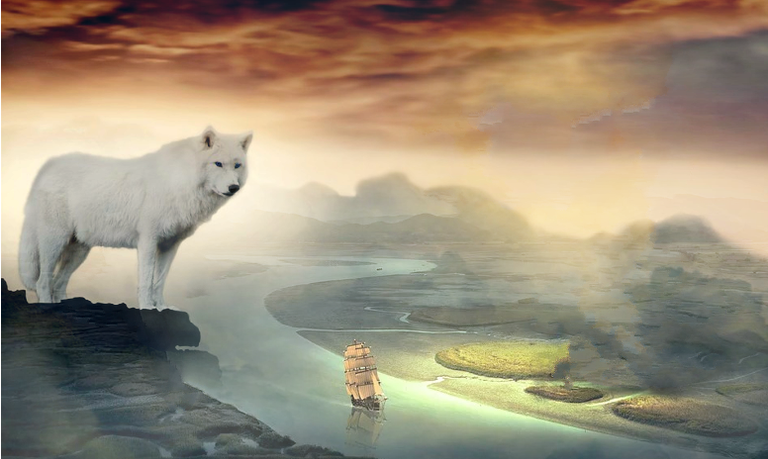 Collage Bild1 | Bild2 Pixabay
Wächter
Eine Verbesserung des bisherigen COAL-Systems könnten vertrauenswürdige Wächter sein, so wie es von Jacob schon angedacht war. Ein Wächter könnte z.B. einen bestimmten Tag wie z.B. #deutsch oder #blurtafrica im Auge behalten und nach sorgfältiger Prüfung Accounts direkt auf die COAL-Liste zu setzen.
So könnten erkannte Accounts viel schneller und mit weniger Aufwand auf die Liste gesetzt werden.
Außerdem, auch bei sorgfältiger Prüfung kann ein Fehler passieren, ein Wächter könnte viel schneller den betreffende User wieder aus der Liste streichen. Den bisherigen Prozess um von der Liste gestrichen zu werden finde ich viel zu aufwändig und herabsetzend für den betroffenen User. Wenn der Wächter das Gefühl hat, der User hat verstanden um was es geht, dann sollte die Geschichte auch erledigt sein.
Die Hauptaufgabe eines Wächters wäre primär MultiAccounts ausfindig zu machen und nicht echte User zu traktieren.
Darum meine Unterscheidung zwischen Usern und MultiAccounts. Ich denke, die vielen Diskussionen und Einwände gegen eine COAL-Liste speisen sich aus der Ansicht, dass damit echte User an den Pranger gestellt werden sollen. Unser Problem, aus meiner Sicht, sind nicht einzelne User die vielleicht aus Unwissenheit fremde Inhalte kopieren.
Die Frage ist jetzt, wollen wir etwas in der Art und wenn ja, wer würde so einen Job übernehmen? Es wäre zeitaufwändig und keine angenehme Aufgabe.
Ein Beispiel
Schauen wir uns als Beispiel den Account @shazara im ecosynthesizer an, begrenzen die Anzeige auf "Create Account":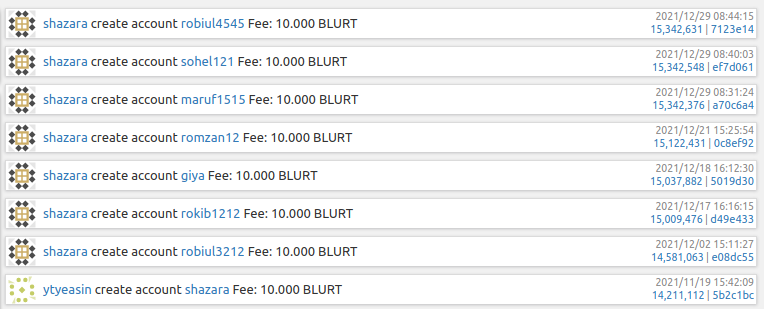 7 Accounts wurden von diesem erstellt, darunter z.B. @rokib1212, folgt man diesem Account kommt man wieder zu weiteren erstellten Accounts:



Das Geflecht ist schier endlos... Ihr seht, keine leichte Aufgabe und in kurzer Zeit kommt man auf viele Accounts. Die Forderung die ich immer wieder höre, jeder Account der auf die COAL-Liste kommt soll vorher per Kommentar gewarnt werden. Das ist manuell kaum machbar und wenn man sich einmal in diesem Sumpf begeben hat, auch aussichtslos.
Das führt zum nächsten Punkt:
Automatische Wächter
Findet ein Wächter einen MultiAccount, könnte ein Bot die Strukturen automatisch weiter analysieren und auf die COAL-Liste setzen. Das wäre ein Ansatz, den wir auch überlegen könnten.
Das Problem und das sehe ich deutlich, wir riskieren dadurch einen eventuellen Kurseinbruch, weil die User die diese Strukturen betreiben wahrscheinlich Blurt verlassen werden. Schwierige Geschichte, heikles Thema.
Die Lösung?
Mein Ansatz ist eine so gut es geht manuelle Chain. In meinem Post Blurt, the best of all platforms? habe ich die Idee, Votes und Kommentare nur noch über das Frontend zu ermöglichen in den Raum gestellt. Ich meine damit, eine Implementierung auf API-Ebene, nur noch Dienste die von der Blurt Foundation bzw. den Top 20 Witness einen API-Key bekommen haben, können bestimmte Transaktionen ausführen.
Damit bräuchten wir keine Wächter, denn die oben beschriebenen Strukturen wären in der Form nicht mehr machbar.
Richtig rentabel werden diese Strukturen erst durch Delegationen, damit können sie fremde VP für ihre Zwecke einsetzen. Daher unterstütze ich auch die Idee, nicht an Vote-Services zu delegieren.
Zusammenfassung
Votes, Posts und Kommentare nur noch über das Frontend, Vote-Services sind damit nicht mehr möglich, danach Deaktivierung der COAL-Liste.

[EN]
A few words about the COAL list, how it could work better and a suggestion for a better solution in the future.
Basically we have a dilemma, on the one hand we place a very high value on free blogging on Blurt and on the other hand we have to restrict certain accounts if we don't want to go under.
Current status
Anyone can report accounts in Discord in the report-abuse-or-appeal channel. Someone from the Blurt team will check the account and put it on the COAL list if necessary.
The whole process is very time-consuming, the person reporting may have spent hours researching beforehand, and the Blurt team checks again, so it's double the work. On top of that, sometimes the account concerned gets in touch later, denies everything, acts outraged, even though the matter is clear. It is really astonishing how brazenly some people proceed.
Users and accounts
Before we come to a possible improvement, for a better understanding, briefly the difference between users, bots and multi-accounts.
User: A user is the person behind an account. We know that behind the account jacobgadikian is Jacob, behind megadrive is Ricardo, and so on. These are all real accounts with real people behind them.
Bot: A bot is an account that is controlled by software, behind which is an operator who keeps the software running.
MultiAccounts: These are 10, 100 or more accounts that are operated by one or a group of users. Mainly to extract a maximum of rewards from the system or to harm the chain and thus the users through spam or other actions.
MultiAccounts sometimes work with special software that, for example, steals texts from the Internet, alienates them and then publishes them again.
Characteristics of MultiAccounts are minimal participation in the community, upvotes come from upvote bots and/or regularly from the same users. Transactions to exchanges such as Ionomy or ProBit often have the same memo, thus the same account on the respective exchange.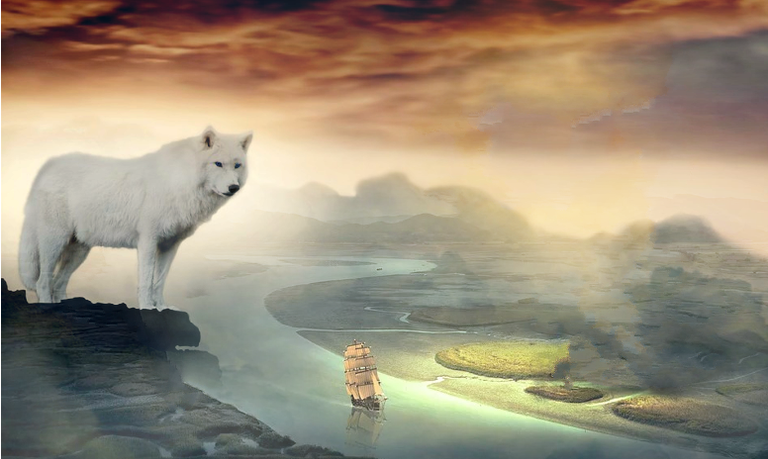 Collage Bild1 | Bild2 Pixabay
Wardens
An improvement to the current COAL system could be trusted wardens, as Jacob had already thought of. A warden could, for example, keep an eye on a certain tag such as #deutsch or #blurtafrica and, after careful examination, put accounts directly on the COAL list.
This would allow recognised accounts to be added to the list much more quickly and with less effort.
Moreover, even with careful scrutiny, a mistake can happen and a warden could much more quickly remove the user in question from the list. I find the current process for being removed from the list far too time-consuming and demeaning for the user concerned. If the warden feels that the user has understood, then the matter should be resolved.
The main task of a warden would be primarily to track down multi-accounts and not to torment real users.
Hence my distinction between users and multiAccounts. I think the many discussions and objections to a COAL list are fed by the view that it is intended to pillory genuine users. Our problem, from my point of view, is not individual users who perhaps copy other people's content out of ignorance.
The question now is, do we want something like this and if so, who would take on such a job? It would be time-consuming and not a pleasant task.
An example
Let's look at the account @shazara in ecosynthesizer as an example, limit the display to "Create Account":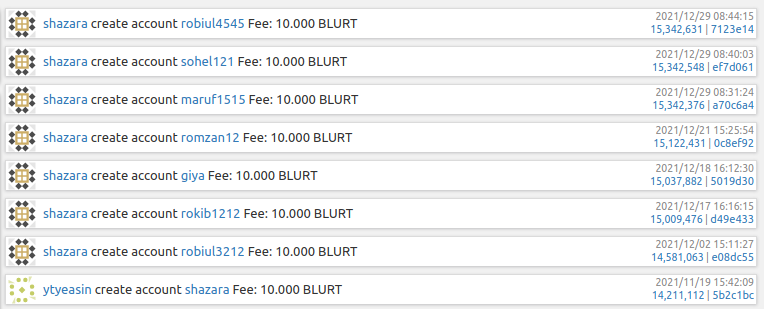 7 accounts were created by this one, among them e.g.. @rokib1212, if you follow this account you come back to other created accounts:



The network is almost endless... As you can see, it's not an easy task and in a short time you get many accounts. The demand I hear again and again is that every account that is added to the COAL list should be warned in advance via a comment. This is hardly feasible manually and once you have entered this quagmire, it is also hopeless.
This leads to the next point:
Automatic wardens
If a warden finds a MultiAccount, a bot could automatically analyse the structures further and put them on the COAL list. That would be an approach we could also consider.
The problem, and I can see this clearly, we risk an eventual price drop by doing this because the users running these structures are likely to leave Blurt. Difficult story, delicate subject.
The solution?
My approach is to manually chain as best I can. In my post Blurt, the best of all platforms? I floated the idea of allowing votes and comments only via the frontend. By this I mean an implementation at API level, only services that have received an API key from the Blurt Foundation or the Top 20 Witness can carry out certain transactions.
This would mean that we would not need any guards, because the structures described above would no longer be feasible in this form.
These structures only become really profitable through delegations, because in this way they can use foreign VPs for their purposes. Therefore, I support the idea of not delegating to vote services.
Summary
Votes, posts and comments only via the frontend, vote services are no longer possible, then deactivation of the COAL list.

Recommended for newcomers
Welcome to Blurt [DE] | Welcome to Blurt [EN]