This won't be the first community on the blockchain or even the first fun community to be in but you can be very sure that it is going to be one of the most spontaneous community which you will find out for yourself as time goes on.
Blurt-varieties is and can only be a community when there is an idea and people who love the idea... This community is birthed out of the idea of being about fun while you earn with the hope that you all (Blurtians) would love the idea and be part of it to make it a community.
Who loves fun?
Who wants to earn some money while having fun?
Welcome to BLURT-VARIETIES!!!
---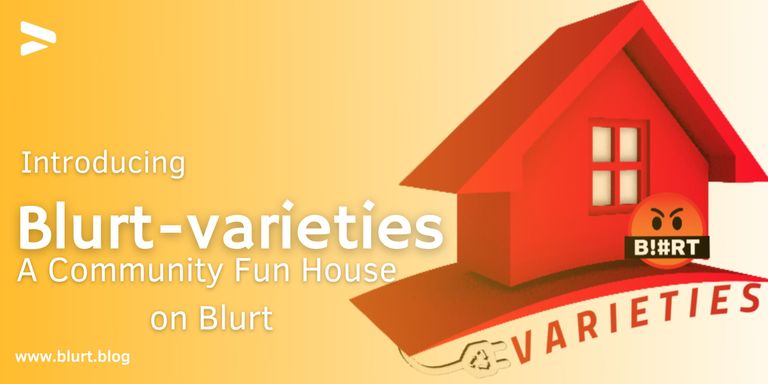 This community is for your fun time on blurt, a place in blurt you stop by after the day's work or your day's blogging to have fun and add a little to your earnings for the day.
It wouldn't require much to have fun right? This community will actually appreciate you instead for coming to have fun and you'll go back smiling hoping to stop by the next day and so it goes... Fun fun fun / win win win!!!
Why the name Blurt-varieties?
---
The idea is from a spontaneous brain, you will agree with me that it can't be a "One kind" fun always, that way the fun goes way with time. The name is because there will be different fun games, surprises and lots of unexpected which you would love.
Blurt is the name of the Blockchain as we all know, Variety stands for "Many or Different" so you can expect to see many or different activities from this community that will only be fun and be of support to the blockchain.
How to be part of this community?
---
There won't be a tag imposed on anyone since we would be focusing more on just having fun and earning... So anyone can be part of this community, no requirements and no protocols to follow.
If you are a blurtian?
If you are a writer?
If you are a fun person?
If you are an engagement lover?
If you are a lover of Blurt-varieties already?
Or just one or two of the list?
Then you're more than qualified to be part of this community fun house on blurt. Aside having fun, this community would be contributing in many ways towards being a better blurtian.
The Aim and plans of Blurt-varieties
---
Organize daily fun activities (a fun house)
Be as spontaneous as possible with the fun
Give out prizes, surprises and lots of support to blurtians
Promote the blurt blockchain on other social media
Power up blurt monthly to support the price of blurt
Grow as a community and help others grow as well
There are more to the idea of starting this project but they can only come to reality when there is support and love given to it... The community will try it's very best to go through the test of time and be one of the best communities of fun on blurt.
When do we start the fun activities?
---
Some hours after this post is published, we begin the fun!!! Some blurt would be powered up soon to start curating and loving any comments found under the posts shared... Yeah, it's going to be mostly about leaving a comment for the fun and to get your prizes.
So get ready as we kicks off to bringing more fun to the blockchain.
The community welcomes any delegation and support!!!
---
It's a new community so we would need all the help we can get. In anyway you can when you're sure you love the idea, please do delegate to us so we can reward more blurt movers (People who love blurt by engaging).
The main essence of this community is to improve engagement as it is one of the important ingredients to having a growing blockchain and good time for bloggers.
No delegation is too small but aside that, let's just have fun!!!
Thanks to all who read till the end and we look forward to having fun with you.
Love from blurt-varieties ❤️