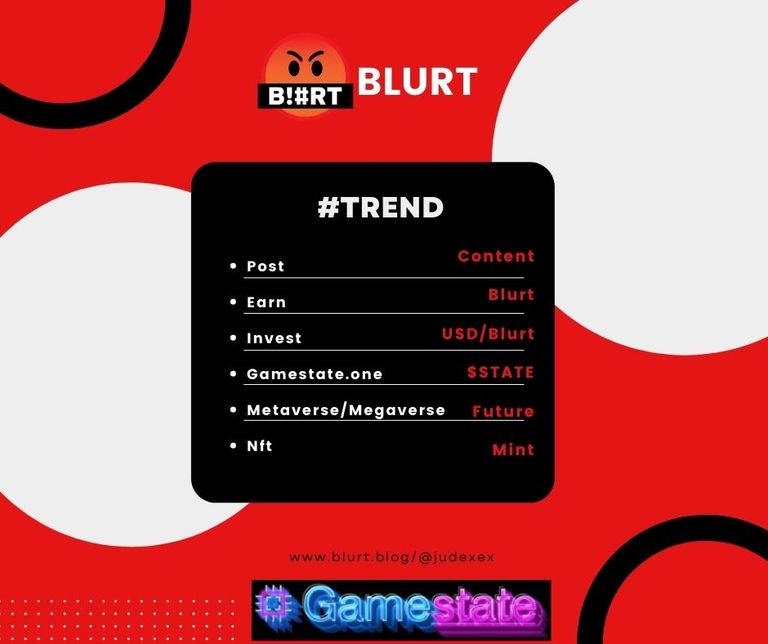 let's talk about initiative, the ideas behind your Blogging I guess you will say is Blurt right?
do you go through your trend to see what's trending on blurt? or you only wait for link in the link groups? have you ever seen a post that caught your attention? to the point you decide to write a content that reflects the same Content that you have to tag the author.
is amazing, how collectively we can win together, every great choice comes with a dream, a rare image of success being actualize in reality.
Blurt is a concept of it's own, a decentralized networking system that have brand ideas into Megaverse.
have thought of so many ways to put my pen down create my own concept ideas, design my views in a pattern everyone will want to ask series of questions.
My question is,
Do you repost your content on your social media platform with the hashtag #blurt or your post end in blurt platform?
let's not go into details of illustrations, let's "TREND" every working tools have been given, thanks to the founders whose Ideas sometimes I wish I can connect from a distance.
Let's TREND (Gamestate)
Gamestate has also produce an amazing opportunities to dive into, the Megaverse of gaming a revolutionary Metaverse resolution.
To understand this point of view
Megaverse can also be referred as multiverse, they are multiple universes. Megaverse are collective group of multiverse, which are close together.
And....
A metaverse (often confused as the multiverse) is a simulated / metaphysical dimension where all things on the internet, stories, movies, video-games, media, spiritual beliefs, dreams and imagination are virtual reality (VR).
Let's TREND
how about writing on a topic that says HOW TO START BLOGGING & GET PAID.. an insight into unlocking wealth, 🤑 a Blockchain technology platform.
Running a Google AdSense on such topics will be unique, imagine every time someone search for way to make money Boom the first Ads is #BLURT 🤯..
A promo on Google search engine should be activated to run for at least 6 months.
a community should be created for such promo enhancement because a social media ads are all excellent ways of attracting highly targeted visitors to site to invest. Each paid media channel has its pros and cons, so a well detailed objectives has to be in place before running a professional partnership ads.
Let's TREND
Don't just post,
get engaged in people's creative post, learn to share your post on social Media Platforms,
also share link on your WhatsApp status...
spread the good news 🗞️
Blurt is Passion.