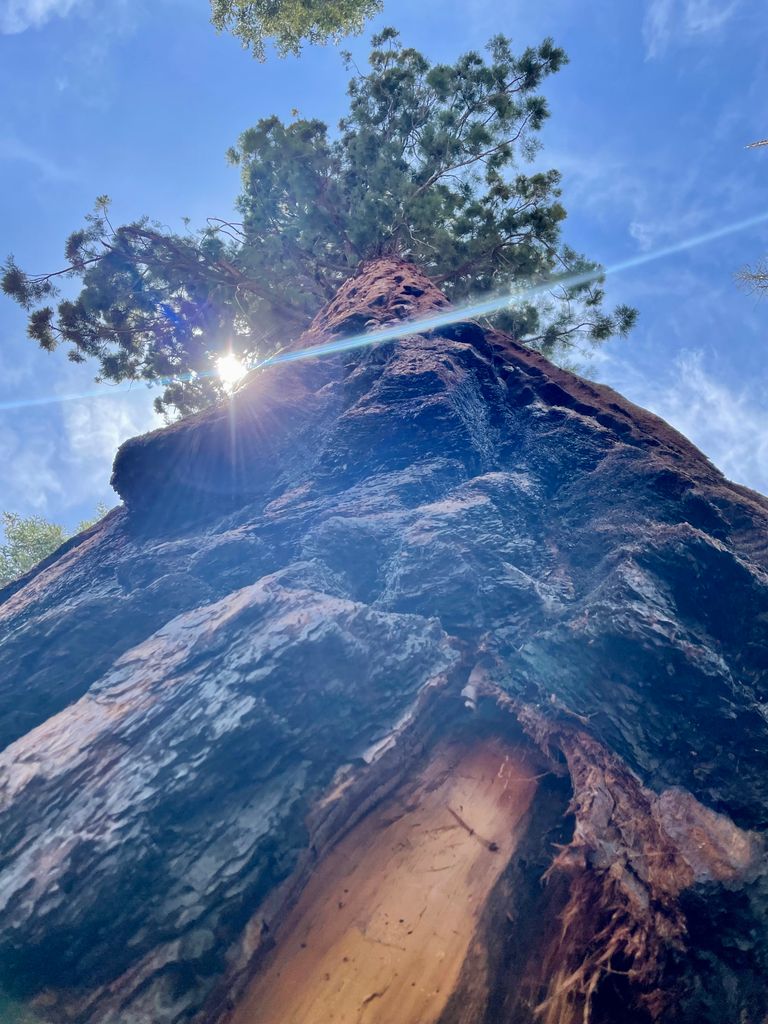 Hallo liebe Community,
hier also der Bericht unseres zweiten Ausflugs in den Yosemite Nationalpark. Nach ereignisreicher Nacht ( siehe vorheriger Post ) ging es diesmal zur Mariposa Lodge wo die Jahrhunderte alten Mammutbäume stehen. Auf dem Weg dahin fuhren wir durch von alten Waldbränden gezeichnete Landstriche wo es aber schon wieder grünt und blüht. Nur die verkohlten Reste der Bäume erinnern noch an die Feuer.
Bei der Mariposa Lodge angekommen wurden wir fast erschlagen von dem Anblick der riesigen Bäume, die alle locker über einhundert Meter hoch in den Himmel ragten. Sowas bekommt man auch nicht alle Tage zu sehen.
Mehrere Wanderwege führen durch das Gebiet und mit Wanderungen zwischen einer halben und acht Stunden ist für jeden etwas dabei. Wir entschieden uns für die 5 Kilometerwanderung, auf der man an den größten der Artgenossen vorbei kommt.
Da hier nicht "aufgeräumt" wird, lagen überall auch solche Riesen am Boden. Da kommt man sich als kleiner Mensch tatsächlich sehr unwichtig und klein vor. Der älteste aber nicht höchste Baum hier, der Giant Grizzly hat 2.800 Jahre auf dem Buckel. Er wächst aber nur noch in die Breite, da er es nicht mehr schafft, das Grundwasser bis ganz in die Krone zu leiten. Wie man an den Russ Spuren sieht, macht so einem Giganten auch ein Waldbrand nicht mehr viel aus. Die Schäden sind nur oberflächlich und dringen nicht bis in den Kern vor.
Es gibt hier sogar einen Mammutbaum, auf dessen Krone eine Kiefer wächst, die selbst schon 128 Jahre alt ist. Verrückt.
Hier konnten wir mit Staunen und Fotografieren schon einige Stunden verbringen. Auch die Kinder waren mehr als beeindruckt und hatten trotz Wanderung ihren Spaß. Da wir noch etwas Zeit an diesem Tag hatten, gab uns am Infopoint eine Rangerin dann noch eine Geheimtipp, den wir unbedingt sehen müssten. Mehr dazu im morgigen Post.
Viele grüße und bis bald Euer
Al
Hello dear community,
here is the report of our second trip to Yosemite National Park. After an eventful night (see previous post), this time we went to Mariposa Lodge where the centuries-old sequoia trees are located. On the way there we drove through areas marked by old forest fires but where it is already greening and blooming again. Only the charred remains of the trees remind us of the fires.
Arrived at the Mariposa Lodge we were almost slain by the sight of the huge trees, all loosely over one hundred meters high in the sky. You don't see that every day.
Several hiking trails lead through the area and with hikes ranging from half an hour to eight hours, there is something for everyone. We opted for the 5 kilometer hike, where you pass the largest of the species.
Since here is not "cleaned up", everywhere also such giants lay on the ground. There one feels as a small person actually very unimportant and small. The oldest but not highest tree here, the Giant Grizzly has 2,800 years on the hump. However, it only grows in width, as it no longer manages to conduct the groundwater all the way to the crown. As you can see from the soot tracks, even a forest fire no longer makes much difference to such a giant. The damage is only superficial and does not penetrate to the core.
There is even a sequoia here, with a pine tree growing on its crown that is itself 128 years old. Crazy.
Here we could spend already some hours with amazement and photographing. The children were also more than impressed and had their fun despite the hike. Since we still had some time on this day, gave us at the Infopoint a Rangerin then still a secret tip, which we would have to see absolutely. More about this in tomorrow's post.
Many greetings and see you soon your
Al