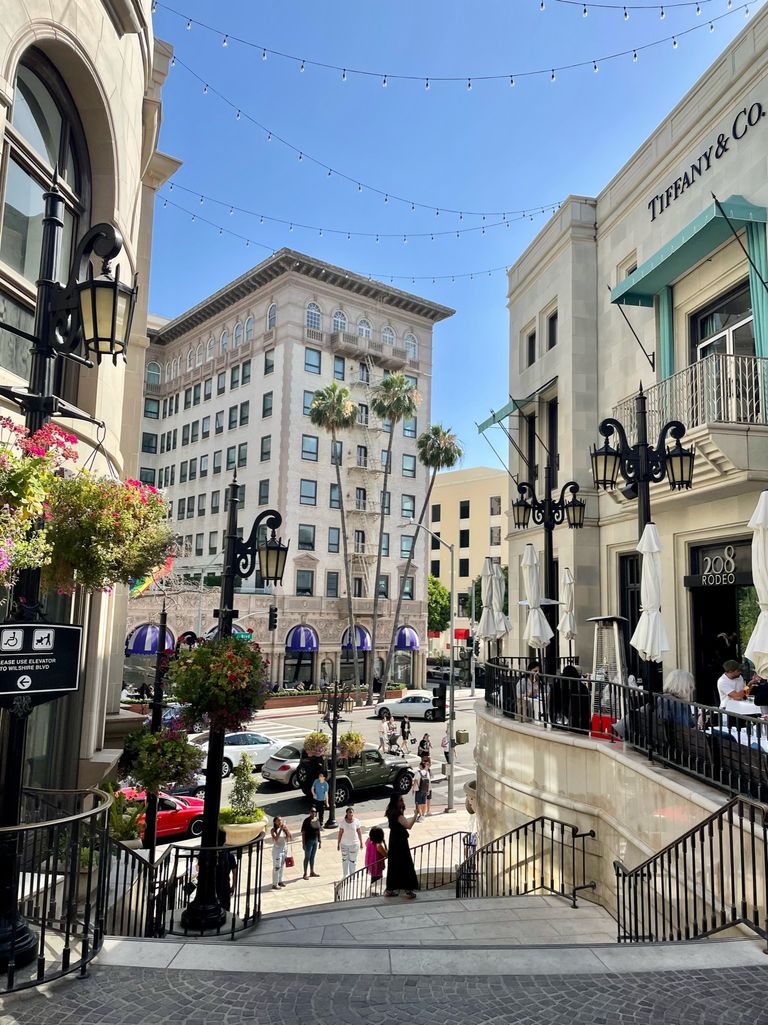 Hallo liebe Community,
nach einem schmackhaften Mittagessen bei Chick Fil A buchten wir mal wieder einen Uber. Muss sagen über die App ist das wirklich cool und funktioniert super. Vielleicht mache ich darüber auch mal einen Post, da Uber in Deutschland ja noch relativ unbekannt ist und nur in Großstädten verfügbar. Bei dieser Uber Tour sind wir auch zum ersten mal in einem Tesla gefahren. Das hat schon was dieses autonome fahren. Die Fahrerin hat es extra für uns mal angeschaltet und man muss wirklich nichts selber machen. Das Auto gleitet völlig entspannt von ganz alleine durch den Verkehr. Echt krass, bin gespannt, wann das bei uns erlaubt sein wird.
Nun am Rodeo Drive angekommen und sofort in der ganzen Luxuspracht von Los Angeles. Alles wunderschön gestaltet, Geld spielte da scheinbar keine Rolle. Auf unserem Spaziergang durch die Prachtstraße kam dann ein Luxusgeschäft nach dem anderen. Gucci, Versace, Prada und wie sie alle heißen. Vor jedem Laden Security und Einlasskontrollen, damit nicht zu viele Leute auf einmal im Laden sind.
Gekauft haben wir natürlich nichts, die tausende von Dollar, die dafür nötig gewesen wären hatte ich dummerweise im Hotel vergessen 😆. Aber es war schon mal ein Erlebnis sich das alles anzuschauen.
Apropos Erlebnis und anschauen. Mein Sohn, der auf teure Autos steht, kam aus dem Staunen nicht mehr heraus. So viele Luxuskarossen auf einem Fleck hatte selbst ich noch nie im leben gesehen. Teilweise sah ich manche Autos zum ersten Mal. Lamborghini und Ferrari waren dort eher normal und durchweg vertreten. Man konnte kein Bild machen, ohne einen von diesen mit drauf zu haben. Aber richtig spannend waren die Rolls Royce, Mac Laren, Maybachs und Bentleys. So was bekommt man wirklich nicht alle Tage zu sehen.
Nach so vielen Eindrücken und etlichen Kilometern in den Füßen entschlossen wir uns dann den Abend im Hotel auszuruhen um etwas traurig aber fit und ausgeschlafen am nächsten Morgen in unseren letzten Urlaubstag zu starten 😪
Viele Grüße und bis bald Euer
Al
Hello dear community,
after a tasty lunch at Chick Fil A we booked an Uber again. Must say about the app is really cool and works great. Maybe I'll do a post about it, because Uber is still relatively unknown in Germany and only available in major cities. On this Uber tour, we also drove in a Tesla for the first time. That has already what this autonomous driving. The driver turned it on especially for us and you really don't have to do anything yourself. The car glides completely relaxed all by itself through the traffic. Really cool, I'm curious when that will be allowed in our country.
Now arrived at Rodeo Drive and immediately in the whole luxury splendor of Los Angeles. Everything beautifully designed, money played there apparently no role. On our walk through the boulevard then came one luxury store after another. Gucci, Versace, Prada and how they are all called. In front of each store security and entrance controls, so that not too many people are in the store at once.
Bought we have of course nothing, the thousands of dollars, which would have been necessary for it I had stupidly forgotten in the hotel 😆. But it was already an experience to look at everything.
Speaking of experience and look. My son, who is into expensive cars, could not get out of his amazement. Even I had never seen so many luxury cars in one place in my life. Some of the cars I saw for the first time. Lamborghini and Ferrari were there rather normally and consistently represented. You could not take a picture without having one of these on it. But really exciting were the Rolls Royce, Mac Laren, Maybachs and Bentleys. You really don't get to see something like that every day.
After so many impressions and quite a few kilometers in the feet, we decided to rest the evening in the hotel to start a little sad but fit and rested the next morning in our last day of vacation 😪
Many greetings and see you soon
Al