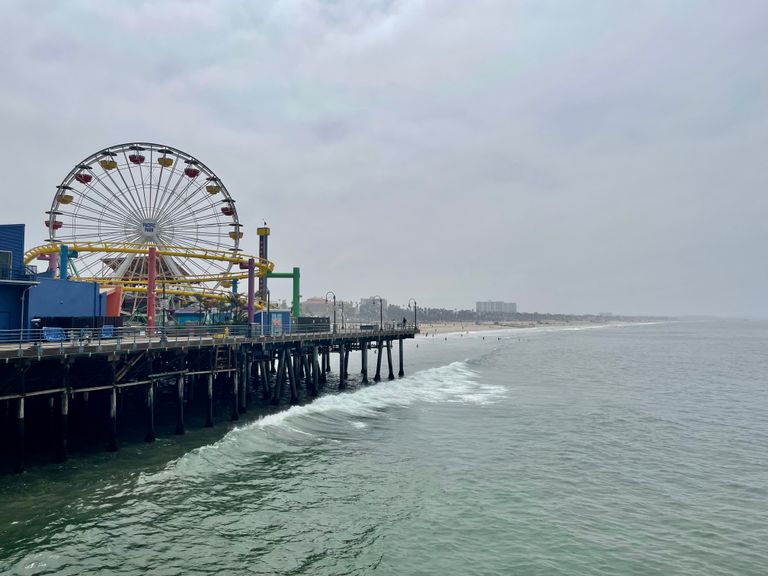 Hallo liebe Community,
nun war es also soweit. Unser letzter Tag in den USA brach an. Diesen wollten wir nochmal ganz entspannt in Santa Monica verbringen.
Also führte uns unser Weg direkt zum Santa Monica Pier. Einerseits das Ende der legendären Route 66 und andererseits ein riesiger Rummelplatz. War sehr lustig, wir waren in einer Spielhölle mit ganz vielen Flippern und anderen elektronischen Spielen. Achterbahn war leider noch geschlossen, da wir etwas früh dran waren. Was natürlich nicht fehlen durfte war eine Filiale von Bubba Gump mit Bank, Turnschuhen, Koffer und Pralinenschachtel, man weiß nie was man kriegt😉.
Direkt neben dem Pier war der Muscle Beach, wo die durchtrainierten Schönheiten Santa Monicas ihren Körper in der Sonne weiter stählen können. Auch wir haben uns mal daran ausprobiert aber mehr als ein paar Klimmzüge waren leider nicht drin.
Zum Mittagessen gingen wir in die Fußgängerzone direkt in der näheren Umgebung des Piers. Dort fanden wir eine Cheesecake Factory, einigen vielleicht bekannt aus der Serie The Big bang Theory. Da konnten wir es uns natürlich nicht nehmen lassen ein Stück Käsekuchen zu probieren. Ein kleines Stück für mindestens 10 $ und mindestens 900 Kalorien. Weder Preis noch Kalorien ließen mich frohlocken aber man muss sich ja auch mal etwas gönnen.
Für den nachmittag hatten wir dann eine fahrt mit Mietfahrrädern nach Venice Beach geplant aber davon mehr im nächsten Post.
Viele Grüße und bis bald Euer
Al
Hello dear community,
now the time had come. Our last day in the USA dawned. This we wanted to spend again quite relaxed in Santa Monica.
So our way led us directly to the Santa Monica Pier. On the one hand the end of the legendary Route 66 and on the other hand a huge fairground. It was a lot of fun, we were in a gambling hall with lots of pinball machines and other electronic games. Roller coaster was unfortunately still closed, because we were a little early. What of course could not be missing was a branch of Bubba Gump with bank, sneakers, suitcase and box of chocolates, you never know what you get😉.
Right next to the pier was Muscle Beach, where Santa Monica's well-trained beauties can further steel their bodies in the sun. We also tried it out but more than a few pull-ups were unfortunately not in it.
For lunch we went to the pedestrian zone directly in the vicinity of the pier. There we found a Cheesecake Factory, maybe known from the series The Big Bang Theory. Of course we couldn't resist trying a piece of cheesecake. A small piece for at least 10 $ and at least 900 calories. Neither price nor calories let me rejoice but you have to treat yourself.
For the afternoon we had planned a ride with rental bikes to Venice Beach but more about that in the next post.
Greetings and see you soon
Al