Así es mis queridos friends de Blurt, el famoso disco de Metallica conocido como "Black Album" - aunque realmente se llama como la banda "Metallica" - está de aniversario. Hoy 12 de agosto de 2022 se cumplen 31 años de su publicación.
That's right my dear friends from Blurt, the famous Metallica album known as "Black Album" - although it's actually called after the band "Metallica" - is celebrating its anniversary. Today, August 12, 2022, marks the 31st anniversary of its publication.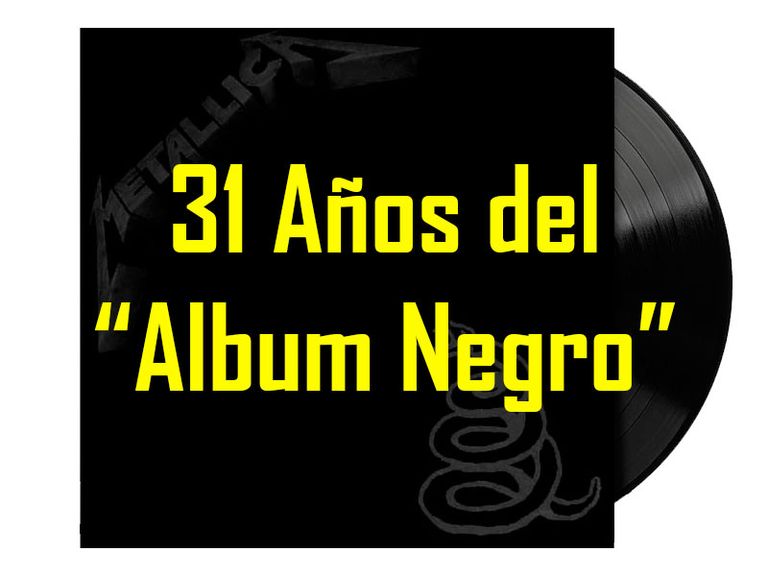 Hay que decir que, aunque Metallica ya era tremendamente famosa en el 91, con la salida de este disco, la banda alcanzó nuevos niveles de popularidad, convirtiéndose junto a Guns N Roses en el símbolo del rock y el metal a nivel mundial. Y es que este disco no solo era escuchado por la comunidad rockera, sino que sus canciones comenzaron a ser reconocidas y escuchadas por personas no rockeras.
It must be said that, although Metallica was already tremendously famous in 1991, with the release of this album, the band reached new levels of popularity, becoming, together with Guns N Roses, the symbol of rock and metal worldwide. And it is that this album was not only listened to by the rock community, but its songs began to be recognized and listened to by non-rock people.
Este disco tiene una cantidad grande de canciones que se hicieron populares y marca de la banda. Como es costumbre, nombraré solo mis favoritas, aunque es de esos discos que puedo escuchar tranquilamente de principio a fin. Por cierto, es lo que estoy haciendo mientras escribos estas líneas. jajaja.
This album has a large number of songs that became popular and trademark of the band. As usual, I will name only my favorites, although it is one of those albums that I can listen to calmly from start to finish. By the way, that is what I am doing as I write these lines. LOL.
ENTER SANDMAN
SAD BUT TRUE
THE UNFORGIVEN
WHEREVER I MAY ROAM
NOTHING ELSE MATTERS
Y díganme ustedes: ¿cuáles son sus temas favoritos de este album histórico?
And tell me: what are your favorite songs from this historic album?


linktree . noise.cash . twitter . instagram

Imagen editada por Mostrorobot.
All videos are the property of their artists and labels.
Encargos: caricaturas, ilustraciones y diseños, contacta a mostrorobot en los comentarios o por su telegram @mostrorobot
Commissions: cartoons, illustrations and designs, contact mostrobot in the comments or via his telegram @mostrobot
---
Posted from https://blurtlatam.com