Good Afternoon Blurtters,
Today I would like to share with you five photos of beautiful Hibiscus flowers. I found these beautiful Hibiscus flowers were planted in a little park on the roadside which is located in Gunung Bahagia Sub-district, South Balikpapan District, Balikpapan City, East Kalimantan Province, Indonesia. Photos taken using the camera of Sony Smartphone.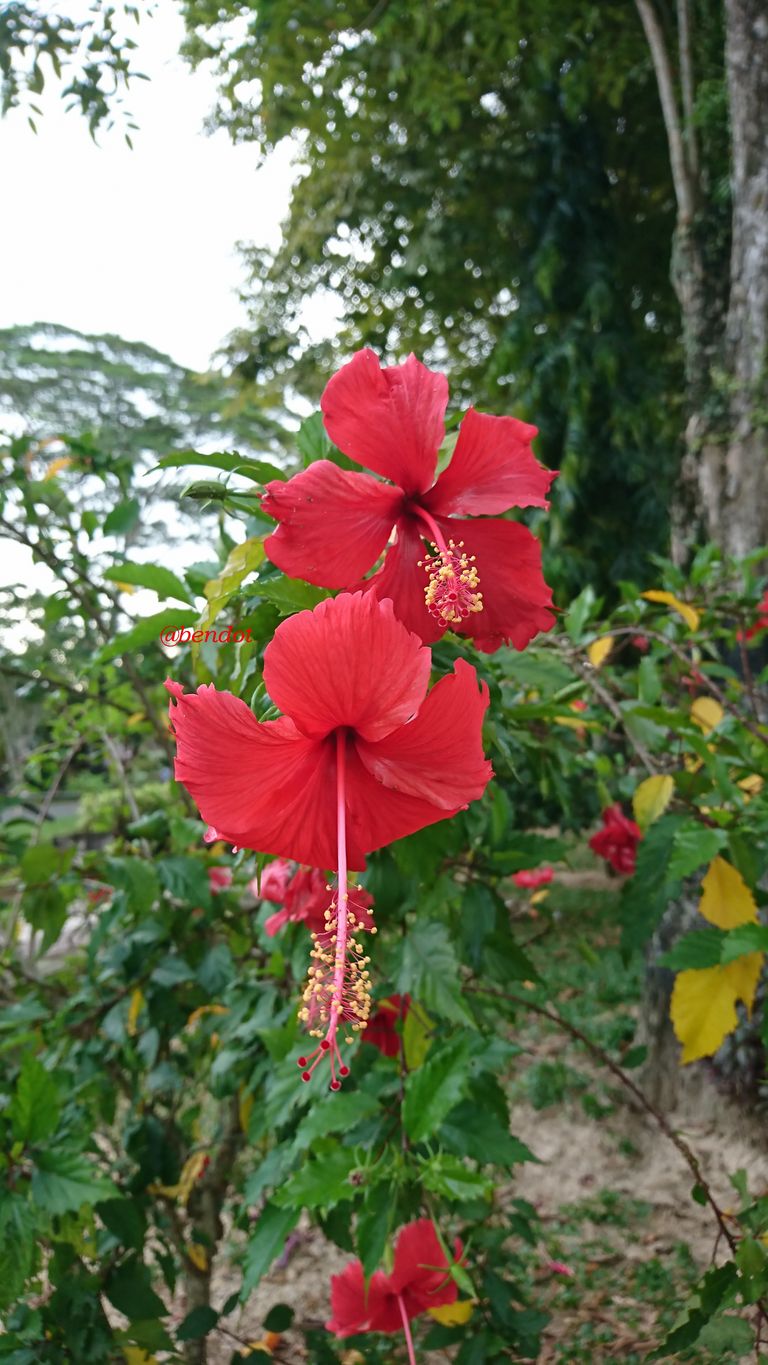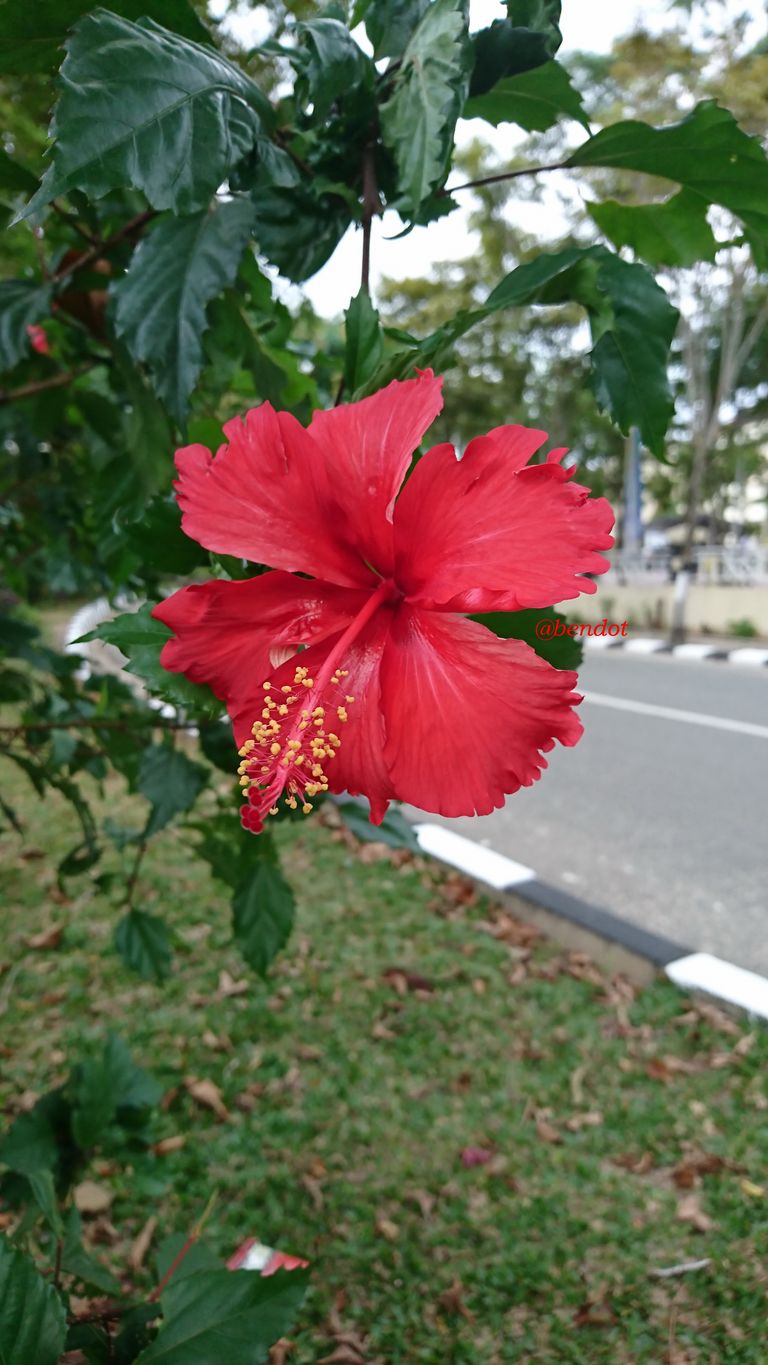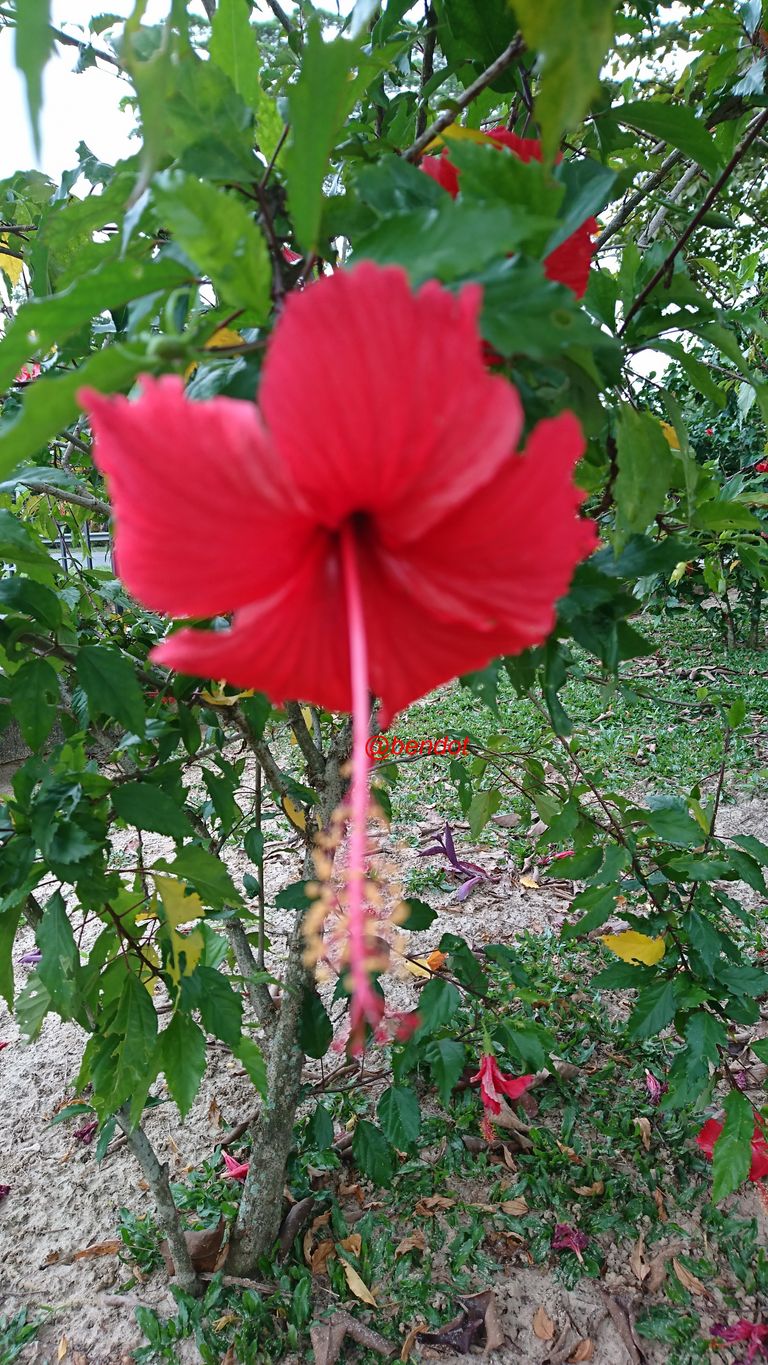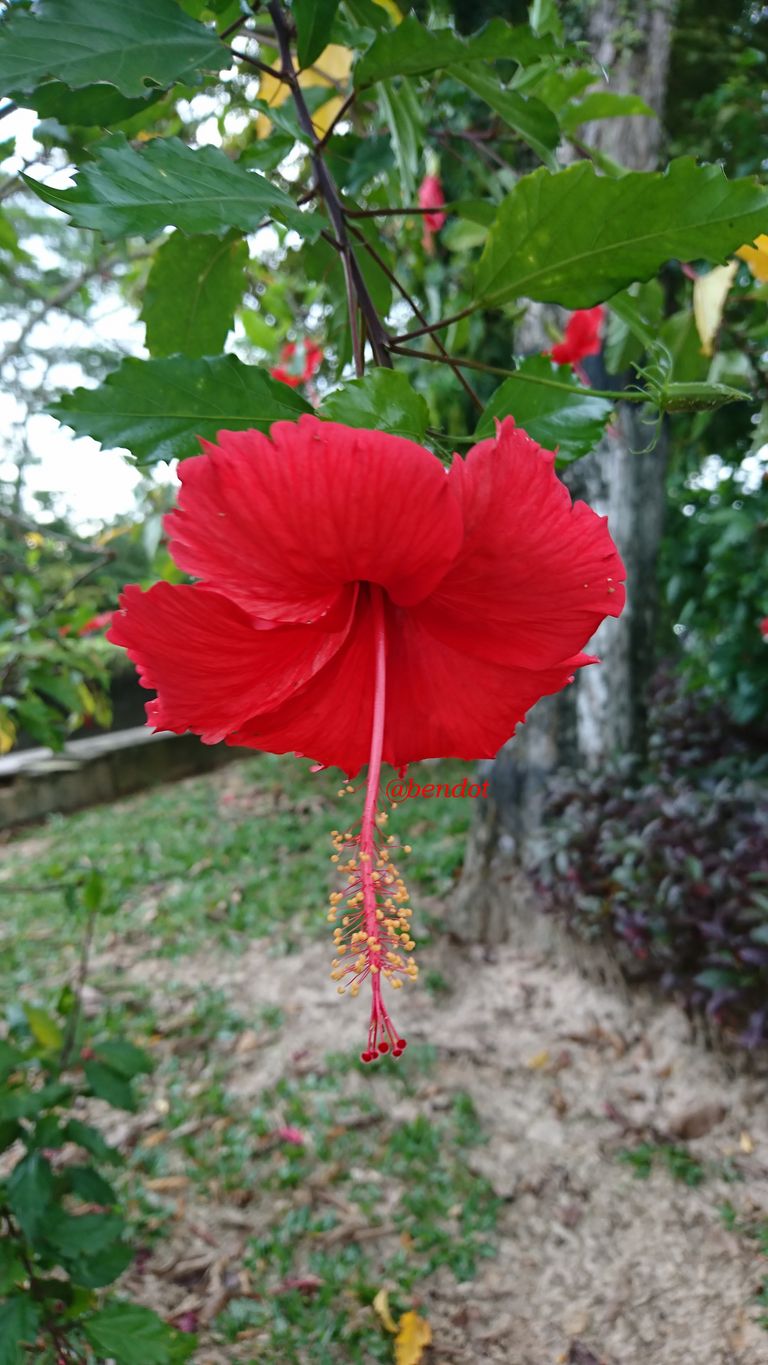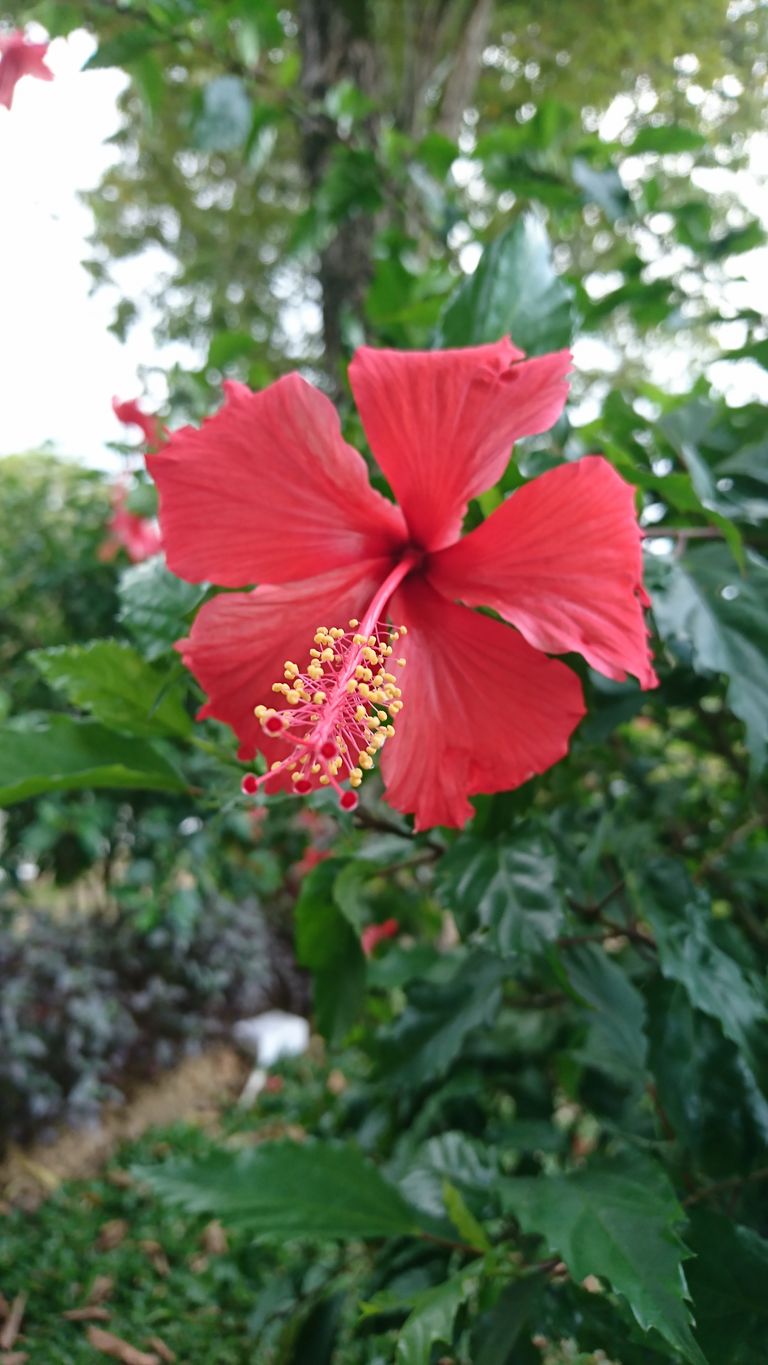 You Are Welcome To Take Part In MyDailyFlower Photo Challenge
No Rewards Just For Fun
The Rules:
My Daily Flowers By Day:
@ Monday Frangipani / @ Adenium Obesum
@ Tuesday Allamanda
@ Wednesday Hibiscus 🌺
@ Thursday Bougainvillea
@ Friday Asoka / Ixora
@ Saturday Canna
@ Sunday Rose
Thanks For Coming By
Regards
@bendotri

Hibiscus rosa-sinensis adalah semak lebat, semak cemara atau pohon kecil yang tumbuh setinggi 2,5-5 m (8-16 kaki) dan lebar 1,5-3 m (5-10 kaki), dengan daun mengkilap dan soliter (ketiak daun), simetris, biasanya bunga berwarna merah di musim panas dan musim gugur. Bunga berkelopak lima berdiameter 10 cm (4 inci), dengan kepala sari merah berujung oranye yang menonjol. Kultivar dan hibrida memiliki bunga dalam berbagai warna serta merah: putih, merah muda, oranye, persik, kuning, biru, dan ungu. Beberapa tanaman memiliki bunga ganda.
Di bagian bawah setiap kuncup kembang sepatu adalah kelopak bunga, yang berwarna hijau. Ujung runcing kelopak bunga disebut sepal. Ketika kembang sepatu mulai mekar, kelopak bunga mulai tumbuh.
Setiap bunga kembang sepatu memiliki bagian jantan dan betina. Ovarium dan bagian bunga betina lainnya terletak pada struktur utama kembang sepatu: putik, yang panjang dan berbentuk tabung. Lima bintik "berbulu" di bagian atas putik membentuk kepala putik, yang merupakan tempat pengumpulan serbuk sari. Di tengah-tengah putik terdapat style, yang merupakan tabung tempat serbuk sari bergerak ke ovarium. Ovarium terletak di bagian bawah bunga, dan setiap kembang sepatu hanya memiliki satu ovarium superior. Bagian jantan dari bunga, yang disebut benang sari, terdiri atas filamen dan kepala sari seperti batang. Setiap filamen diakhiri dengan kepala sari penghasil serbuk sari.
Tanaman kembang sepatu memiliki akar tunggang bercabang. Batang tanaman berbentuk udara, tegak, hijau, silindris, dan bercabang. Daunnya sederhana dan petiolate, dengan phyllotaxy alternatif. Bentuk daun bulat telur, ujungnya lancip, dan tepi bergerigi. Venasi adalah retikulat unicostate, artinya urat daun bercabang atau divergen. Terdapat bintik-bintik lateral yang bebas.
Bunga Hibiscus rosa-sinensis dapat dimakan dan digunakan dalam salad di Kepulauan Pasifik. Bunga ini digunakan sebagai aksesori, khususnya sebagai hiasan rambut. Bunga ini juga digunakan untuk menyemir sepatu di beberapa bagian India, sehingga disebut sebagai "shoeblack plant". Di Indonesia, bunga ini disebut "kembang sepatu", yang secara harfiah berarti "bunga sepatu". Bunga ini juga bisa digunakan sebagai indikator pH; apabila digunakan, bunga ini mengubah larutan asam menjadi warna merah jambu gelap atau magenta dan mengubah larutan basa menjadi hijau. Bunga kembang sepatu merah juga digunakan untuk pemujaan; dalam agama Hindu, bunga ini digunakan untuk pemujaan Devi, dan di daerah Bengal di India timur, bunga ini digunakan untuk memuja Kali. Kembang sepatu juga memiliki bagian penting dalam tantra. Di beberapa negara, bunganya dikeringkan untuk digunakan dalam minuman, biasanya teh.
Hibiscus rosa-sinensis dianggap memiliki sejumlah kegunaan medis dalam herbologi Cina. Penggunaan tradisional di Cina adalah untuk membuat semir sepatu hitam dari kelopak bunganya, atau untuk membuat pewarna rambut hitam wanita. Bunganya juga digunakan di beberapa bagian Cina untuk mewarnai berbagai minuman keras yang memabukkan. Tanaman ini mungkin memiliki beberapa potensi dalam perawatan kulit kosmetik; misalnya, ekstrak dari bunga Hibiscus rosa-sinensis telah terbukti berfungsi sebagai agen anti-surya dengan menyerap radiasi ultraviolet.
Nyctinasty is the circadian rhythmic nastic movement of plants in response to the onset of darkness, or a plant "sleeping". Hibiscus, a nyctinastic plant, has a circadian cycle in which they open their leaflets during the day, and close them at night. The movement of the hibiscus flower is accomplished through changes in electrolyte concentrations that cause water movement and changes in turgor pressure throughout the plant.
The mechanism for hibiscus nyctinasty is an example of plant movement to improve fitness. In Genus Hibiscus we mostly observe singular day blooming flowers with some hybrids that can achieve repeating cycles. It is believed that the specific blooming cycle of flowers is a self-protective and reproductive mechanism, many species in the colder region close their flowers at night to prevent frosting while some desert species have night blooming flowers to prevent extensive water loss. Predators and Pollinators are also major factors contributing to blooming cycles; some flowers will close at night to prevent nocturnal predators in contrast with night blooming flowers that rely on nocturnal pollinators.
Nyctinasty in hibiscus plants is a mechanism to protect against adverse conditions such as cool temperatures that can be damaging. Through a lack of light stimulus and circadian rhythms the plant is able to trigger the molecular movement of ions to allow for the closing of the flower.
Hibiscus rosa-sinensis is a bushy, evergreen shrub or small tree growing 2.5–5 m (8–16 ft) tall and 1.5–3 m (5–10 ft) wide, with glossy leaves and solitary (axillary), symmetrical, typically red flowers in summer and autumn. The five-petaled flowers are 10 cm (4 in) in diameter, with prominent orange-tipped red anthers. Cultivars and hybrids have flowers in a variety of colors as well as red: white, pink, orange, peach, yellow, blue, and purple. Some plants have double flowers.
At the bottom of every hibiscus bud is the calyx, which is green in color. The pointed ends of the calyx are called the sepals. When the hibiscus begins to bloom, the flower's petals begin to grow.
Each hibiscus flower has both male and female parts. The ovary and other female parts of the flower lie in the main structure of the hibiscus: the pistil, which is long and tubular. The five "hairy" spots at the top of the pistil make up the stigma, which is where pollen is collected. In the middle of the pistil is the style, which is the tube down which pollen travels to the ovary. The ovary lies at the bottom of the blossom, and each hibiscus has only one superior ovary. The male part of the flower, called the stamen, consists of stem-like filaments and anthers. Each filament ends with the pollen-producing anther.
The hibiscus plant has a branched taproot. The plant's stem is aerial, erect, green, cylindrical, and branched. The leaf is simple and petiolate, with alternate phyllotaxy. The leaf shape is ovate, the tip is acute, and the margin is serrated. Venation is unicostate reticulate, meaning the leaves' veins are branched or divergent. Free lateral stipules are present.
The flowers of Hibiscus rosa-sinensis are edible and are used in salads in the Pacific Islands. The flower is used as an accessory, particularly as a hairpiece. It is also used to shine shoes in certain parts of India, hence the common name "shoeblack plant." In Indonesia, these flowers are called "kembang sepatu", which literally means "shoe flower". The flower can also be used as a pH indicator; when used, the flower turns acidic solutions to a dark pink or magenta color and turns basic solutions to green. Red hibiscus flowers are also used for worship; in Hinduism, they are used for the worship of Devi, and in the Bengal area of eastern India, they are used to worship Kali. The hibiscus also has an important part in tantra. In several countries the flowers are dried to use in a beverage, usually tea.
Hibiscus rosa-sinensis is considered to have a number of medical uses in Chinese herbology. Traditional uses in China have been to make a black shoe-polish from its flower petals, or to make a woman's black hair dye. The flowers are also used in parts of China to color various intoxicating liquors. The plant may have some potential in cosmetic skin care; for example, an extract from the flowers of Hibiscus rosa-sinensis has been shown to function as an anti-solar agent by absorbing ultraviolet radiation.