Good Afternoon Blurtters,
Today I would like to share with you five photos of beautiful Bougainvillea flowers. I found these beautiful bougainvillea flowers were planted in the median of the road which is located in Karang Joang Sub-district, North Balikpapan District, Balikpapan City, East Kalimantan Province, Indonesia. Photos taken using the camera of Sony Smartphone.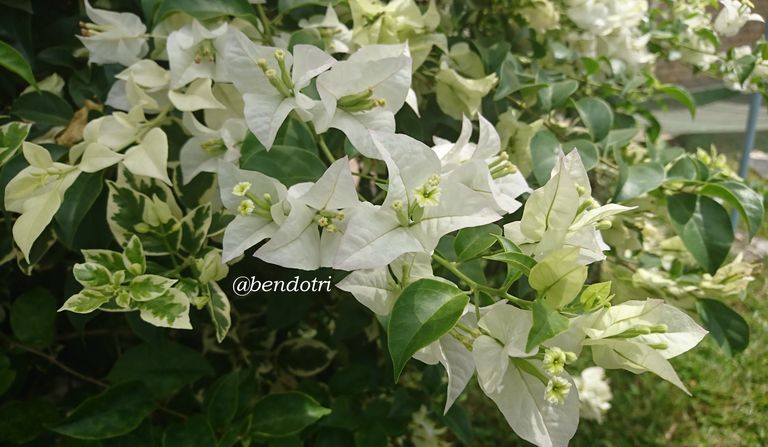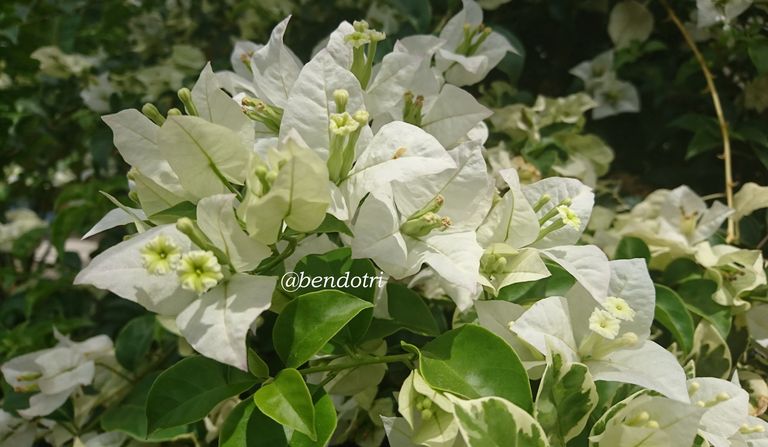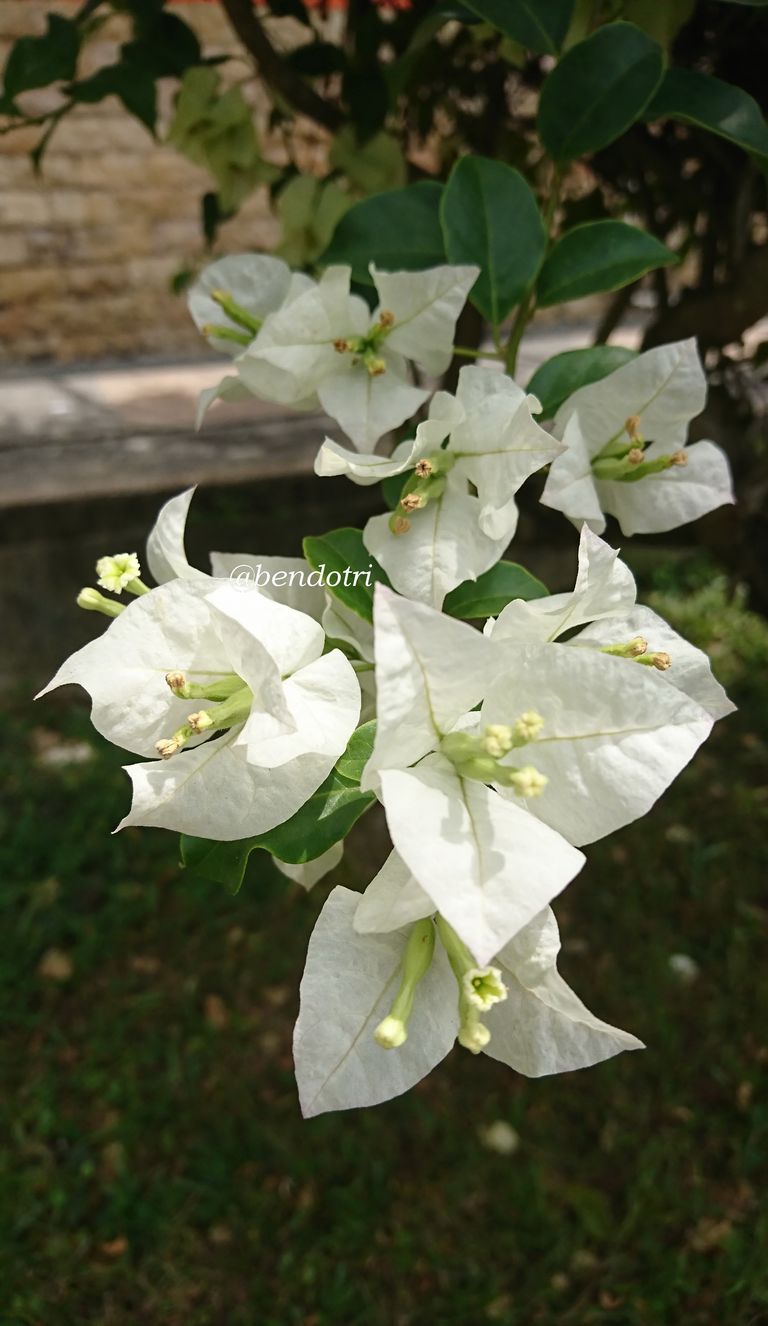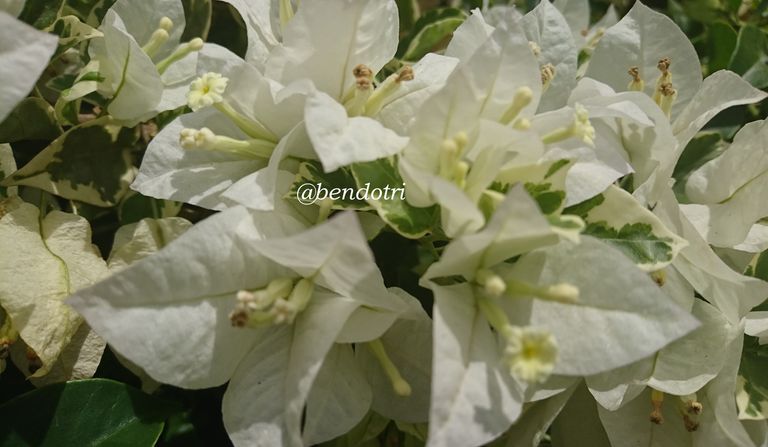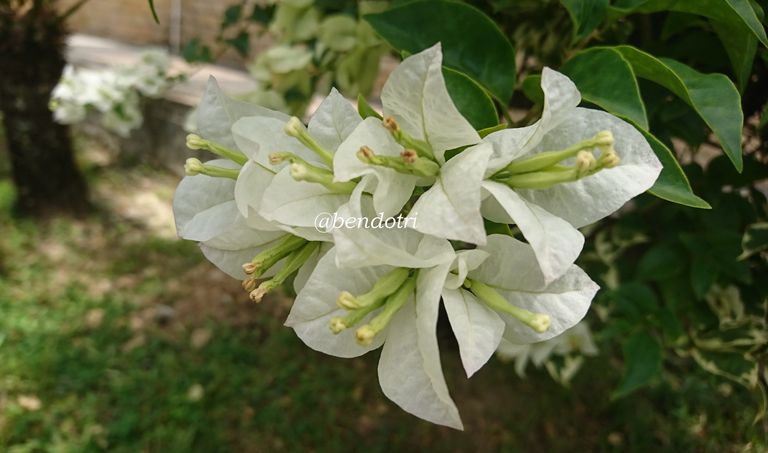 You Are Welcome To Take Part In MyDailyFlower Photo Challenge
No Rewards Just For Fun
The Rules:
My Daily Flowers By Day:
@ Monday Frangipani / @ Adenium Obesum 🌼
@ Tuesday Allamanda
@ Wednesday Hibiscus
@ Thursday Bougainvillea 🌼
@ Friday Asoka / Ixora
@ Saturday Canna
@ Sunday Rose
Thanks For Coming By
Regards,
@bendotri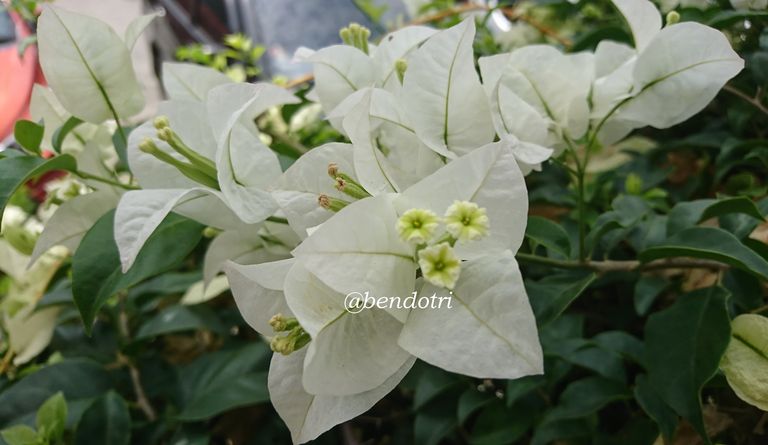 Bugenvil
Berasal dari Amerika Selatan, tanaman ini sering ditanam di taman dan kawasan perumahan. Pada waktu tanaman ini berbunga, tanaman ini mempunyai kebiasaan merontokkan beberapa daunnya. Bentuknya adalah pohon kecil yang sukar tumbuh tegak yang memiliki seludang bunga. Tanaman ini disebut bunga kertas karena bentuk seludang bunganya yang tipis dan mempunyai ciri – ciri seperti kertas. Nama Inggris bunga ini adalah bougainvillea yang diambil dari nama Sir Louis Antoine de Bougainville, seorang prajurit angkatan laut Prancis. Antara jenis bunga kertas tersohor antara lain Bougainvillea 'Elizabeth Angus', Bougainvillea 'Red', Bougainvillea Pultonii, Bougainvillea 'Easter Parade', dan Bougainvillea 'Lady Mary Baring'.
Perawatannya pun mudah, tidak memerlukan waktu yang lama karena spesies tumbuhan ini sangat sesuai ditanam di kawasan beriklim tropis dan khatulistiwa seperti negara kita dan bisa tumbuh hingga 10 meter tingginya. Batang tanaman bunga ini agak keras, mempunyai duri yang tajam dan bercabang-cabang. Perkembang biakannya pula hanya memerlukan keratan batang yang disemai di dalam bungkus plastik ataupun pot dengan cara mudah. Selain itu, tanaman ini juga mempunyai sulur yang rapat, daun yang lebar dan berbentuk bujur tirus yang mampu membentuk rimbunan pokok di kawasan halaman rumah atau juga sebagai tumbuhan pagar di kawasan yang menarik.
Walaupun tanaman ini berukuran kecil dan berbentuk corong, tetapi memiliki banyak manfaat. Contohnya saja untuk hiasan rambut, campuran bunga untuk upacara siraman, dan sebagai kegunaan di upacara pemakaman bagi bangsa Tiongkok dan India.
Tarikan mempesona bunga ini menjadi perbincangan penduduk di negara kita karena terkesan dengan bentuknya dan warnanya yang menarik hati. Warna bunga ini terdiri dari berbagai macam warna, seperti jingga, merah menyala, merah jambu, merah pucat, kuning, ungu, putih, dan berbagai campuran warna.
Sedikit perawatan ringkas, penyiraman air dan pemupukan sempurna mampu mengembalikan kesegaran tanaman bunga kertas ini dalam jangka waktu kurang dua minggu. Dan jika ingin tanaman bunga kertas ini berbunga seterusnya, kita hanya perlu mengurangi pemberian air dan pupuk lantas meletakkan pot tanaman di tempat yang terkena sinar matahari.

Cara Perawatan Bunga Bugenvil
Penyiraman
Bugenvil membutuhkan air yang banyak pada saat awal penanaman. Sama halnya dengan tanaman-tanaman lainnya yang membutuhkan nutrisi dari pasokan air di masa awal pertumbuhan. Akar yang baru tumbuh membutuhkan jumlah air yang banyak dibandingkan akar yang sudah tumbuh besar. Jadi ketika sudah tumbuh besar, bunga kertas ini akan mengalami fase dimana ia tidak membutuhkan air. Fase ini dinamakan 'fase kering'.
Fase kering ini terjadi pada saat bugenvil sudah mulai memperlihatkan kuncupnya yang siap berbunga. Pada saat itu, kurangi pemberian air, karena jika terlalu banyak diberi air, maka bunganya susah merekah. Namun fase kering ini tidak berlangsung lama. Hanya sekitar 3-4 hari saja sampai bunganya mekar seluruhnya. Pada saat mekar, maka bisa diberikan penyiraman lagi.
Sinar Matahari
Bunga bugenvil merupakan tanaman bunga yang membutuhkan banyak asupan sinar matahari. Yaitu sekitar 70% sinar matahari. Bahkan disaat matahari terik sekalipun. Maka dari itu, simpanlah bunga bugenvil anda pada tempat-tempat terbuka yang dapat terkena paparan sinar matahari secara langsung.
Bunga bugenvil menyukai paparan sinar matahari langsung. Ia akan tumbuh subur jika menyimpannya di area terbuka.
Bunga Bugenvil menyukai paparan sinar matahari langsung. Ia akan tumbuh subur jika diletakkan pada area terbuka.
Pemupukan
Untuk pemupukan, bunga bugenvil tidak memerlukan pemupukan secara khusus. Hanya seperti tanaman-tanaman lain pada umumnya. Berikan secara berkala dalam jumlah yang sewajarnya saja. Walaupun bunga bugenvil bisa tumbuh dimana-mana, namun tampilan bunga yang diberi pupuk jelas berbeda dengan yang tidak diberi. Bunga yang diberi pupuk akan tumbuh lebih lebat dan subur.
Pemangkasan
Bugenvil bersifat rimbun. Jadi tanaman ini akan tumbuh dan berbunga dengan lebat. Maka dari itu, diperlukan pemangkasan agar tanamannya tidak bersulur kemana-mana. Dengan pemangkasan berkala, maka tampilan bunga bugenvil bisa disesuaikan dengan keinginan Anda. Bisa dibuat bugenvil bonsai atau dijadikan penghias pagar rumah. Selain mempercantik tampilan, pemangkasan terhadap bugenvil juga berfungsi untuk merangsang pertumbuhan bunga-bunga indah yang baru juga menjauhkanya dari penyakit-penyakit atau hama tanaman.

Asalé saka Amérika Kidul, tanduran iki asring ditanam ing taman lan wilayah omah. Nalika tanduran iki mekar, tanduran iki duwe pakulinan ngeculake sawetara godhong. Wujudipun wit alit ingkang angel tuwuh jejeg ingkang nduwèni sarung kembang. Tetuwuhan iki diarani kembang kertas amarga wangun kembang sing tipis lan nduweni ciri kaya kertas. Jeneng Inggris kanggo kembang iki yaiku bougainvillea sing dijupuk saka jeneng Sir Louis Antoine de Bougainville, sawijining prajurit angkatan laut Prancis. Antarane jinis kembang kertas sing misuwur yaiku Bougainvillea 'Elizabeth Angus', Bougainvillea 'Red', Bougainvillea Pultonii, Bougainvillea 'Easter Parade', lan Bougainvillea 'Lady Mary Baring'.
Perawatane uga gampang, ora mbutuhake wektu sing suwe amarga spesies tanduran iki cocok banget ditandur ing iklim tropis lan khatulistiwa kaya negara kita lan dhuwure bisa nganti 10 meter. Batang tanduran kembang iki rada atos, duwe eri lan cabang sing landhep. Pembiakan uga mung mbutuhake potongan batang sing disebar ing bungkus plastik utawa pot kanthi cara sing gampang. Kajaba iku, tanduran iki uga duwe sulur sing padhet, godhong sing amba lan bentuke lonjong sing bisa mbentuk grumbulan ing pekarangan utawa uga minangka tanduran pager ing wilayah sing menarik.
Sanajan tanduran iki cilik lan bentuke corong, nanging akeh manfaate. Contone, kanggo hiasan rambut, kembang racikan kanggo upacara siraman, lan minangka panggunaan ing upacara pemakaman kanggo wong Cina lan India.
Daya tarik kembang iki dadi omongane masyarakat ing negara kita amarga kesengsem karo bentuk lan warnane sing menarik. Werna kembang iki dumadi saka macem-macem warna, kayata oranye, abang padhang, jambon, abang pucet, kuning, ungu, putih, lan macem-macem campuran warna.
A perawatan cepet sethitik, sprinkling banyu lan fertilisasi sampurna bisa mulihake freshness saka tanduran kembang kertas iki kurang saka rong minggu. Lan yen sampeyan pengin tanduran kembang kertas iki mekar ing salawas-lawase, kita mung kudu ngurangi aplikasi banyu lan pupuk banjur sijine pot tanduran ing panggonan sing kena sinar srengenge.

Carane ngrawat kembang bougainvillea
nyirami
Bougainvillea mbutuhake akeh banyu ing wiwitan tanduran. Kajaba iku, tanduran liya butuh nutrisi saka sumber banyu ing tahap wiwitan wutah. Oyod sing anyar thukul mbutuhake banyu luwih akeh tinimbang oyod sing wis diwasa. Dadi yen wis gedhe, kembang kertas iki bakal ngliwati fase sing ora mbutuhake banyu. Fase iki diarani 'fase garing'.
Fase garing iki kedadeyan nalika bugenvil wiwit nuduhake tunas sing siap mekar. Ing wektu iku, kurangake pasokan banyu, amarga yen sampeyan menehi banyu akeh, kembang bakal angel mekar. Nanging, fase garing iki ora tahan suwe. Mung kira-kira 3-4 dina nganti kembang mekar kanthi lengkap. Ing wektu ngembang, bisa disiram maneh.
Srengenge
Bougainvillea minangka tanduran kembang sing mbutuhake sinar matahari sing akeh. Sing kira-kira 70% sinar matahari. Malah nalika srengenge panas. Mula, kembang bougainvillea disimpen ing papan sing mbukak sing bisa kena sinar srengenge langsung.
Bougainvillea seneng sinar srengenge langsung. Iku bakal ngrembaka yen sampeyan nyimpen ing wilayah mbukak.
Bougainvillea seneng sinar srengenge langsung. Bakal tuwuh yen dilebokake ing papan sing mbukak.
Pembuahan
Kanggo pembuahan, kembang bougainvillea ora mbutuhake fertilisasi khusus. Kaya tanduran liyane umume. Menehi periodik ing jumlah cukup. Senadyan kembang bugenvil bisa tuwuh ing ngendi wae, tampilan kembang sing diwenehi pupuk jelas beda karo sing ora diwenehi. Kembang sing diwenehi pupuk bakal tuwuh luwih padhet lan subur.
Pemangkasan
Bougainvillea subur. Dadi tanduran iki bakal tuwuh lan mekar kanthi akeh. Mulane, pemangkasan dibutuhake supaya tanduran ora cenderung anggur ing endi wae. Kanthi pruning periodik, tampilan kembang bougainvillea bisa diatur miturut sing dikarepake. Bisa digawe bonsai bougainvillea utawa kanggo dekorasi pager. Saliyané ndadèkaké tampilan, pruning bougainvillea uga bisa ngrangsang tuwuhé kembang anyar sing éndah lan adoh saka penyakit utawa hama tetanduran.

In my country Indonesia this flowering plant is also known as Bunga Kertas. Bougainvillea is a genus of thorny ornamental vines, bushes, and trees belonging to the four o' clock family, Nyctaginaceae. It is native to eastern South America, found from Brazil, west to Peru, and south to southern Argentina. Different authors accept from 4 to 22 species in the genus. The inflorescence consists of large colourful sepal-like bracts which surround three simple waxy flowers, gaining popularity for the plant as an ornamental.
The species grow 1 to 12 meters (3 to 39 ft) tall, scrambling over other plants with their spiky thorns. They are evergreen where rainfall occurs all year, or deciduous if there is a dry season. The leaves are alternate, simple ovate-acuminate, 4–13 cm long and 2–6 cm broad. The actual flower of the plant is small and generally white, but each cluster of three flowers is surrounded by three or six bracts with the bright colors associated with the plant, including pink, magenta, purple, red, orange, white, or yellow. Bougainvillea glabra is sometimes called "paper flower" because its bracts are thin and papery. The fruit is a narrow five-lobed achene.
Various species of Bougainvillea are the official flowers of Guam (where it is known as the Puti Tai Nobiu); Lienchiang and Pingtung Counties in Taiwan; Ipoh, Malaysia; the cities of Tagbilaran, Philippines; Camarillo, California; Laguna Niguel, California; San Clemente, California; the cities of Shenzhen, Huizhou, Zhuhai, and Jiangmen in Guangdong Province, China; Xiamen, Fujian and Naha, Okinawa. Is also the national flower in Grenada.
Native to South America, bougainvillea carry several names in the different regions where they are present. Apart from Rioplatense Spanish santa-rita, Colombian Spanish veranera, Peruvian Spanish papelillo, it may be variously named primavera, tres-marias, sempre-lustrosa, santa-rita, ceboleiro, roseiro, roseta, riso, pataguinha, pau-de-roseira and flor-de-papel in Brazilian Portuguese. Nevertheless, buganvília in Portuguese and buganvilia in Spanish are the most common names accepted by people of the regions where these languages are spoken but it is an introduced plant.

How to Care for Bougainvillea
1. Watering
Bougainvillea needs a lot of water at the beginning of planting. Just like other plants that need nutrients from the water supply in the early days of growth. Newly grown roots require a large amount of water compared to roots that have grown large. So when it grows up, this paper flower will go through a phase where it does not need water. This phase is called the 'dry phase'.
This dry phase occurs when bougainvillea has started to show its buds ready for flowering. At that time, reduce the amount of water you give it, because if you give it too much water, the flowers will have a hard time opening. However, this dry phase does not last long. Only about 3-4 days until the flowers fully bloom. When it blooms, it can be watered again.
2. Sunlight
Bougainvillea is a flower plant that requires a lot of sunlight intake. That is about 70% sunlight. Even when the sun is hot though. Therefore, store your bougainvillea flowers in open places that can be exposed to direct sunlight.
Bougainvillea loves direct sunlight. It will thrive if you keep it in an open area.
Bougainvillea loves direct sunlight. It will thrive if placed in an open area.
3. Fertilization
For fertilization, bougainvillea flowers do not require special fertilization. Just like other plants in general. Give it periodically in reasonable amounts only. Although bougainvillea flowers can grow anywhere, the appearance of flowers that are given fertilizer is clearly different from those that are not given. Flowers that are given fertilizer will grow more dense and lush.
4. Pruning
Bougainvillea is lush. So this plant will grow and flower profusely. Therefore, pruning is needed so that the plants do not sprout everywhere. With regular pruning, the appearance of bougainvillea flowers can be adjusted to your liking. You can make bougainvillea bonsai or use it to decorate your fence. In addition to beautifying the appearance, pruning bougainvillea also serves to stimulate the growth of new beautiful flowers and keep it away from diseases or plant pests.



---
Posted from https://blurtlatam.intinte.org