Twitter Space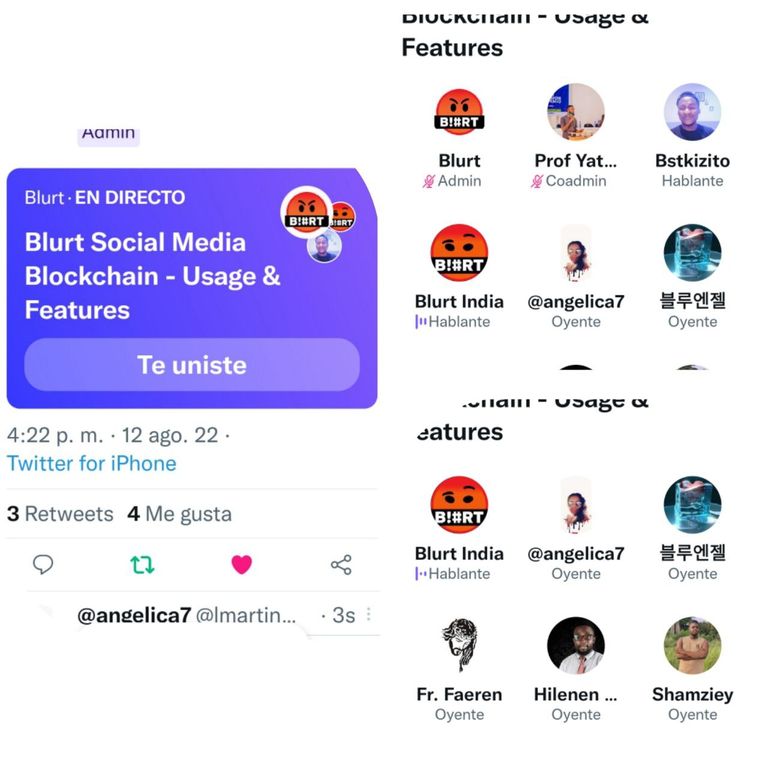 ---
---
Hoy tuve la oportunidad de participar como oyente en el Twitter Space, me complace poder compartir la importancia deconstruir una comunidad real, con usuarios que deseen contribuir con ideas positivas en esta cadena, por ello esta publicación es una invitación para todos los que crean en Blurt y desean hacer aportes positivos. Felicito a todos los que participaron y que con su buena energía aportan su tiempo para compartir información sobre nuestra querida cadena de bloques.
En la constancia y la buena energía con la cual se hacen las cosas, se puede dibujar un camino al éxito, todo empieza paso a paso, lo importante es no dejar de creer, que todo lo pueden lograr. Sigan trabajando con amor y con buena vibra para dar a conocer al mundo de que en Blurt, hacemos vida, usuarios reales y llegamos para quedarnos.
Actividades como esta son valoradas, así como los videos en vivo en YouTube, como las entrevistas que hacen a los miembros y usuarios de Blurt y todos los que se han sumado a crear una ventana de información real para el mundo e invitar a otros a unirse de forma orgánica.
¿No deseas estar en Blurt?
Cuando no deseamos estar en lugar, entonces es mejor retirarse sin mayor problemas, pero no te quedes y perjudiques, si deseas quedarte entonces súmate a todos los que deseamos construir y aporta ideas que creas puedan servir para fortalecer a la cadena. No pienses que si eres un usuario pequeño no puedes hacer nada, a aquí todos los usuarios son importantes, ya sean pequeños o grandes.
La visión de Blurt
Dentro de nuestra visión, aspiramos a invitar a usuarios que deseen crear contenido de valor, como una forma de crear espacios para compartir información relevante y esto, produzca que otros deseen venir a leer y participar. Esperamos que esta cadena se consolide con un mejor desarrollo, para que nuestros usuarios finales se sientan felices con la cadena. Además, esperamos poder construir un lugar libre, donde se pueda compartir contenido, y debatir de cualquier tema sin miedos, bajo la línea del respeto. Porque algo muy importante que debemos de tener en cuenta, es que en Blurt, no toleramos que el irrespeto a otros usuarios, sea la razón que sea. Desde mi perspectiva, Blurt aspira ser un reflejo de una sociedad virtual, libre, con voz propia y con una gran capacidad humana, con valores propios.
Construye comunidad en Blurt
Para comenzar a crear comunidades es importante conocer el lugar donde nos encontramos, por ello te invito a leer en Blurt.blog FAQ, Donde puedes encontrar definiciones de base como ¿Qué es Blurt?
Blurt ha redefinido las redes sociales mediante la construcción de una economía social viva, que respira y crece, una comunidad donde los usuarios son recompensados por compartir su voz. Es un nuevo tipo de economía de la atención.
Invitación
Para todos los que me leen, los invito a seguirnos en todas las redes sociales de Blurt, estaremos compartiendo concursos de los cuales estoy segura, te gustará participar. Además, así podemos también conocerte y hacer publicidad.
Sigue las cuentas oficiales:
---
Les comparto mi cariño y buena vibra para todos, porque pronto vamos por más.
Con Cariño
Angelica7
---
---
English Version
Twitter Space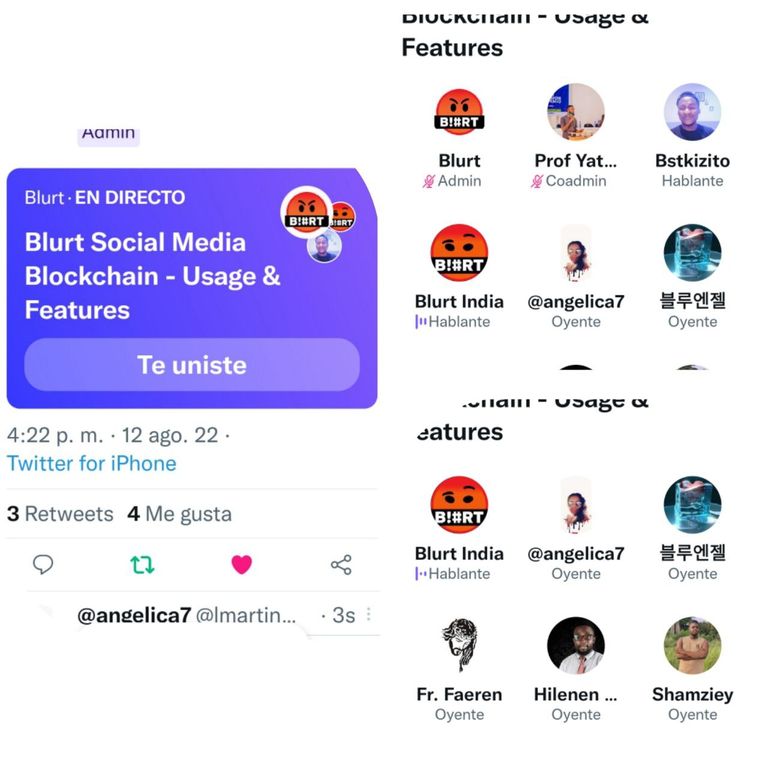 ---
---
Today I had the opportunity to participate as a listener in the Twitter Space, I am pleased to be able to share the importance of deconstructing a real community, with users who wish to contribute with positive ideas in this chain, for this reason this publication is an invitation for everyone who believes in Blurt and wants to make a positive contribution. I congratulate all those who participated and who, with their good energy, contribute their time to share information about our beloved blockchain.
In the perseverance and the good energy with which things are done, a path to success can be drawn, everything begins step by step, the important thing is not to stop believing, that everything can be achieved. Keep working with love and good vibes to let the world know that at Blurt, we make life, real users, and we're here to stay.
Activities like this are valued, as well as live videos on YouTube, such as the interviews they do with Blurt members and users and all those who have joined to create a real information window for the world and invite others to join. organically.
Blurt's Vision
Within our vision, we aspire to invite users who wish to create valuable content, as a way of creating spaces to share relevant information and this makes others want to come read and participate. We hope that this chain will be consolidated with better development, so that our end users feel happy with the chain. In addition, we hope to build a free place, where you can share content, and discuss any topic without fear, under the line of respect. Because something very important that we must take into account is that in Blurt, we do not tolerate disrespect to other users, whatever the reason. From my perspective, Blurt aspires to be a reflection of a free virtual society, with its own voice and great human capacity, with its own values.
Don't want to be on Blurt?
When we do not want to be in place, then it is better to withdraw without major problems, but do not stay and harm, if you want to stay then join all of us who want to build and contribute ideas that you think can serve to strengthen the chain. Do not think that if you are a small user you cannot do anything, here all users are important, whether they are small or large.
Build community on Blurt
To start creating communities it is important to know where we are, so I invite you to read in Blurt.blog FAQ, where you can find basic definitions such as, what is -blurt?
Blurt has redefined social media by building a living, breathing and growing social economy, a community where users are rewarded for sharing their voice. It's a new kind of attention economy.
Invitation
For all those who read me, I invite you to follow us on all Blurt social networks, we will be sharing contests that I am sure you will like to participate in. In addition, so we can also meet you and advertise.
Follow the official accounts:
---
I share my love and good vibes for everyone, because soon we are going for more.
With love
Angelica7
---
---
Historia original // Original story
Fotos: propias.
---
Blurt eres tú, soy yo, blurt somos todos // Blurt is you, it is me, blurt we are all
Que nadie apague tu luz interior // Let no one turn off your inner light
Información Importante:
---
---
Posted from https://blurtlatam.com