Welcome to my blog
Bienvenidos a mi blog
Hello everyone. Today was a very busy day. Early in the morning my mother, my nephew and I went to the clinic because my mother was going to have surgery for her cataract operation as she has advanced cataracts. My mother is 84 years old. Thank God it went off without a hitch. My sister Janet who always accompanies me is going through a flu process as well as her 7 year old son Josè Ignacio. We preferred that she not come to the clinic to avoid catching the flu. Although my older sister would go to the clinic with us at about 8 am. The purpose of this surgery is for my mother to have a better quality of life and for her eyesight to be able to see again what she desires so much. She wants to read, write without difficulty, and do housework.
Hola a todos. Hoy fue un dia de mucho ajetreo. Muy temprano fuimos a la clínica mi madre, mi sobrino y yo porque mi madre iba a ser intervenida quirúrgicamente, para su operaciòn de cataratas ya que la tiene en estado avanzado. Mi madre tiene 84 años de edad. Gracias a Dios se llevó a cabo sin ningún inconveniente. Mi hermana Janet la que siempre me acompaña está pasando por un proceso gripal al igual que su hijo Josè Ignacio de 7 años. Preferimos que no viniera a la clínica para evitar contagio de la gripe. Aunque mi hermana mayor a eso de las 8 am iría a la clínica acompañarnos. El objetivo de esta intervenciòn quirúrgica es para que mi madre tenga una mejor calidad de vida y su vista pueda volver a ver lo que tanto desea. Ella quiere leer, escribir sin dificultad, y realizar labores en el hogar.
---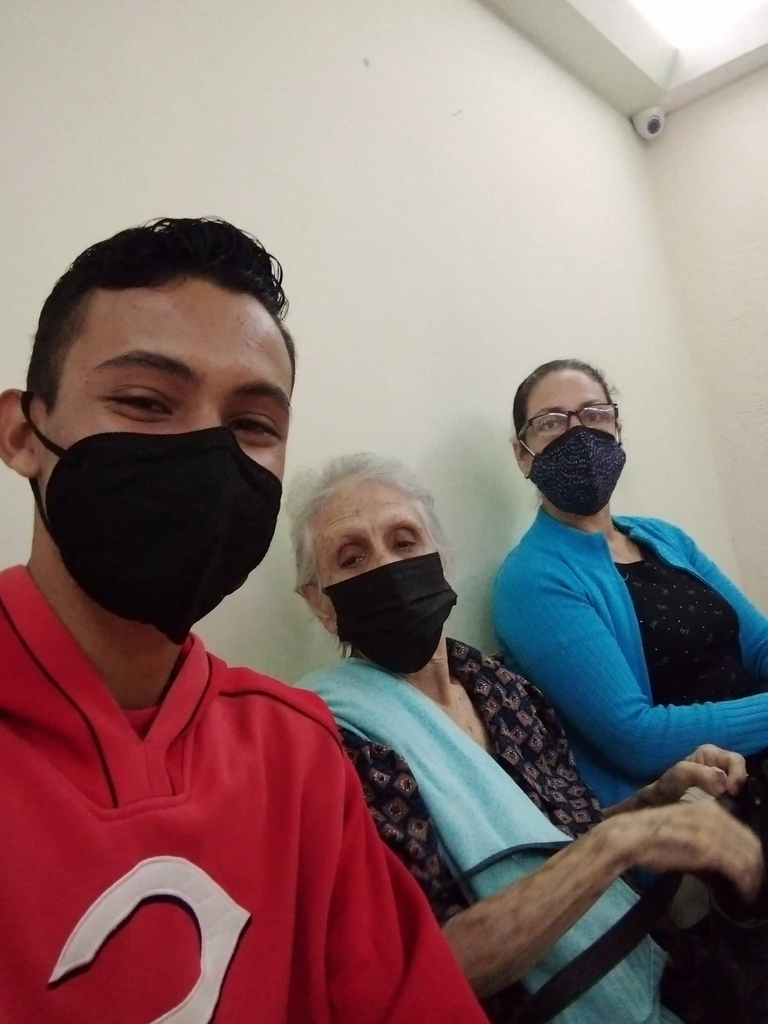 Once at the clinic we had to wait for the doctor to evaluate some patients. Then came the surgery of a gentleman and then my mother's surgery. So we had to wait. The doctor evaluated my mother the day before and gave her a booklet with recommendations before and after the surgery and also gave her the treatment of the medications she should use after the surgery. She only indicated an antibiotic eye drop urgently before the surgery, which was given every 8 hours. Still waiting, suddenly the doctor's ophthalmology assistant arrived and put drops in her left eye to dilate the pupil, the eye to be operated on. My mother had to close her eyes for the drops to dilate the pupil. My mother was finally taken up the elevator to the operating room so that the nurse could prepare her for the operation.
Ya en la clínica tuvimos que esperar que el mèdico evaluara a unos pacientes. Luego vendría la cirugía de un señor y luego la de mi madre. Así que tocaba esperar. El mèdico un dìa antes evalúo a mi madre y entregò un folleto con recomendaciones de antes y después de la cirugía y asimismo colocò tratamiento de los medicamentos que debe usar después de la operaciòn. Solo indicò urgentemente antes de la cirugía un colirio antibiótico el cual se le colocò cada 8 horas. Aun en la espera, de pronto llegó la auxiliar de oftalmología del doctor y le coloco gotas en el ojo izquierdo para dilatarle la pupila, el ojo que va a ser operado. Mi madre tenía que cerrar los ojos para que las gotas hicieran su efecto dilatar la pupila. Mi madre por fin la subi por el ascensor hasta la sala de quirófano para que la enfermera la preparará para la operaciòn.
---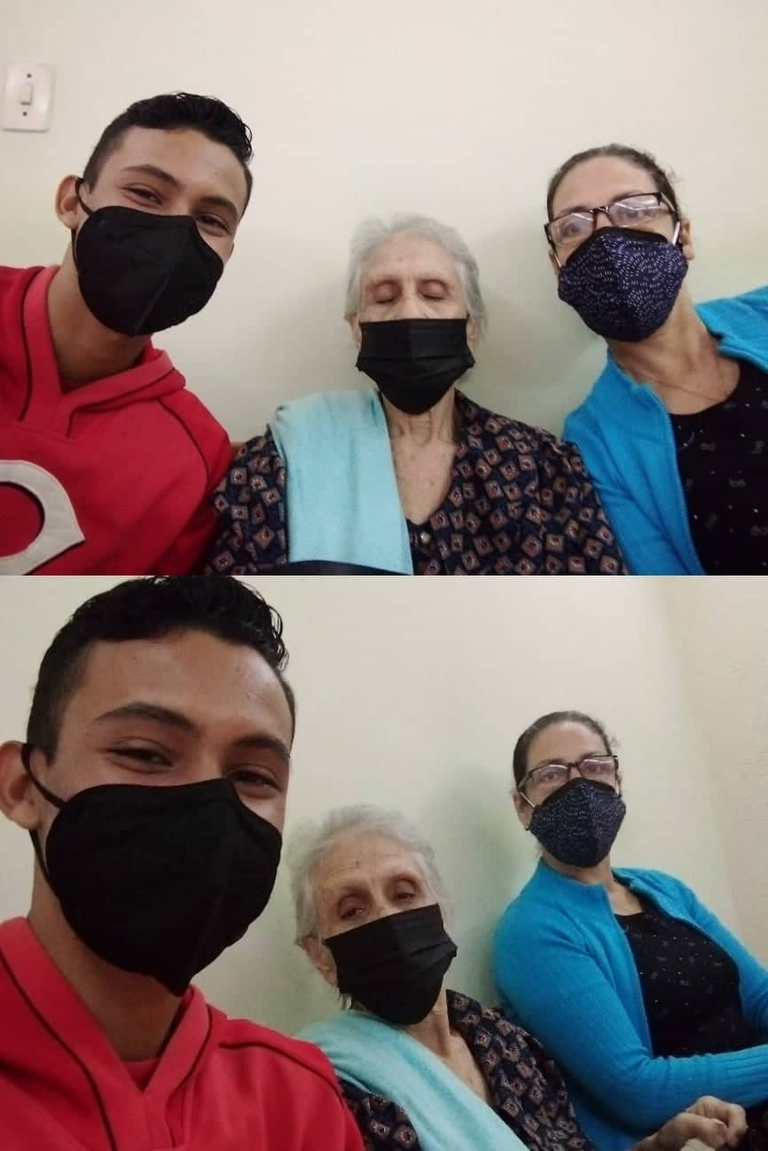 I could not stay there overnight, the nurse told me to go downstairs and when my mother came out of surgery she would send for me. So I went to the ophthalmologist's office to wait for them to call me. I stayed with my nephew talking, we watched some TV, played some games on the cell phone, until my sister arrived, I felt calmer, my sister took us to breakfast, since there was no gas at home. I did prepare a light breakfast for my mother before coming to the clinic and I didn't want to have breakfast.
No podía pernoctar en ese lugar me dijo la enfermera que bajara y cuando salga de la operaciòn mi madre ella me mandaría a llamar. Así hice me vine al consultorio del mèdico oftalmólogo a esperar que ellos me avisaran. Me quedè con mi sobrino conversando, vimos un poco de tele, jugamos en el celular algunos juegos, hasta que llego mi hermana, me sentí màs tranquila, mi hermana nos llevó a desayunar, ya que en casa no habìa gas. A mi madre si le preparè algo ligero de desayuno antes de venir a la clínica y no quise desayunar.
---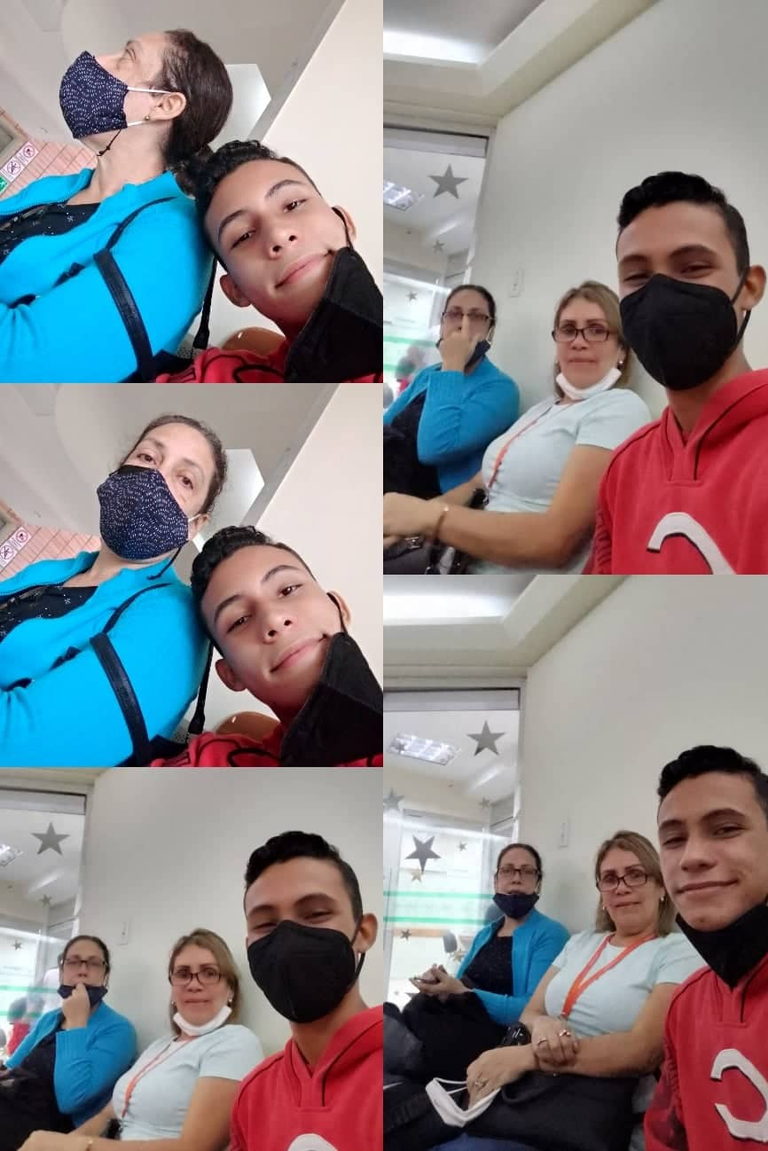 Waiting for notification that my mother had been operated on. It was a long wait. Until finally we were informed to take the clothes to my mother who had already completed the operation. We went to the operating room door and my mother was in the recovery room. My sister was the one who took care of my mother. Then they looked for a wheelchair to move her. Already in the hallway ready to go up to the elevator. My mother with her left eye patch. She was feeling a little dazed. Not to be outdone by her age and all that her left eye had been subjected to. We were happy because my mother behaved like a warrior in spite of her age.
En la espera de que notificaran que mi madre había sido operada. Duro larga la espera. Hasta que por fin nos informaron que llevaramos la ropa a mi madre que ya había culminado la operaciòn. Fuimos hasta la puerta de quirófano y estaba mi madre en la sala de recuperaciòn. Mi hermana fue la que paso atender a mi madre. Luego buscaron una silla de ruedas para trasladarla. Ya en el pasillo lista para subir al ascensor. Mi madre con su parche en el ojo izquierdo. Se sentìa un poco aturdida. No es para menos su edad y a todo lo que fue sometido su ojo izquierdo. Nos sentiamos felices porque mi madre se porto como toda una guerrera a pesar de su edad.
---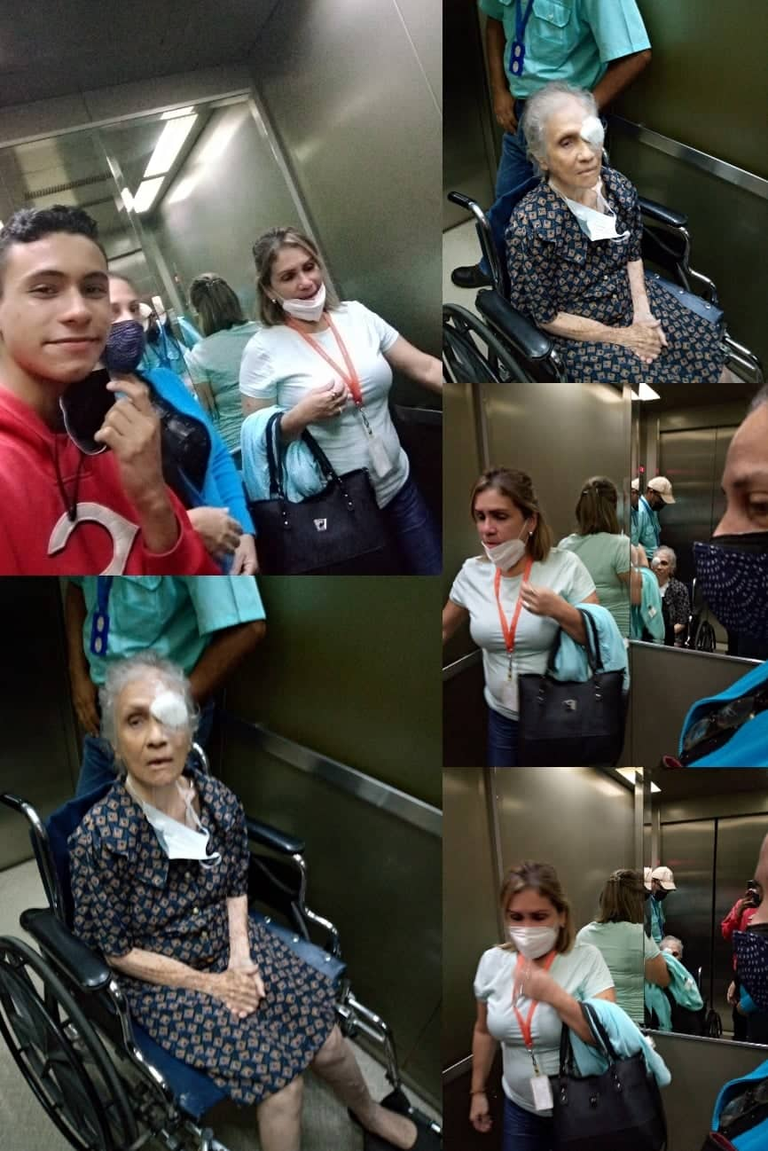 The doorman drove the wheelchair to the entrance of the clinic and then took a cab home. My sister arranged for the cab. My mother drove her to the cab and we returned home. Tomorrow we return to the clinic for the ophthalmologist to evaluate my mother. It is protocol once the patient is operated on to return the next day to the ophthalmologist. I really don't know when the patch is removed. What I do know is that her right eye must also be operated on. That is another budget to make arrangements for a new letter of endorsement. At home my mother went to bed already resting. We gave her something to eat. Thank God everything went well.
El portero condujo la silla de ruedas hasta la entrada de la clìnica para luego tomar un taxi y regresar a casa. Mi hermana se encargó de ubicar el taxi. Mi madre la trasladamos hasta el taxi y regresamos a casa. Mañana volvemos a la clínica para que el mèdico oftalmòlogo evalue a mi madre. Es protocolo una vez que el paciente es operado volver al otro dia al oftalmòlogo. Cuando le quitan el parche de verdad que lo desconozco. Lo que si se es que su ojo derecho debe ser operado también. Ese es otro presupuesto hacer trámites de una nueva carta aval. Ya en casa mi madre se acostó ya descansando. Le dimos algo de comer. Gracias a Dios todo salio bien.
---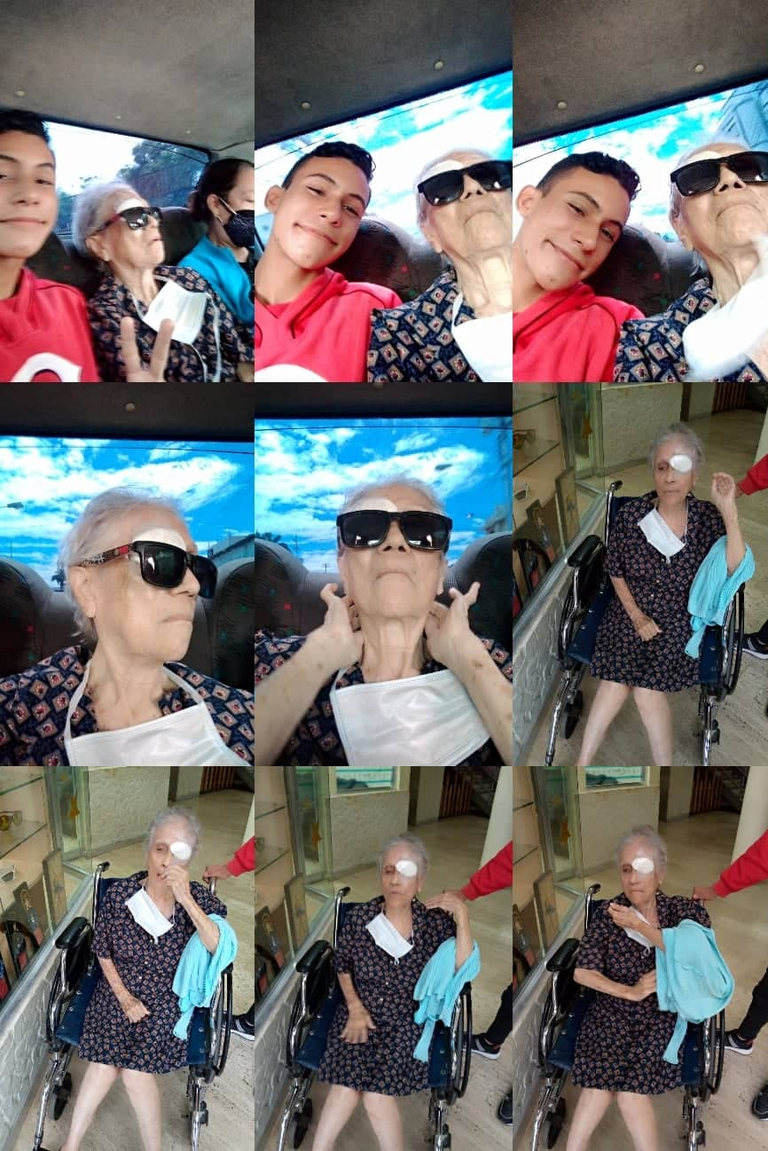 ---

Translation was performed at Deepl. Banner separator taken from google and modified in Paint. Pictures taken with the camera of my infinix h10 cell phone.//Traducción fue realizada en Deepl.Banner separador tomado de google y modificado en Paint. Fotografías tomadas con la camara de mi celular infinix h10.