Source: Pixabay, and edited in Canva
---
"Discutir". El diccionario Oxford Languages lo define de la siguiente manera: Examinar y tratar entre [varias personas] un asunto o un tema proponiendo argumentos o razonamientos para explicarlo, solucionarlo o llegar a un acuerdo acerca de él.
Una de las cosas que más me gusta hacer en la vida es discutir ideas por medio de razonamientos y del sentido común propio de cada ser humano que no ha sido influenciado por nada, algo realmente difícil de hallar, porque de alguna manera, absolutamente todos hemos sido influenciados por los medios de comunicación, por la iglesia y por nuestros padres.
Sin embargo, el tema que traigo hoy es acerca del uso de la inteligencia artificial, puesto que he visto a muchos siendo penalizados por el uso de esta herramienta en sus publicaciones, ya que se supone, deben estar hechas a partir de la creatividad humana y no de una máquina.
A pesar de que muchos satanizan el uso de esta herramienta, otros la adoran, porque les evita el esfuerzo de pensar para construir un contenido y que con solo una pregunta que se le haga, aparece, como por arte de magia, la publicación más perfecta que hallamos podido leer en tan solo un minuto.
Algunos usuarios de Hive, apelan diciendo que es un error, pero los jueces y verdugos de Hive (son los mismos) argumentan que el solo hecho de comprobarlo, es un indicio de que lo hicieron con IA.
La pregunta sería si es posible que estas herramientas de detección de contenido de inteligencia artificial pueden equivocarse en su análisis o no, de manera que la única forma de descartar este asunto era haciendo algunas pruebas con mi propio contenido, y el de otros usuarios de Blurt, de los que estoy seguro, escriben desde su propia creatividad.
Como dije en mi publicación anterior, no voto publicaciones cuyo contenido es creado por una máquina, porque tiende a ser un contenido de corte científico, psicológico, o algo que no tiene que ver con socializar, que es el objetivo primordial de toda red social, y esto no es otra cosa que darnos a conocer quienes somos, lo que hacemos, nuestros éxitos y también nuestros fracasos, a través de la escritura o las fotografías que nos tomamos. Por supuesto, también sirve para compartir información importante que hemos descubierto en la internet y a la cual le agregamos nuestro propio análisis y nuestro punto de vista.
Hacer esta prueba me fue fácil, porque busco mucho contenido de usuarios nuevos que aún están en esa etapa de aprender a crear su contenido, sin plagio ni abusos, de manera que todo lo que leo, lo paso por varias herramientas de plagio de contenido, plagio de imágenes y ahora por detectores de contenido creado por inteligencia artificial; Creo que he escaneado unas 200 publicaciones dando siempre un mismo resultado: Contenido creado a partir de la creatividad humana y el creado por una máquina.
A pesar de esto, procuré hacer las cosas más minuciosamente, poniéndome del lado de las personas que aseguran que nunca han usado la inteligencia artificial, y han sido acusadas de esto, lo cual provoca que (esto es en Hive) las publicaciones que aún están por cobrar, se llenen de votos negativos llevando las recompensas a cero. ¿Vos habías visto esto? ¡Qué va!
Como les decía, encontré el contenido de una nueva usuaria a quien la orienté en sus primeros pasos en Blurt. Ella es @sariana23 y al revisar su contenido el resultado me pareció fuera de lo común, pues la publicación en español da un 99.99% de que fue creada por una máquina, pero al revisar el mismo contenido en inglés, dio como resultado que fue creado por un humano. Lo más curioso es que su idioma nativo es el español, no el inglés.
Con esta prueba pude comprobar que estás herramientas pueden dar resultados erróneos; La creatividad del ser humano es única, y creo firmemente que, una persona puede llegar a escribir tan perfectamente como lo hace una máquina, aunque en más tiempo.
No todo lo que brilla es oro, ni todo lo que es negro es petróleo, de manera que al usar estas herramientas de detección, me he dado a la tarea de comprobar de muchas maneras para evitar dejar sin una recompensa a un usuario que se ha esmerado en crear contenido original, pues esta práctica nos lleva a ser mejores escritores y a ser personas más cultas en las redes sociales.
Ahora... Abramos la discusión... ¿Te atreves a dar tu opinión?
One of the things I like to do the most in life is discussing ideas through reasoning and the common sense of every human being who has not been influenced by anything, something really difficult to find, because somehow, absolutely all of us have been influenced by the media, by the church, and by our parents.
However, the topic that I bring today is the use of artificial intelligence, since I have seen many being penalized for the use of this tool in their publications, since they are supposed to be made from human creativity and not from a machine.
Despite the fact that many demonize the use of this tool, others adore it because it saves them the effort of thinking to build content, and with just one question asked, the most perfect publication appears, as if by magic that we have been able to read in just one minute.
Some Hive users appeal saying that it is a mistake, but Hive's judges and executioners (they are the same) argue that the mere fact of checking it is an indication that they did it with AI.
The question would be whether it is possible that these artificial intelligence content detection tools can be wrong in their analysis or not, so the only way to rule out this issue was to do some tests with my own content, and that of other Blurt users, of which I am sure, write from their own creativity.
As I said in my previous post, I don't vote for posts whose content is created by a machine, because it tends to be scientific, psychological or something that has nothing to do with socializing, which is the primary goal of any social network, and this is nothing more than letting us know who we are, what we do, our successes and also our failures, through writing or the photographs we take.
Of course, it also serves to share important information that we have discovered on the internet and to which we add our own analysis and point of view.
Doing this test was easy for me because I look for a lot of content from new users who are still in that stage of learning to create their content, without plagiarism or abuse, so everything I read, I go through various content plagiarism tools, image plagiarism and now by content detectors created by artificial intelligence.
I think I have scanned about 200 publications always giving the same result: Content created from human creativity and that created by a machine.
Despite this, I've tried to do things more thoroughly, siding with people who claim they've never used AI, and have been accused of this, which results in (this is on Hive) posts that are still receivables filled with downvotes bringing the rewards to zero. Have you seen this? No way!
As I was saying, I found the content of a new user who I guided through her first steps on Blurt.
She is @sariana23 and when reviewing her content, the result seemed unusual to me, since the publication in Spanish gives 99.99% that it was created by a machine, but when reviewing the same content in English, the result was that it was created by a human. The most curious thing is that her native language is Spanish, not English.
With this test I was able to verify that these tools can give erroneous results; The creativity of the human being is unique, and I firmly believe that a person can write as perfectly as a machine does, although in more time.
Not all that glitters is gold, and all that is black is not oil, so when using these detection tools, I have taken it upon myself to check in many ways to avoid leaving a user who has failed without a reward careful to create original content, as this practice leads us to be better writers and to be more educated people on social networks.
Now... Let's open the discussion... Do you dare to give your opinion?
---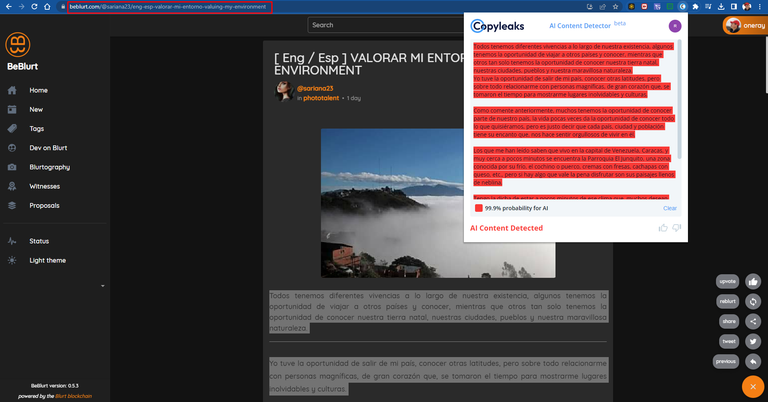 ---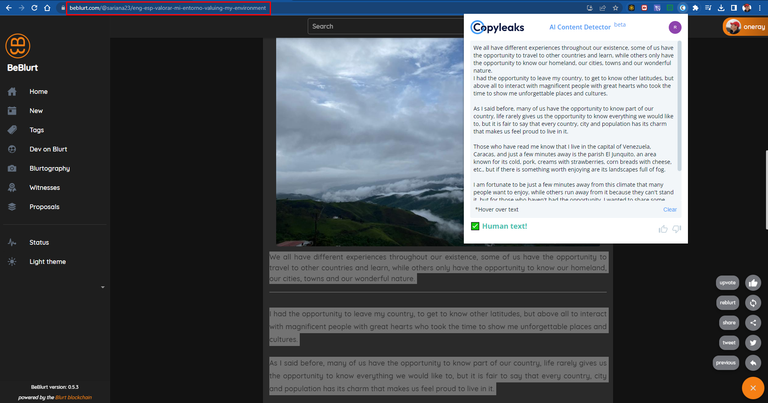 ---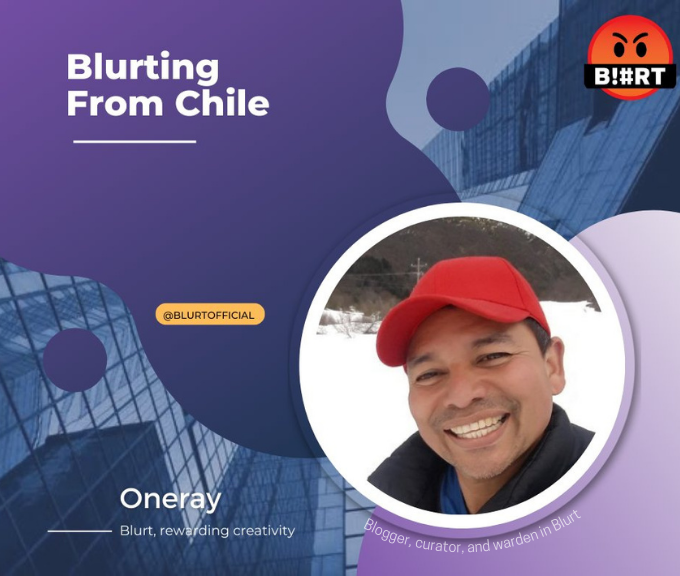 ---

Tal vez no todos somos grandes escritores, pero estoy seguro de que siempre tenemos algo que contar. Oneray
Perhaps not all of us are great writers, but I'm sure we always have something to say. Oneray
Todas las imágenes son mías, tomadas para realizar esta publicación y pueden haber sido editadas con Canva
All images are mine, and taken for this publication and may have been edited with Canva