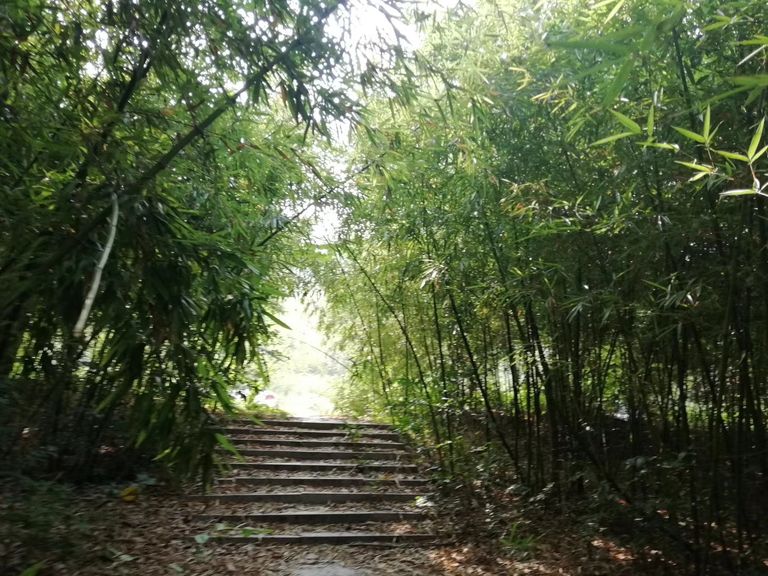 As an old Chinese saying goes, people who have no foresight must have immediate worries, and vice versa. That is to say, if people have lofty ideals and goals, they will not be disturbed and fettered by the trifles before them. In the poem Drinking by the ancient poet Tao Yuanming, there is a verse "A heart that is distant creates its own solitude", which is very good and also shows us the wisdom of the ancients and the beauty of Chinese language.
If one thinks far and has a lofty goal, he will feel that the place where he stays is remote and not bothered by people and things around him. In fact, this is a human mentality. If you have a lofty mind, you will devote yourself to your dreams, and have no time to pay attention to the people and things around you. You neither care to inquire nor to hear, seeming that you are blind and indifferent, just like the people around you do not exist. This is not intentional, but a person's mind is all focused in his own ideal goals, immersed in his own world, and everything outside has no impact on him.
I have a colleague, whose daughter's study is a headache to deal with to him. His daughter shuts herself in the room to study, but she can't calm down. The honking of cars outside, the hawking of small traders, the shouting of naughty children, and even the noise of parents walking in the room will affect her and make her anxious. Although his daughter hides her in the small building, she does not achieve the state of mind of "escaping into the small building and becoming self-contained regardless of winter, summer, spring and autumn". She was in a remote place, but her heart was not distant.
One year, I took the postgraduate examination. One afternoon, it was a professional subject for which three hours were allowed. In order not to reveal the test questions, it is stipulated that the examination papers cannot be handed in and left in advance. Maybe it was the first time for a young man around me to take the exam, who had no idea of doing the exam for a long time, probably because he could not do it at all. He looked around, scratching his head. At this time, an invigilator was sitting on the platform doing nothing, casually tapping the desk with his fingers alternately. We were too busy with our examination papers that we were afraid that we would not have enough time to attend to the invigilator's action. Suddenly the boy raised his hand, just like a student in the class answering a question: "Teacher, please don't knock on the table." The examinees all looked up, and I knew that the boy's mind was not on the paper at all.
There are many children who have learned well and have just reached the state of "A heart that is distant creates its own solitude". They are intoxicated with books though surrounded by such noise and chaos, but they are not affected at all. They swim in the book world as if they are isolated from the real world, because there is a wider world in the minds of such children.
When I was in the original unit, I was determined to leave this declining enterprise through the postgraduate entrance examination. I studied my favorite English hard and enjoyed it. My office was bustling with people coming and going, boasting and puffing.
However, I have developed the ability of "A heart that is distant creates its own solitude" to move towards my own goals, and it is difficult for people and things around to walk into my world. Finally, little by little, it's not intentionally I am not to listen or see, but really I could not hear or see any more, just like surrounded by a wall of iron outside my body. I am in a world, quiet and comfortable, while surrounded by another world, noisy and bothersome.
The wind blows the leaves, it's neither the leaves nor the wind that move, but the heart beats. If the heart does not move, either the wind or the leaves will not move. This is another interpretation of "A heart that is distant creates its own solitude".
Tao Yuanming's poem Drinking is attached for your appreciation.
Drinking /Tao Yuanming
I built my cottage among the habitations of men,
And yet there is no clamor of carriages and horses.
You ask: "Sir, how can this be done?"
"A heart that is distant creates its own solitude."
I pluck chrysanthemums under the eastern hedge,
Then gaze afar towards the southern hills.
The mountain air is fresh at the dusk of day;
The flying birds in flocks return.
In these things there lies a deep meaning;
I want to tell it, but have forgotten the words
中国有句成语叫"人无远虑必有近忧",反之亦然,也就是说人若是有远大的理想和目标,就不会被眼前的琐屑干扰和羁绊。古代诗人陶渊明的诗作《饮酒》中有一句诗叫"心远地自偏",说的真是太好了,也让我们看到了古人的智慧以及汉语的美丽。
心远地自偏,一个人想得远,有远大的目标,就会感觉自己所处的地方偏远而不受世间人和事的烦忧。实际上,这是人的一种心态。心存高远,就会致力于自己的梦想,而对周边的人和事无暇顾及了,甚至可以说是熟视无睹,漠不关心,如同身边的人不存在一般。这不是故意为之,而是一个人的心思全部用在了自己的理想目标之上,沉浸在了自己的世界里,而外在的一切已对其没有丝毫的影响了。
同事女儿的学习很令我的这位同事头疼,女儿把自己关在屋里学习,可总是不能静下心来。外面汽车的喇叭声、小商贩叫卖的声音、顽童的喊叫声,甚至父母在房间内的走动声,都会影响到她的学习,使她焦躁不安。他的女儿虽然躲进了小楼之中,却没有"管他冬夏与春秋"的那份心境,身体处于偏远之中,却心并没有远离。
有一年,我参加研究生考试,有一天的下午考的是专业科,三个小时的时间。为了 不泄露试题,规定不能提前交卷走人。许是初次参加考试,我身边的一个男孩子早早就没了做卷子的心思,大概是基本不会做的缘故吧。他东瞅瞅西望望,抓耳挠腮,一筹莫展。而此时一个监考的老师坐在讲台上无所事事的样子,不经意地用手指交替轻敲着讲桌。我们忙于自己的考卷,生怕时间不够用,根本无暇顾及监考老师的这个动作。可忽地那个男孩子举起手来,如同课堂上的一个学生回答问题:"老师,请不要敲桌子。"考生都抬起头来,我知道这位男孩子的心思根本不在试卷上。
有许多学习好的孩子恰恰就达到了"心远地自偏"的那种境界,陶醉于书本之中,周边是那样的喧哗和杂乱,可人家就是丝毫不受影响,在书本的世界里畅游,如同与现实世界隔离开了一般,因为在这样的孩子的心里有着一个更为广阔的世界。
我在原单位时就立志要通过考研走出这个日渐萧条的企业,我便苦读自己喜爱的英语,乐此不彼。办公室里人来人往,吹牛侃大山,吞云吐雾,热闹得很。可我却练就了"心远地自偏"的本领,朝着自己的目标前进,周边的人和事难以如我的心了。最后,渐入佳境,不是我可以不去听不去看,而是真的听不到看不到了,如同身体之外包围着一层铜墙铁壁,我在一个世界,清静自在,而周边是另一个世界,聒噪喧哗。
风吹树叶,不是树叶动,也不是风动,而是心动。心不动,则风不动,树叶不动。这也是"心远地自偏"的另一种解释。
附上陶渊明的《饮酒》,供您赏析。
《饮酒》/陶渊明
结庐在人境,而无车马喧。
问君何能尔?心远地自偏。
采菊东篱下,悠然见南山。
山气日夕佳,飞鸟相与还。
此中有真意,欲辨已忘言。